Something curious happens when you taste 200 wines over the course of two days. I don't mean the physical fatigue, although that's considerable. I mean something more subtle—and far more valuable.
It happened to me again during the judging of the Fifth Annual Palate Press Grand Tasting, as I sat down with David Honig, the publisher, and Arthur Black, a sommelier with a rock-star palate, to evaluate the 40 wines that had been deemed consumer favorites during the Grand Tasting. (For more on the tasting and judging process, read this story.)
I sip, I taste, I spit, I repeat. Each sip flows into the next, and the next, and soon my palate is awash in wine, and my mind is saying hello, again, to wine's platonic elements: acidity, sweetness, fruit, tannin, texture.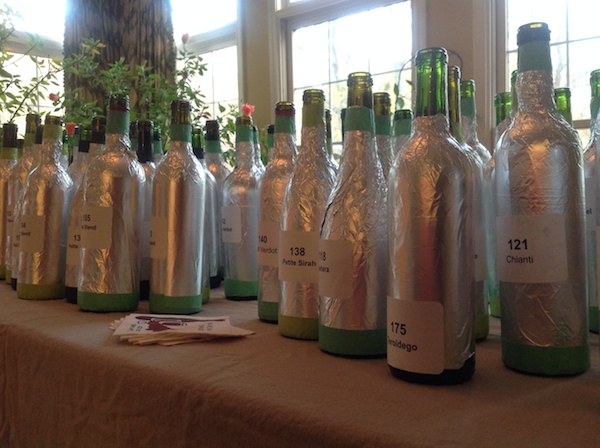 But paradoxically, almost magically, this deluge does not mute my perceptions, it heightens them, becoming a kind of scrim against which the qualities of each new wine stand in relief: this one has bright fruit notes, this next has more grip, and this one, now, has both sweetness and grip, but something new, too. When a wine stands next to its brethren, its features zoom into ultra-sharp focus.
With each new wine we opened that day, I ran through my standard evaluation: color, aroma, flavor, texture, finish. But I also asked myself the second-order questions, probing beyond the wine's formal qualities to understand its true character. What is this wine like? Why was it made? Why does this wine matter? What is this wine about?
Questions like these make wine tasting more than a mere clinical exercise. All wines are alike in some ways, yet every wine has something else happening beneath its surface narrative. Maybe this one is a simple wine, but it seems breezy and light-hearted. This next one is more challenging, deeply savory and severe, almost brooding. And this wine feels tricked-up, built to deliver a smack of sweetness to your tongue.
My personal aesthetic is that a good wine cleaves to its site. It's from somewhere. The wine writer Matt Kramer coined the term "somewhereness" to describe the extent to which a wine evinces its terroir. Somewhereness can be obscured by heavy-handed winemaking, like designer additives; techniques to manipulate sweetness, body, color, and acidity; or too much oak in the cellar.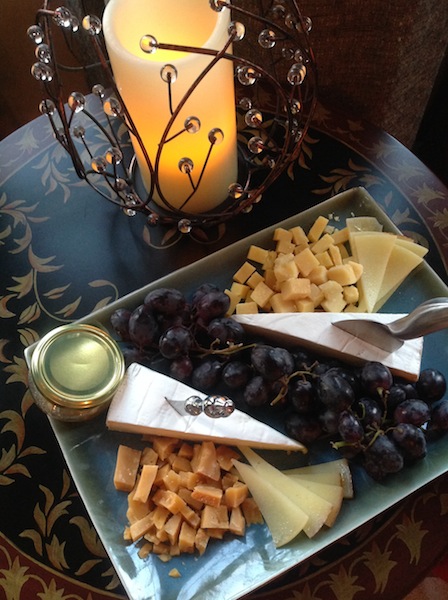 But a wine is about more than its terroir, so somewhereness is a perilous term, because it's often misused to valorize the site over the hand of the winemaker. I'm a big fan of light-handed winemaking, but there must be a hand in there somewhere.
Beyond fruit and acid and terroir-expression, beyond all the other formal qualities evinced by a wine, there is intentionality. A winemaker thought about this wine, ideally throughout its growing season, and made decisions that acknowledged and honored the vagaries of site, vintage, vine. Nature doesn't have a plan, but a winemaker can. She or he aims at something. The wine in the glass is the expression of that something.
If we can agree that every wine is made for a reason, then the interplay of raw materials and intentionality help define what a wine's really about. In a hat-tip to Kramer, let's call this idea "aboutness."  Aboutness acknowledges somewhereness, but also the critical role of the winemaker. The best site, the best fruit, can produce bad wine in the wrong hands. And meager fruit can be made to sing by a winemaker in full form.†
As a wine writer, I seek aboutness by looking at both process and product, then looking beyond both to the soul of the wine. It sounds mystical and abstract, but it's actually pretty straightforward when you get into that tasting fugue state I mentioned earlier.
During the Palate Press judging, we tasted a lot of wines from all over the world. Most were solid and well made, but it wasn't hard to spot the wines that were special. All of our gold medalists and the three top winners—Best White, Best Red, and Best of Show—very clearly had something happening beyond their surface sheen.
Take the Best White winner, Bald Mountain Vineyard Chardonnay, 2011, from Beauregard Vineyards, situated at the northern curl of California's Monterey Bay. The wine's aromas were all white peach and garrigue herbs, and its lovely acidity shivered across the palate, yielding juicy notes of pear and citrus. It had a creamy texture cut by a slight chalkiness that kept if from seeming too pretty. It felt breezy and fresh, almost saline, like the sea.
It turns out this wine wasn't easily made. "Two-thousand-eleven was a cold year with low yields in the Santa Cruz Mountains," wrote Beauregard's Heather Hazen, when I asked her later about the wine. "But we were able to bring together the best of our Bonny Doon and Ben Lomond Mountain AVA fruit. Due to our longer growing season and hang time along with the coastal influences, this Chardonnay has developed acidity and minerality."
The net result is a deft and lively Chardonnay, but more than that, it's a deft and lively Central Coast Chardonnay. I know the area well, and found the wine readily evoked the misty rolling hills that tumble down to the California coastline in a hamlet called Bonny Doon. It's a wine that's about clarity, refreshment, minerals, and sea air—in short, about its place, and about working with what that place delivers.
On to the Best Red. After one blind sniff, Arthur Black pronounced it, "Coonawarra!," a nod to the signature aromas of wines from this region on South Australia's coastal fringe. By then we had already sampled over twenty red wines. Some were juicy and lean, some ripe and broad, yet others had been burnished to a high polish by oak and attention in the cellar.
Penley's Coonawarra Cabernet Sauvignon stood out. Its aromas were resplendent with brushy herbs top-noted by eucalyptus and juniper. On the tongue the wine felt both bright and savory, with fine-grained tannins, lively acidity, and deep black currant fruit adding an earthy bass note. And the wine kept shifting, lifting now into anise and red berries, then settling back to tea and spice and earth. It was not exactly a seamless wine, mostly because it was so mercurial, yet it felt unified and whole. It was even better the next day after copious air. Here was a wine with panache and character, truly about its place, thoroughly engaging, and deftly crafted.
Afterward, I spoke with the man who made it, Kym Tolley. A fifth generation winemaker, he's descended from two Australian winemaking families, Penfold and Tolley (his winery name, Penley, is a pastiche of both surnames.) He has forty-two vintages under his belt.
When I described to him what I'd read in his wine, he chuckled approvingly. "What you described in the '09 is exactly what we're trying to do," he said. "It's complexity. I wanted to make my reserve wines about complexity. Mint, chocolate, licorice, blackberries. They come out at different times, and different people are sensitive to different elements. You might taste more licorice than I do," (I do), "But what concerns us is a balanced character."
As a young winemaker, Tolley worked at Penfold's winery in the Barossa, and although the company had vineyards in Coonawarra, they trucked the grapes north to be made into wine. Tolley was smitten with the quality of that fruit.
"I was amazed at the fruit intensity, its perfumy, aromatic spiciness. In those days we picked a lot younger, so they had that herbal character. And you could see that in the young wine." That style wasn't fashionable at the time in Australia, but Tolley loved it. "I was a secret Cabernet drinker," he confided. "I never liked drinking that big, Aussie, blockbuster style."
So he pulled up stakes and moved to the south coast of Australia. "I went down to Coonawarra twenty-five years ago because I wanted to make this wine we're talking about now, in the style that you described it." Clearly, Tolley succeeded.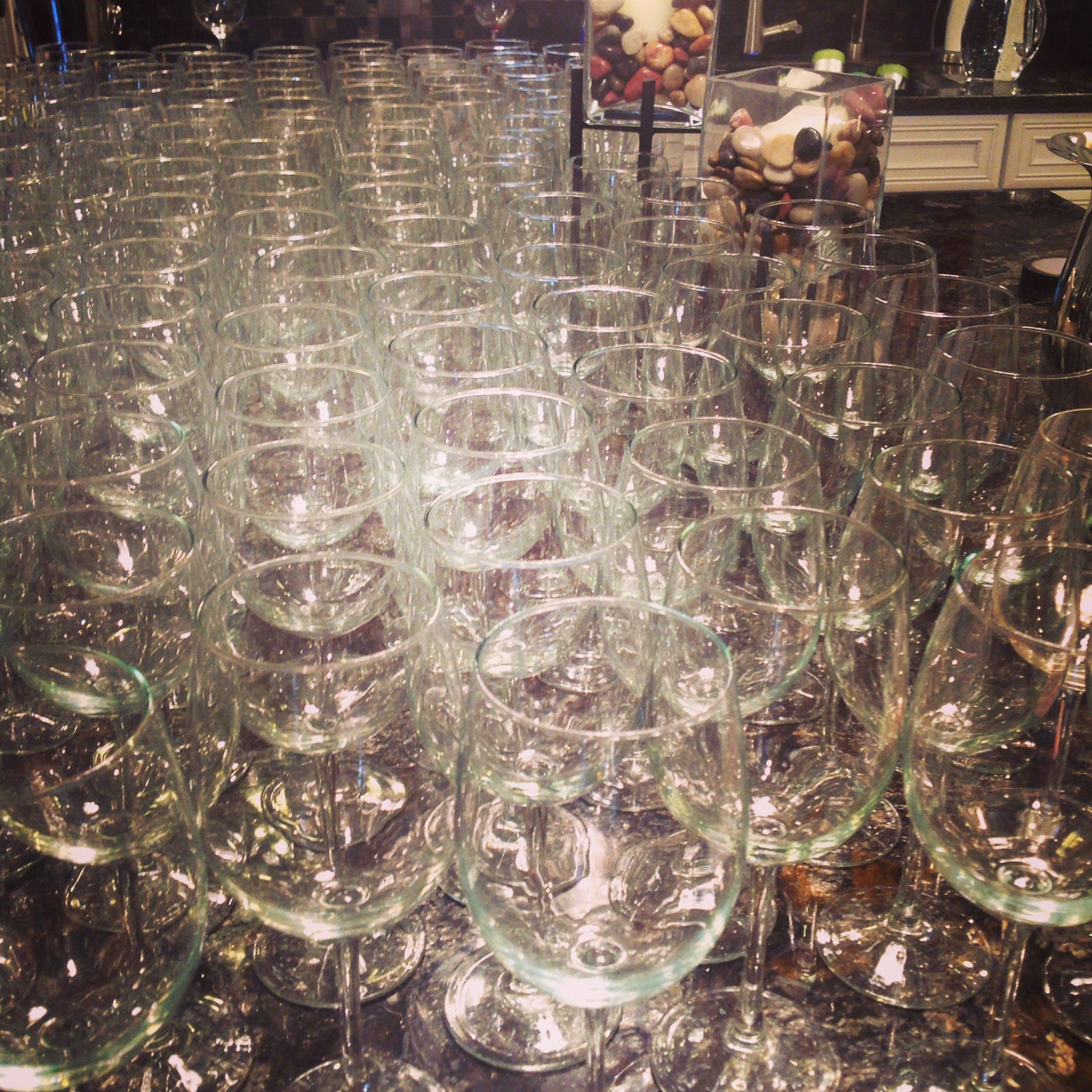 Finally to Best of Show. If you had told me, before the tasting, that we'd end up awarding Best of Show to a Grüner Veltliner eiswein and nonvintage at that, I'd have called you mad. The dessert wine table at the Grand Tasting was mobbed, and the wines were gone in a flash, but even considering their popularity, I didn't expect to find such a gem.
Winemaker Franz Türk farms an 18-hectare vineyard in Kremstal, Austria, that dates back to the eighteenth century. About 75% of his fruit is grüner veltliner, but he also grows a little blauer zweigelt and gelber muskateller (a.k.a. muscat blanc à petits grains). The cool climate reliably hands him an eiswein.
I asked Türk about the curiosity of the wine's nonvintage status. Grapes from the 2011 vintage hung through the turn of the new year, he said, and were harvested in early February of 2012. To this he added grapes from the 2012 vintage harvested in early December. This allowed him to hand-select fruit but still make a reasonable quantity. It also let him achieve a balance of sweetness and acidity. "The thing is," he said, "if we must wait so long, we must select the grapes a few times, because for ice wine we need healthy grapes."
The finished wine offers opulent aromas of lychee, honey, and lime peel mingling with hints of white pepper. On the palate there are sparkly lime-citrus notes and waves of mandarin orange, plus a lovely grassy aspect that keeps it fresh. The finish lingers forever. This is a wine alive with acidity and fruit and citrus, but with a vein of something almost saline running through it, too. It's like a bright green jewel.
"Wine and winemaking are my passion," says Türk, who describes his style as sustainable and minimalist, with limited technical intervention. "I think less is more!"
Nature gave Türk frozen grapes—not as conveniently as he might have liked. But like the other winning winemakers, he took what he had and took aim at something, and he hit the mark.
The Winners
Best of Show: NV Türk Grüner Veltliner Eiswein
Best White Wine: 2011 Beauregard Vineyards Chardonnay "Bald Mountain Vineyard"
Best Red Wine: 2009 Penley Estate Cabernet Sauvignon Reserve
Gold Medals:
2011 Beauregard Vineyards Chardonnay "Bald Mountain Vineyard"
2008 Ceja Vineyards Dulce Besso
2009 Cornerstone "The Cornerstone" Napa Valley
2010 Dobbes Family Estate Pinot Noir "Griffin's Cuvee"
2011 Gary Farrell Pinot Noir "Halber Vineyard"
2009 Kennedy Shah Tempranillo
2010 Kilikanoon Riesling "Mort's Reserve"
2011 La Encantada Estate Pinot Noir "West Steppe"
2009 Leeuwin Estate Cabernet Sauvignon "Art Series"
2011 MacMurray Ranch Pinot Noir
2009 Penley Estate Cabernet Sauvignon Reserve
1996 Quevedo Colheita
2012 Schafer-Reichart Riesling "ZÜM"
2010 Trinitas Cellars Red Blend "Mysterium"
2007 Trinitas Cellars Cabernet Sauvignon
NV Türk Grüner Veltliner Eiswein
2010 William Hill Estate Petite Verdot
2010 William Hill Estate Red Blend "Benchmark"
Cornerstone Cellars is offering Palate Press Readers a 10% discount on on wine and complimentary shipping on a case or more. (excluding library wines and 2010 Cornerstone Cellars The Cornerstone). Shop Cornerstone Cellars and use the promotion code "PalatePress" to take advantage of this discount.

Trinitas is offering Palate Press readers a 10% discount on all their wines. Shop Trinitas Cellars and use promotion code PalatePress to get the discount.