When Ciro Biondi announced that he was going to abandon his career as an architect, in order to revive the generations-old family wine business, his father was not impressed. In fact he was so unimpressed, he refused to even taste a bottle of the estate's wine when it was put in front of him.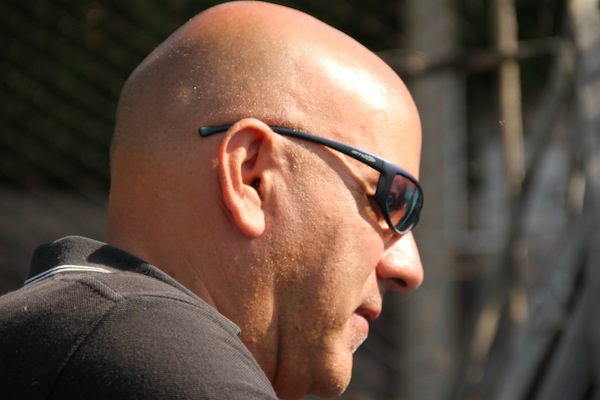 Why was Ciro's dad so scathing about his proposed move into winemaking? Perhaps it was the perception that Etna had been left behind in Sicily's bulk wine revolution: from the 1960s, the Sicilian wine industry was transformed into a highly mechanized machine for churning out base wines of indifferent, or even regrettable quality—most of which left the island in unidentified tankers, rather than bottles.
Tending the vertiginous, scattered plots of low-yielding, hundred-year-old nerello mascalese and carricante that litter the slopes of Mount Etna wasn't an attractive proposition for producers who were looking to mass-produce cheap nero d'Avola or international varieties. And so many once prized Mount Etna sites fell into disuse. Some local producers carried on making rustic wines for local consumption, but by the 1980s there were barely ten quality producers left in the region.
Tragedy could have ensued, had an intended EU "grubbing up" programme [taking out the grapevines] been implemented in the region. For not only does Mount Etna have mineral-rich, ever-changing volcanic soils, the area is also a treasure trove of ancient, ungrafted vines—most producers in the area can boast a line or two of 80-100 year-old nerello mascalese, and there are some plots considerably older than that. Thankfully, not only does the phylloxera louse not survive in Etna's volcanic sand, but the Etna wine producers rediscovered their mojo before these precious stocks were uprooted.
Volcanology and Viticulture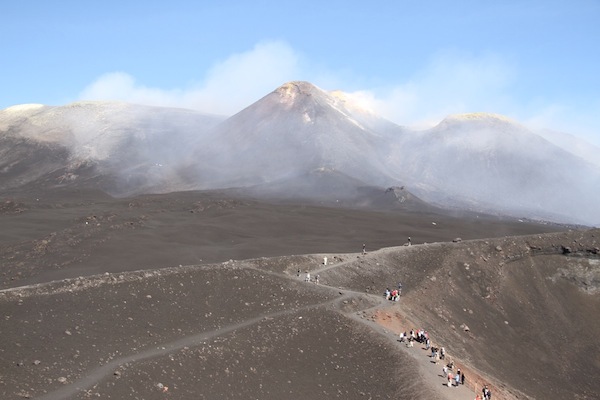 When you visit the region, as I did as part of a group of wine writers and bloggers in September 2012, it's hard not to be struck by how Mount Etna dominates the landscape. Its smoke-plumed peak towers above you, from Catania to Randazzo, and all points in between. Etna is made up of a series of sub-volcanoes and dormant craters, and is continually active. This results in extremely complex geology: soils, as well as aspect and altitude, vary considerably over the arc of the northern, eastern and southern slopes, which form the chief wine-growing areas.
Nerello mascalese, the area's chief red grape variety, is adept at transmitting the varied terroir in its elegant, structured slightly pinot-esque way. Not surprising, then, that Etna has a system of vineyard naming that is reminiscent of Burgundy's climats. There are some 60 different Contrade (roughly translating as commune or hamlet) known for producing particularly high quality wines. And following campaigning by the Etna DOC Consorzio, the name of the Contrada is now allowed to appear on the bottle (from the 2011 vintage)—an important victory for producers who want to signpost their single-vineyard wines.
Nerello mascalese is challenging, a little like nebbiolo: those rather fierce tannins need careful management. Giuseppe Mannino, president of the Consorzio and himself a wine-maker, told me that one of the biggest mistakes producers made in the decades gone by was to release wines too early – and indeed Etna Rosso is often a wine that needs time, with most quality producers releasing their wines only after 3-5 years of wood- and bottle-ageing.
Nerello cappuccio plays second fiddle to mascalese – a poor relation in terms of flavor and complexity, but adding much needed color and softer tannins. Etna Rosso wines can now be made purely with the high quality nerello mascalese, although up to 20% cappuccio is allowed. Some tolerance is necessary—who can say exactly what blend of mascalese and cappuccio (and many other obscure varieties) may be growing in their ancient plot?
Etna is also home to the high quality carricante—a white grape variety capable of considerable elegance, searing acidity, and a slightly chameleon-like ability to produce both rather angular young wines and complex age-worthy examples. In addition, up to 40% of Sicily's ubiquitous and far less interesting catarratto is allowed in the blend for Etna Bianco.
With such extraordinary soils, vines and varieties, the obvious question is why it took so long for Etna wines to return to favor. Have other cult Sicilian producers, such as Cos, Occhipinti or Frank Cornelissen (himself based in Etna) helped turn the spotlight back on this unique region? Whatever the reason, the Etna DOC area now boasts some 60 or more quality producers, and an ever-increasing global curiosity about the wines.
Traditionalists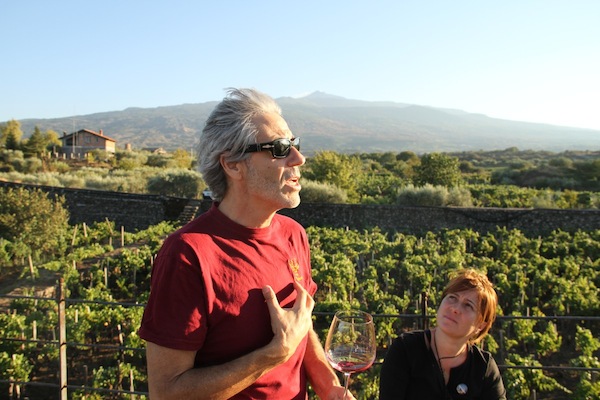 You can't talk about Etna wines for very long without Salvo Foti's name popping up. Foti is arguably the catalyst who reintroduced the world to nerello mascalese, and championed the cause for Etna's centuries old winemaking methods: albarello, or bush trained vines, organic viticulture and minimal intervention in the winery. Native to the area, Foti began researching Etna's extraordinary soils and vines in the 1980s, before landing a job as Giuseppe Benanti's Oenologist in 1988.
Benanti was perhaps an unlikely trailblazer for Etna wines – a successful businessman, with a string of chemical companies to his name. As the story goes, back in the 1980s Benanti was wining and dining a corporate client. Proud of his heritage, Benanti ordered a local Etna wine only to be disappointed with the poor quality. He felt sure that the land had more potential, and decided to invest in the winemaking business—and thus Vinicola Benanti was born.
The partnership with Salvo Foti ceased in 2008, but the Benanti wines, produced from fine single-vineyard sites in the north and south of the region, are now firmly on the world map.
Foti is an enigmatic figure, renowned for being tricky with journalists—although he was in charming form during our visit. His passion for the land and tradition of Etna is evident, whether or not his philosophical stance strikes a chord. Foti's collective of producers and consultants I Vigneri manage some of the most sublime and beautiful vineyards I have ever seen. Take Vigna Bosco: An idyllic mountainside plot of 100-140 old year vines, nestled high on the northwest slopes of Etna, at a magisterial 1,300m—high enough to be outside the 1,100m limit of the DOC zone. Or Vigneto Calderara, home to some prized 225 year old nerello mascalese, split and gnarled but still producing top quality fruit.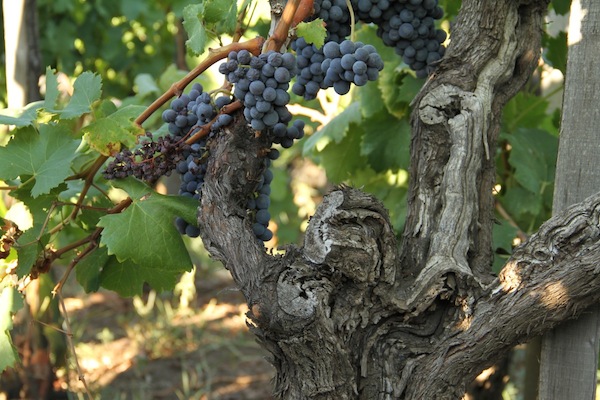 Foti is capable of great winemaking—his Aetneus Rosso 2007 (with some of the aforementioned "ancient" nerello in the blend) is a superbly elegant, focused effort. The completely unsulfured Vinujancu Bianco and Vinujancu Rosato (a traditional field blend of red and white grapes from Vigna Bosco) are more challenging, but certainly interesting and complex. Foti continues to foster new producers, like Fattoria Romeo del Castello di Chiara Vigo, for whom he has made four charming vintages (2007-2010).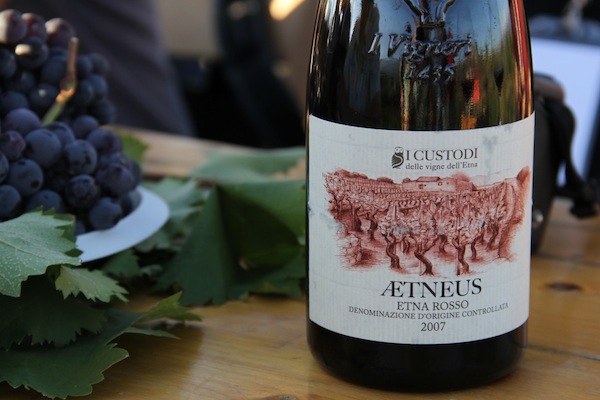 Palmentos
The centuries old beating hearts of Etna wineries, Palmentos are stone buildings with complex systems that allow winemaking to take place using only gravity—and blood, sweat and tears. Massive screw-presses, stone basins and old oak botti [barrels] are the key features. EU legislation has made their use illegal, due to supposed hygiene concerns, meaning they sit sadly empty, at best on display as museum pieces. For authentic winemakers like Salvo Foti, this is a big problem, since the Palmenti are rich sources of viable wild yeast populations. Indeed when I asked Foti about the challenges of using wild yeasts instead of selected cultured strains, he told me that "using natural yeasts is best done in a place where wine has been made for at least 100 years."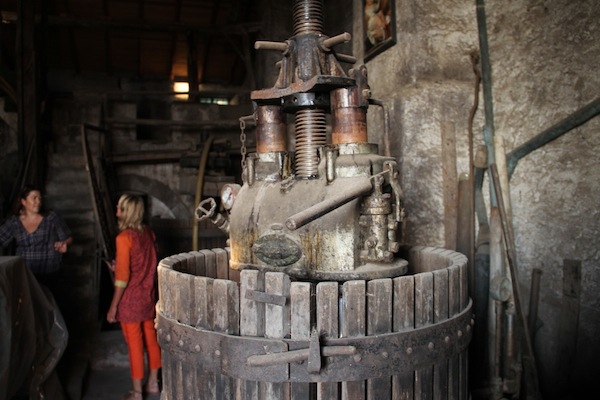 By way of example, we tasted an "experimental" Foti wine (A Nerello Mascalese blend), vinified illegally in a Palmento. It was quite delicious, rich, spicy and terrifically fresh.
Newcomers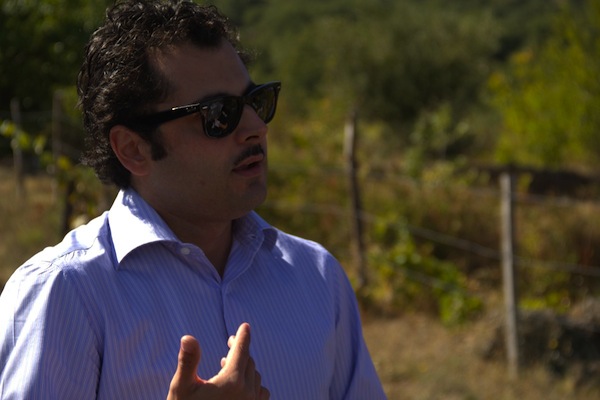 A new wave of Etna wine producers has sprung up over the last decade. Some are locals, like Alberto Graci, who discovered a forgotten and almost inaccessible plot of wines at 1,000m in Solichiatta (north). For Graci, the Etna tradition is very important. Like Foti, he is an ardent believer in arborello training (bush rather than wire-trained vines, often supported by individual stakes). "The people here prune like artists—wine is in their blood, they have an evolution of doing [this]." Graci doesn't want to replicate the faults of the past, however—and the perfumed Graci Etna Rosso 2010 bears testament to his success.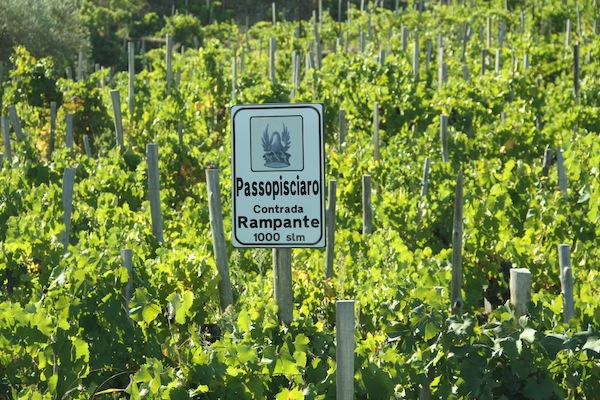 There has been a small influx of winemakers from further afield—something, which, although not uniformly welcomed by the locals, seems essential for informing the winemaking and helping the region develop. Andrea Franchetti, owner of Passopisciaro, brings with him experience from Tuscany and Bordeaux. His four, single-vineyard Etna Rosso "crus" are a fascinating study in just how expressive nerello mascalese can be, from the taut, mineral Chiappemacine, to the smoky, sage-infused Porcari or the much bigger boned Rampante.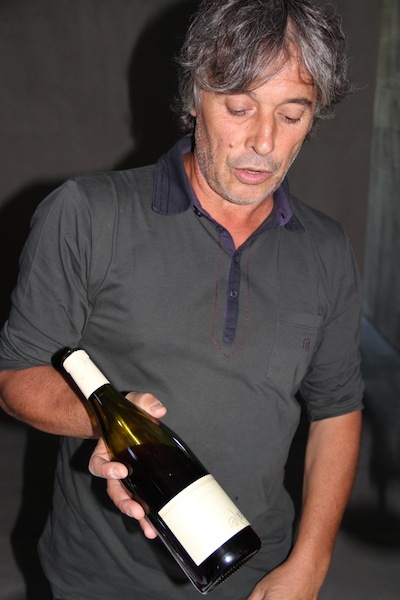 Piedmontese winemaker Federico Curtaz is making outstanding wines on the Northern slopes, for Silvia Maestrelli's Tenuta di Fessina estate. His wines are bounding with freshness and vitality. Curtaz explained, "Some of the Etna producers are scared of acidity, and try to pick later to reduce it. I come from Piedmont, if there's one thing I'm not scared of, it's acidity!"
The overwhelming majority of vineyard holdings on the slopes is not just small, but minute. 2006 statistics from the Consorzio show that just 10% of the Etna wineries/producers had more than 1 hectare. And a mere 2% have more than 3 hectares. It is worth remembering that the old alberello pruned vineyards tend to be very dense, with up to 10,000 vines per hectare—yet another reason why humans, or occasionally mules, have to take the place of tractors.
There are many small operations, which seem barely commercial, yet make exceptional wines. Azienda Agricola Giulemi makes a mere 1,500 bottles each of their Quantico Etna Bianco (which unusually has some Grillo in the blend) and Quantico Etna Rosso. Both are made with no added sulfur, and are utterly individual, without sacrificing freshness or accessibility.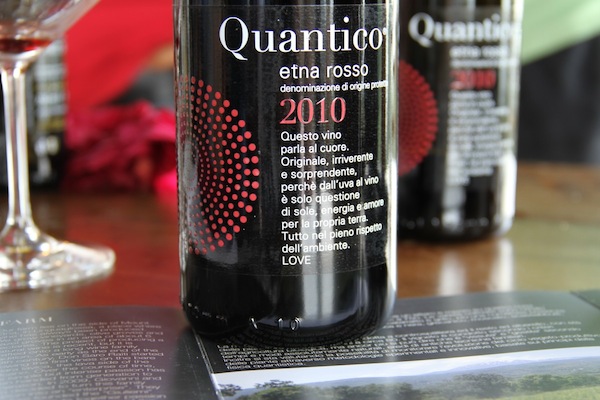 Cult producer Vini Biondi is undergoing a complex fragmentation at the time of writing, with Ciro and Stephanie Biondi splitting off to bottle their own wines under the C & S Biondi label, and Giuseppe Brancatelli retaining the Biondi brand and vertigo-inducing Mount Ilice vineyard, with its ski-lift like contraption to winch the grapes back down to earth during the harvest. The Biondi wines have been getting more and more assured over the last few vintages, and the single vineyard Chianta and Cisterna Fuori look set to continue this trend.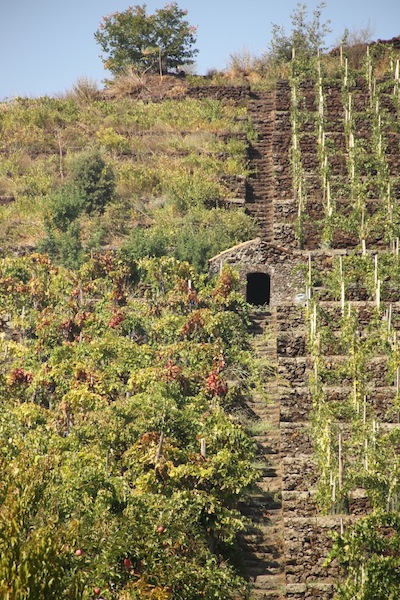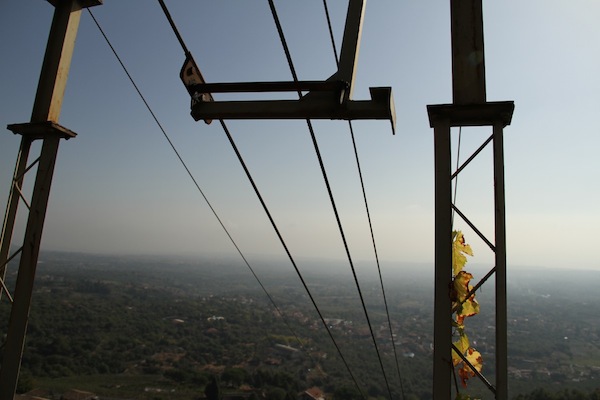 Modernists
Aside from Benanti, there are several larger quality-minded producers, who offer slick visitor experiences and good wines: Enzo Cottanera's estate of 55 hectares (currently the largest in the region) is making accessible wines in a modern style. Cantina Nicosia, Cantina Russo and Barone di Villegrande are all long established family firms who weathered the bad times and now produce good to great wines at attractive prices. Russo's Mon Pit Spumante Brut Rosé is an elegant and complex example of nerello mascalese's versatility. Villegrande are based in the Etna Bianco Superiore region (solely the Milo contrada), which produces particularly fine carricante.
As production costs for the high altitude, low yielding alberello vineyards are so high (everything has to be done by hand, in back-breaking conditions), most newly planted vineyards are wire-trained and machine-harvested—arguably allowing for more accessibly priced wines.
Challenges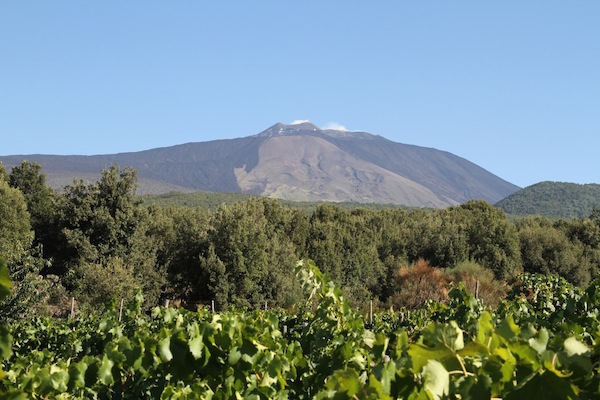 There's no doubt that Etna's unique terroir and grape varieties can produce very fine wines—and the drive to quality has clearly accelerated over the last two decades. But there are challenges for the Etna region. Consistency can be an issue—with so many small and micro-producers, passion and excellence seems bound to mix with occasional amateurism and inexperience. The lack of consistency also extends to style. Etna Bianco in particular lacks a clear benchmark—should it be easy-going and sauvignon-like, or serious and savory?
Price is another issue, with most of the DOC wines from smaller producers falling into premium or super-premium price brackets. This may not be a problem for those with established followings, but will these wines sell if they are being compared on the shelf to premium Barolos or Barbarescos?
For the moment though, interest in the region and its wines is on an upward curve. Etna wines are hot—and Ciro's dad, it seems, was wrong.
[author] [author_image timthumb='on']http://palatepress.com/wp-content/uploads/2012/08/simon-woolf-2010-e1345614169633.jpg[/author_image] [author_info]Simon Woolf is a WSET trained wine and food enthusiast living in London. His blog themorningclaret.com focuses on smaller producers who use organic, biodynamic or natural wine-making methods, and on those parts of the wine world less well travelled. Simon also writes for timatkin.com[/author_info] [/author]