If you've ever thought about laying wine down for a few years or more, how can you know what to expect when the wine has been aged in oak? How can you tell when a wine will integrate that oak and when it will succumb to it?
One of the most overused terms in wine writing is "over-oaked." That's not because wine can't suffer from the influence of too much oak; indeed, it's a common problem. But the term is so monolithic that readers might think there is a simple threshold of oak which, upon being reached, turns the label brown so consumers will understand they're about to drink a wood bomb.
If only. Oak is often helpful to a wine, but too much can be pernicious. A collector might want to lay some bottles down, but doesn't want a wine that seems strong in its youth to devolve into an oak-dominated mess over time.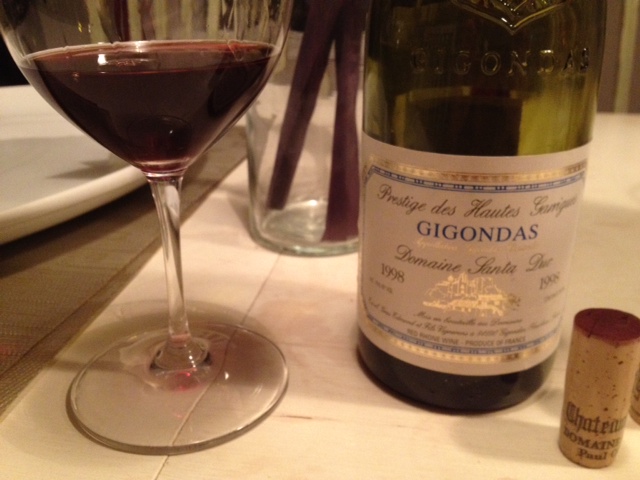 I had just such a wine this past weekend. We opened a 1998 Santa Duc Gigondas Prestige des Hautes Garrigues. The vintage was a blockbuster, and many wines from the area are in peak form. Santa Duc has earned a reputation as a solid, modern-style producer.
Oak can contribute to a wine's structure, and we can think of a wine's structure like a pair of shoes. When new, the shoes are a bit uncomfortable, sharply angled, not broken in. They need time to soften up. Ideally, the shoes will eventually become very comfortable without losing their support or wearing down. Then they'll last a long time; on rare occasions, you'll find the shoes perform even more effectively years later than on the day you bought them.
Now imagine you slip on a pair of shoes that you think should be in perfect shape—and you find the heels have worn away completely. That was what we found in the Santa Duc, a disappointing wine that was left with a frame of high-quality oak, but so much oak that it appeared to stifle all that remained. The wine was alive, drinkable, but not identifiable for where it was grown whatsoever.
How could I have known? I bought the wine knowing that it had been impeccably stored, and I was confident that laying it down was a sound idea. I thought this was a nice pair of shoes that would break in nicely over time, maybe even get better. Was there a warning sign that I missed?
This is an area in which consumers ought to envy the professional critics. After all, critics taste far more wines, and critics can taste the same wine many times over many years. They'll form a sharper picture of what to expect.
To get some perspective from just such a critic, I asked for some ideas from James Molesworth, a writer and critic for Wine Spectator. Molesworth covers the Rhône Valley and is closely familiar with Santa Duc and its ilk.
"Understanding oak is going to take experience," he said. "It's a question of balance and understanding the difference between wines that endure and wines that can truly age. That takes a while."
In other words, step one is simply to keep tasting. There is no replacement for experience.
"For me, over-oaked wines in their youth have more of a shell (expensive oak) or a thin veneer (cheap oak), with the fruit either hidden or simply shoved to the rear," Molesworth continued. "The wine is not in balance and it never will be, even if it 'tastes good' for a while before the fruit eventually drops away."
He was, I think, describing the Santa Duc very well. But what if the Santa Duc had been much closer to showing balance ten years ago? After all, the fruit of that vintage was so rich that it might have confused tasters who thought it would last.
"Wines can show nicely in their youth—big, bold, showy, lush, and still ultimately not age well," Molesworth said. He explained that he rarely finds it a good idea to attach drink windows lasting decades: "I tend to catch them before they plateau." His goal as a critic is to make sure consumers have a good idea for what to expect from a wine, all while not waiting so long that the wine can no longer show its best stuff. Some of that approach appears to be geared toward making sure wines that take heavy oak show as nicely as possible for consumers going by Wine Spectator's drink windows. And the fact is, many of the world's top wines now are made with 100% new oak, or close to it.
But back to that question of how consumers can begin to make good calls on their own.
Here Molesworth offers a vital guide point. The fruit, he says, should be fresh, even rich, but not cooked and overdone.
"Some wines show a lot of oak early, but they also have the stuffing to soak up that oak over time," he explained. "There's enough fruit and natural structure to allow the wine to age in a way that the oak melds into the fruit, rather than the fruit fading away first. And the fruit needs to be ripe, but not overripe."
This effectively explains why so many great wines are so tight when they're young; some of those wines might even seem over-oaked on the first go-round. The fruit is not stewy and syrupy, so that youthful freshness holds the flavors in reserve while the structure slowly unwinds. Ten years later, the fruit comes across more generous, the oak less obtrusive. In contrast, the wines that are overripe can seem powerful and top-quality when young, but that cooked fruit doesn't last as long, leaving the oak shell.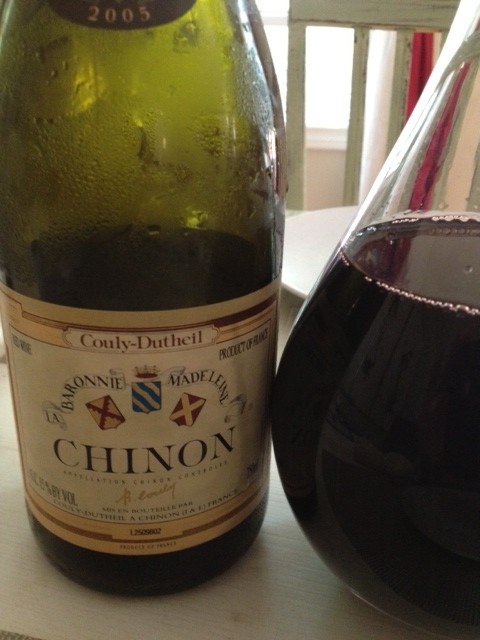 Happily, the Santa Duc disappointment was mitigated by a bottle on the opposite end of the oak spectrum. I opened a 2005 Chinon, a bottle of Couly-Dutheil La Baronnie Madeleine. Again, phenomenal vintage, and a well regarded producer. This wine was also showing some oak, and I wouldn't be surprised if it was a similar oak regimen. But the mild smoky edge was just a single note among a chorus of olive, blackberry, tobacco, and more. The tannic structure was beautifully intact. The oak was a single thread in this pair of running shoes that still had many strong miles to go. I have two bottles left. How long to hold them? I suspect there is a long life ahead, but regardless of the outcome, I will enjoy the experience that comes from making my own educated guess. I will occasionally be wrong, but I will always be learning.
[author] [author_image timthumb='on']http://palatepress.com/wp-content/uploads/2009/11/evan.jpg[/author_image] [author_info]Evan Dawson is a news anchor / reporter at the ABC News affiliate in Rochester, NY. He has reported on public policy and politics for more than 10 years. He is the Managing Editor of the New York Cork Report, as well as the author of the critically acclaimed Summer in a Glass: The Coming of Age of Winemaking in the Finger Lakes.[/author_info] [/author]