"Will you come to our booth to taste the new vintage wines?"
I'm asked this question many times a day by winemaker friends during Vinitaly, the annual wine trade show in Italy. And now it is asked by Fabio Bottonelli, a wine journalist colleague of mine. Because suddenly Fabio started to attend Vinitaly no longer as a wine journalist, but as a wine producer. A change that surprised me when I heard – but not that much, because I knew that Fabio was also a creative guy with a strong passion for his region and agriculture in general. Here is his story…
Let's start at the beginning of your professional experience: what can you tell me about your studies?
"I have a degree in agriculture, and I've always worked as a journalist specializing in agriculture. Initially I also ran a company that produces fruits and arable crops on the plain of Bologna. When this experience ended, I kept on writing at the same time as I was in charge of a public relations office full time – not only for agricultural companies, but also for travel, tourism companies and companies working in the wine sector. (For example, for a number of years I've been working as a press officer for Riedel.) Then, in 2006, I decided to realize a dream: to become a wine producer."
How did this unfold?
"I had the opportunity to help my wife Donatella Agostoni take over the estate owned by her family which was located on the Bolognesi Hills. In the years 2008-2009 we started to renew part of our eight hectares of vineyards, planting two fields with new vines, a total of 0.7 hectares (about 1.7 acres) of Pignoletto and Sauvignon Blanc. Our very first harvest was in 2009."
In 2009 we also finished the new winery for bottling our wines, which was designed by my wife, who is an architect. The new estate was named Cantina Manaresi, because is dedicated to Donatella's grandfather, Paolo Manaresi, who was a renowned Italian painter and engraver in the last century. We also use his signature as the logo for our winery."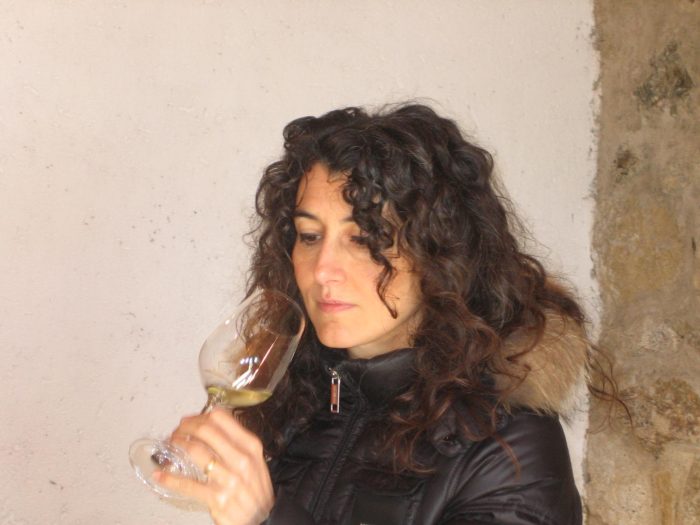 Cantina Manaresi lies at the top of the "Bella Vista" hill, rising above the eight hectares of the wine estate. The winery covers almost 800 square meters (about 8,600 square feet), most underground. It is located on the lower level of an old agricultural complex dating back to the beginning of the 20th century which has been renovated, maintaining its original size.
In 2009 Fabio and Donatella produced 15,000 bottles, now they make 40,000. Currently, they produce the whites Pignoletto, Frizzante, Classico Pignoletto Colli Bolognesi DOCG, "Duesettanta" Colli Bolognesi Bianco (a blend of sauvignon blanc, chardonnay and pignoletto) and the reds Merlot and "Controluce" Rosso Bologna DOC (a blend of merlot and cabernet sauvignon).
This is just the beginning, of course; Donatella and Fabio are not in a rush. They want to be slow and sensible and maintain a cautious approach in order to achieve the highest quality grapes.
It's rather unusual that a wine journalist become a wine producer, don't you agree? – I ask – How did other journalists react to this?
"Oh, I didn't notice any particular reaction – apart from surprise apart! Some colleagues approved or even admired this change, and others were even a little envious. After all, my writing about wine has always been a secondary career, so nobody had any great objection."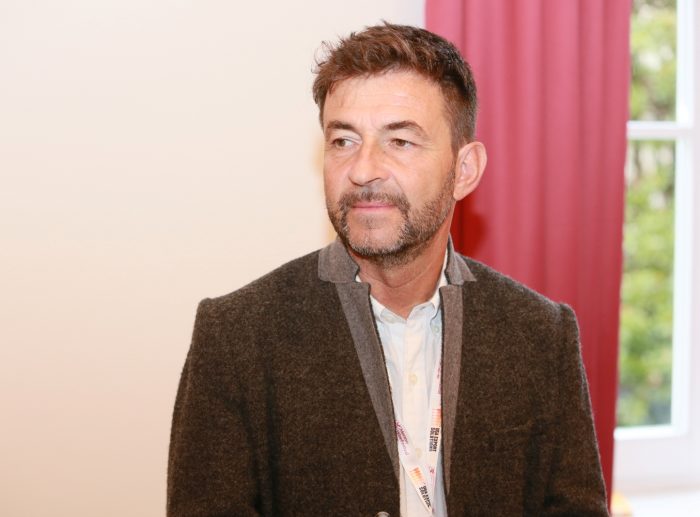 Fabio, what do you like best – and least – about this life?
"I love almost everything about being a wine producer! I particularly love the open air life, and I feel deeply gratified when I'm able to accomplish all the work I need to do in the vineyards, at the optimal times and with the most beneficial methods. I also love to attend events in the wine world, like international exhibitions or tastings. What I love less are some of the dirtier and more stressful tasks in the cellar," Fabio admits, smiling ruefully. "Such as cleaning the vats, or pumping over the must manually many times per day, even during the most uncomfortable hours of the day. Another thing I don't like in the wine world is when I see superficial and simplistic communications about wine."
Speaking of wine journalism, you do continue to write for magazines, don't you? Has your point of view changed since you started producing wine yourself?
"Yes, I continue to be a journalist, although it's getting difficult. I also started a personal blog (www.bestroutes.it) for which I have some ambitious ideas. What has changed? I'm more humble when I talk or write about wine, and I have realized that many wine writer colleagues actually are quite removed from the reality of people who run a company or are entrepreneurs. Furthermore, I don't like it when wine people display inflexible ideologies."
Ideologies? What do you mean?
"I mean people who want to drink only wines of a certain kind, or those who deride the use of selected yeasts, or proclaim that we should not use international grapes because the native ones are always best…"
OK, got it! Is there anything in your job as a journalist you think might be helpful in your job as a wine producer?
"Sure. My ability to communicate is an asset for our winery, it's a fundamental key."
Nothing else? I ask surprised, but Fabio replies readily and firmly:
"When you jump to the other side, you realize that being a wine producer is a totally different thing. Previously, I had visited many wineries thinking I understood everything. Instead, I essentially understood nothing. It is never the way you imagine."
Talking about your wines, do you export to the US?
"We do. American wine lovers can find our Pignoletto Frizzante and Pignoletto Classico DOCG." It's a shame that Emilia Romagna is not a region as celebrated and famous as Piedmont, Tuscany or Sicily, because this fact limits the variety of wines we can export to the US.
 Is Pignoletto your most important grape?
"It's our most representative one for sure. It is known mainly in its frizzante (sparkling) version, but to me the most meaningful one is the still wine, the Colli Bolognesi Pignoletto DOCG Classico Superiore, because it can compete with the most renowned Italian white wines."
You live in a region famous for its cooking and its food, so I guess you love eating, don't you? Do you have a favorite dish or food?
"Well, I'm a true carbohydrate lover! I love it in any shape: pasta, crescentine fritte [a typical dish of Emilia Romagna, sort of like bread which is rolled flat with a rolling pin, cut into diamond shapes and fried. It goes well with cold meats, soft cheeses and jams], tigelle [another kind of crescentine), piadina [a sheet of round shaped batter with a delicious filling] and bakery products of every kind. Of course, as a guy from Bologna, I also love tortellini both with ragout and in broth."
Last: do you have a secret desire or wish?
"Well, Donatella continues to work as an architect and I am still a communicator, and together we have great plans to build an amazing wine resort. So I wish for the strength, the time and the money to transform our winery into an innovative benchmark of hospitality in wine tourism."