There is a seismic shift happening in the wine world right now. Of course, there have been slowing sales as in many other industries. But the sales have only snagged on specific wine categories. Namely the high-end blockbuster wines.
The same wineries that you couldn't even get on the waiting list for 12 months ago are now having firehouse sales. These wines have been cult favorites for years. They tend to be big and brawny and therefore have received high scores from the critics.
These wineries have two problems now. First is the obvious recession and lack of consumer funds for luxury items like high -end wines.  That is a relatively temporary issue.
The second and far more pressing problem is the changing face of the wine consumer. The Boomer generation was hit hardest by the stock market dive and seems to have the tightest belts in terms of spending right now. This is the generation that grew up to believe that wine is a sophisticated, luxury item and that wine critics scores were very important.
Gen X and the Millennials are still in career ascent mode are less afraid to spend their money. Recent research by Wine Market Council suggests that these generations have shown a marked interest in wines with a story and imported wines. They also are more interested in finding out about wine online, via user reviews or even the winery's own website, than they are in wine critic scores.
They do not see wine as a luxury but an everyday meal accompaniment. These new wine consumers want to learn about lots of different wine regions, not just Napa and Bordeaux. They have forced the wine trade to take the natural and organic wine category seriously, because these wine lovers care about the earth and about what they put into their bodies.
I attended a wine dinner in Los Angeles recently and was acting as the wine "expert" for the evening. There were two long tables at the event, which was produced by local caterers ProvisionsLA.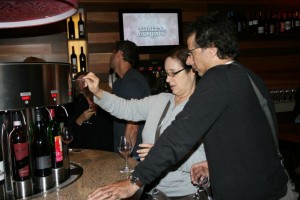 One table had almost all of the diners less than 45 years of age and the other had primarily Boomers. The younger table was mostly interested in where the wines came from and which foods matched well with it.
In contrast, as I approached the other table, an older man exclaimed, "I know all about this wine." I asked him to please share his knowledge with all of us.
His reply? "I know this wine got 91 points in the 2006 vintage." That was it. That was all he knew.
I was visiting Pourtal Wine Bar in Santa Monica recently. The sommelier, Rachel Bryan, has put together a very interesting and diverse wine list.  Rachel used to work at Chambers Street Wines in New York, which is well known for its natural and organic wine selections.
Pourtal has wines aged in amphoras from Georgia, a wonderful selection from Louis/Dressner Selections and natural wines made here in California. They also have a few of the conventional and well-known brands of wines from Napa and beyond.
Rachel told me there was a definite difference in how the wine consumers behave. The older wine enthusiasts tend to come in and ask for a specific cult Napa or Bordeaux wine that they already know.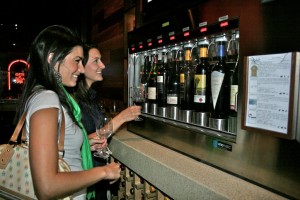 The younger consumer asks Rachel for recommendations and is more willing to experiment with wines from around the world. She said the younger consumers are also increasingly requesting natural and organic wines as well.
This new wine consumer does not gain prestige through buying the most expensive bottle on the list. She wants to buy the most interesting wine and be able to tell about the wine's story, not its score. And I used "she" on purpose since 64% of wine purchases are made by women, according to the Wine Market Council.
The new wine consumer is here to stay but will the wine producers and trade adjust accordingly?
One of my favorite songs from the mid-1990's sings, "Time is moving on, better get with it before it's gone."
– Amy Atwood: Wine Lover. Wine industry sales specialist, communicator and dealmaker since 1996.  Organic and sustainable focus. Blogging at My Daily Wine.