Hardy Wallace gave himself one year to sell through his first significant release of wines from Dirty and Rowdy Family Winery in late August, 2012. It would be work, hand selling, lots of travel. If they could sell out in a year, it would be a sign that maybe this small California winery could have a future.
Three weeks later, he was shocked to find there was nothing left to sell.
"That was pretty cool," he said on an early March morning, just a few hours after he tasted through samples of his Semillon, some from old barrels, some from concrete eggs. "We like wines with a rough edge, a little dirty and rowdy, I guess. But we didn't know if others would feel the same."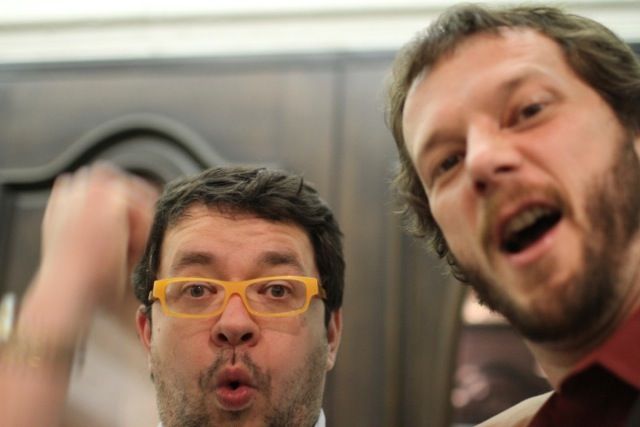 In less than six months, Dirty and Rowdy has become one of the hardest wines to get. There's a mailing list, but there is no allocation yet, and the current list has swelled to more than a thousand people. The only way to get the wine is to, in Hardy's words, "email us back really fast when we email the list with a release offer." They have become darlings of the so-called "natural wine" movement — a movement that champions wines of minimal intervention in the vineyard and winery — but they rarely use the phrase "natural wine" themselves.
The entire production could fairly be described as an accident. Wallace, 39, and his close friend Matt Richardson, 41, are making single-vineyard Mourvèdre, Sémillon, and Petite Sirah. They started with a plan of making skin-fermented Muscat in 2010 but "the grapes all got sunburned," Wallace said. "mourvèdre was maybe 20th on our list, but it was available."
An unusual approach to California reds
They loved what they found, and in the past two years they've traversed California to find diverse sites that would allow mourvèdre to show "different sides of its personality," according to Wallace. They purchase all of their fruit. Instead of following the Provençal model on mourvèdre, which thrives in Bandol and produces dense, structured wines, Wallace wondered what would happen if they approached their wines like they were making Cru Beaujolais.
"I like Bandol, but it's hard to drink," Wallace said. "Who has 25 or 30 years to wait for a wine to soften? So we went the other way. We love Cru Beaujolais, and we had this curiosity: What would happen if we treat California Mourvèdre the same way?"
The result is more trombone than Beaujolais trumpet, but with a remarkable brightness that evokes the team's love of Gamay. Each of Dirty and Rowdy's three Mourvèdres bears its own character, a sign that the land is already peeking through the wines. Wallace calls their 2011 Santa Barbara Highlands Mourvèdre "really, really close to the kind of wine we want to drink every day of our lives." It comes from a site in the far eastern part of Santa Barbara County, 3,400 feet in elevation. The wine was bottled in February 2012 after taking what amounted to a short nap in neutral wood. "I'd have put directly into the bottle if I could have," Wallace explained.
That's not the case with their Mourvèdre from Shake Ridge vineyard in the Sierra Foothills. Grown at 1,700 feet, it's a fuller wine that demanded nearly twice as much time in wood. Their third mourvèdre source, Rosewood Vineyards in Mendocino County, sits only 400 feet in elevation. The Dirty and Rowdy team was warned that mourvèdre at Rosewood would never ripen past 23 degrees Brix. Other winemakers were giving up on it. Wallace thought it sounded perfect.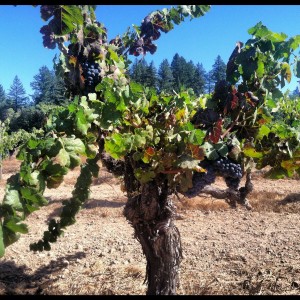 "We were picking a full month before anyone else, anyway," he said with a kind of shrug. "We're not looking for the same things that most people are looking for." He refers to the approach in the winery as "semi-carbonic."
The nascent nature of Dirty and Rowdy ensures that there will be mistakes. Wallace can only hope that every mistake turns out like the petite sirah, a grape that he never had much interest in. It became a kind of throw-in to the Dirty and Rowdy portfolio when Rosewood Vineyard grower Troy Satterwhite asked Wallace to take an acre of it in 2012.
Dirty and Rowdy approached the Petite Sirah exactly as they approached the Mourvèdre, treating it like a Cru Beaujoulais. But unlike the Mourvèdre, "We completely failed from that standpoint," Wallace said, laughing. "I don't think there's a single note of freshness in that wine, and I just don't think high-toned fruit exists in Petite Sirah."
And yet Wallace calls their 2012 Petit Sirah the best wine Dirty and Rowdy has made. "It's like getting kicked in the head by a horse," he said. "It's completely undrinkable right now. Such depth, so much tannin. Matt and I looked at each other and said, 'We didn't make a fun wine with this one. We might have actually made great wine.'"
It will take some time to tell, and even with Wallace's description, his customers shouldn't expect a classically rich California red. The alcohol barely crossed 12 degrees, a hallmark of Dirty and Rowdy wines. They're considering only bottling the Petit Sirah in magnum, "because we think it needs to live a long life before it's consumed, and maybe magnums will convince people to only open it when they have a big, rocking party."
Building a customer base
To some extent, Dirty and Rowdy has been able to rely on the peripatetic Wallace's reputation to create buzz for the wines. Wallace won a national competition in 2009 to become the face of Murphy-Goode's social media brand. He has since earned a reputation as a high-energy, savvy, outgoing personality with a love of minimalist wines. He's worked at several wineries, the latest of which includes a full-time job at Corison in Napa Valley. Before moving west, both Wallace and Richardson built strong followings for their blogs; that's where their winery's name is derived. (Wallace wrote the Dirty South wine blog; Richardson wrote Rowdy Food.)
But these days, Murphy-Goode seems like decades ago. Wallace has gone from working for a big brand to creating one of the West Coast's smallest. He relied on a close friendship with Pax Mahle, winemaker of Wind Gap, another white-hot California property. Mahle provided winemaking guidance, equipment, and problem-solving. And while others have offered help, Wallace has taken on the role of head winemaker, doing the day-to-day work on his own. (Richardson still lives in Atlanta.) They don't have outside investors.
"When you have other people in the pie, you have to start to do things their way," Wallace said. "So it's just our two families with skin in the game. It can really hurt at times, but we'd rather have complete control." One sign of progress is that Wallace and his wife, Kate, recently moved out of an apartment that had such little heat, they referred to it as "indoor camping."
"Hardy is an interesting guy," said Luc Ertoran of Terroir Natural Wine Merchant in San Francisco, one of the first to carry Dirty and Rowdy wines. "He makes low-alcohol wines, rare for California. Our customers are always excited to see a California wine on our list, because we tend not to have them. His wines, to our taste, are great."
Dirty and Rowdy also had calls from Denmark, France, and Singapore — before some major American markets. The Singapore connection was made via Instagram, where Wallace mutually followed a group of wine enthusiasts. "You think of Asia, you think of people drinking Bordeaux, first-growths," Wallace said. "These guys were drinking grower Champagne, all kinds of wild stuff. They asked for our wine, and they loved it." It took Wallace back to his roots as a social media savant. "Social media made that connection for us, and it was genuine. That was the best part. It was built on similar interest and palates." Artisan Cellars now handles Dirty and Rowdy sales in Singapore.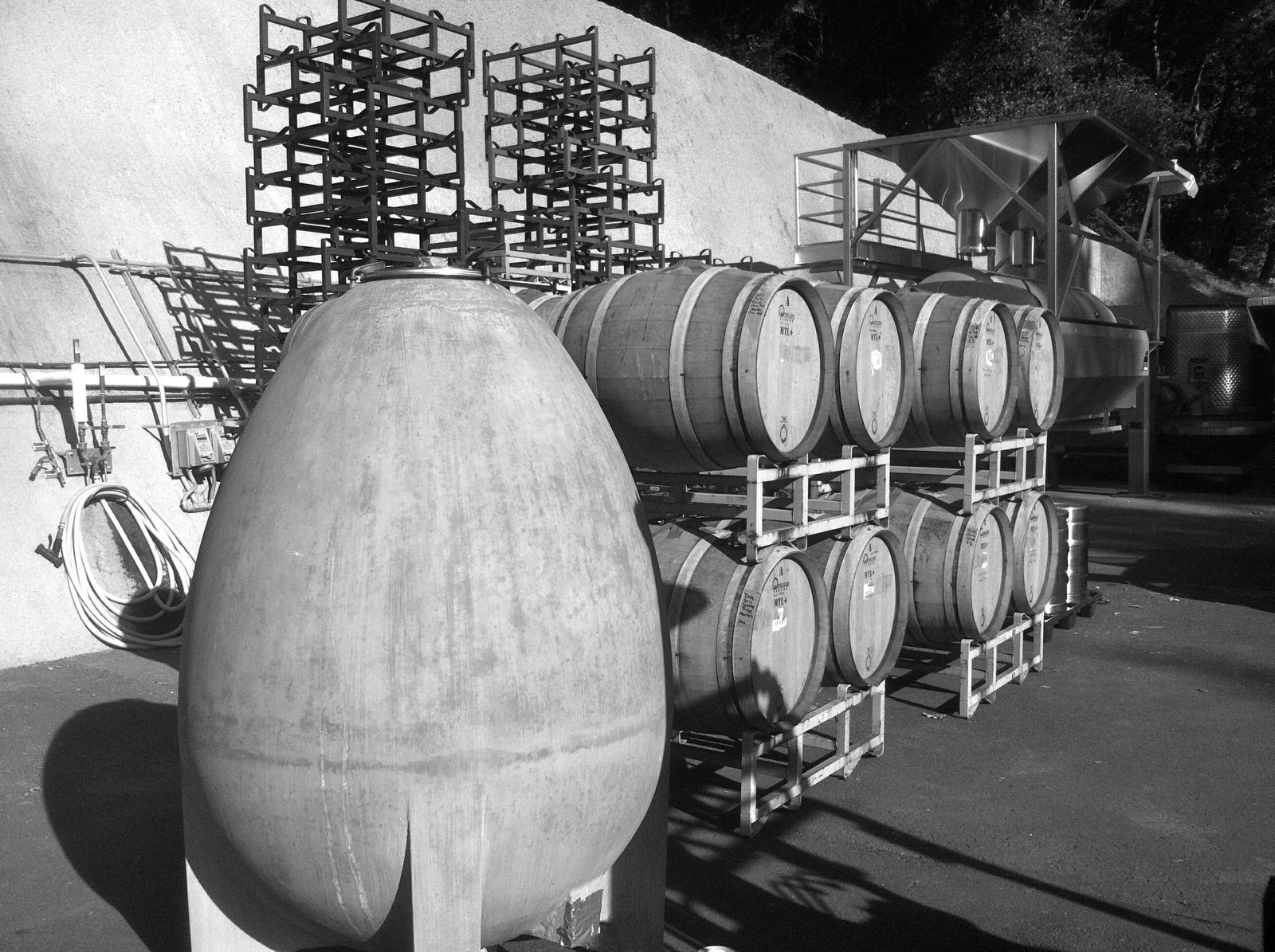 "Honest wines"
Wine enthusiasts won't find a Dirty and Rowdy tasting room; the operation runs out of the old Copain facility in Santa Rosa, where nearly 20 other winemakers rent space. And while Dirty and Rowdy are on a five-year plan just to get out of the red, they've splurged on two concrete eggs, direct from the Loire Valley, running up a bill of nearly $13,000.
One can imagine their accountant, bound-and-gagged in a basement somewhere.
"The eggs will never really pay for themselves," Wallace said of the cement, "But we just love what it does for wine." Nearly half his Sémillon is fermented in the eggs. Wallace prefers natural yeast and has little stomach for the punctilious manipulation that he sees in so many wineries. "These wines are alive, not sterile. That doesn't mean Bretty or volatile. It means they're not perfectly adjusted or over-analyzed in a lab. They're rugged and honest and dynamic."
The wines come from locations far from the well heeled paths of California winemaking. The Santa Barbara County Mourvèdre site is a kind of elevated desert, dry and windy and swept by cold temperatures at night. Ripening typically takes the overnight hours off out there where the average summer evening temperatures are around 45 degrees. It's a firewall for acidity and a buffer against raisined grapes.
Wallace enjoys the elevation differences among Dirty and Rowdy's sources. "None of the sites are too warm, but they're very different," he said. The Santa Barbara site is marked by sandstone; chunks of quartz reach from the ground in the Sierra Foothills site; their northernmost vineyard is part of an old flood plain.
The obvious next step would be to raise prices. Dirty and Rowdy is preparing to release 800 cases of its 2012 production beginning in June. It won't last long. Higher prices would allow their small company to pay more bills — or at least guarantee a heated apartment. But prices will barely move for the next round of wines. "I think we're priced fairly," Wallace explained. "We could maybe raise prices. We might be able to double prices. But we feel good about where we are." The Semillion sells for $28; the Mourvèdres sell for around $35.
For a guy with a jocular reputation, Wallace sounds startlingly serious about winemaking. "I try not to take myself too seriously, but I take the business very seriously," he said. "We're going to do all kinds of crazy things. We'd rather be on the edge, push our limits. The world has enough boring in it. Some people will hate our wine, and that's fine. If people hate it, they'll talk about it, and they'll think about it."
But don't tell him this winemaking thing has already proven to be a success. "The only time I truly believe it is when someone else tells us. We're still on pins and needles with this stuff. We still don't know if it's going to work."
[author] [author_image timthumb='on']http://palatepress.com/wp-content/uploads/2009/11/evan.jpg[/author_image] [author_info]Evan Dawson is the author of Summer in a Glass, a book about Finger Lakes winemakers. Evan is also the Finger Lakes Editor for the New York Cork Report. His paid job includes offering his best Ron Burgundy impersonation as a morning news anchor and political reporter for WHAM-TV in Rochester, NY. [/author_info] [/author]