In Sicily, the Diodoros Project focuses on really old world wine.
On a day that trembles between sunshine and showers, shafts of early morning sun slice through the clouds to light up the vineyard of Nero d'Avola grapes growing in this quiet corner of Sicily.
It's not a particularly unusual sight. Nero d'Avola is Sicily's great red grape, notable for producing rich, silky wines and you typically find it growing all over the region. Except this is no typical vineyard. These grapes are planted on the archeological site of the Valley of the Temples, part of a project reviving a tradition more than two millennia old.
The wine, known as Diodoros, is being made by the CVA Canicatti coöp, one of my hosts on this trip to Italy, in collaboration with park authorities who are aiming to resurrect the valley's ancient crops as a way to raise money and expand the park's audience by appealing to agri-tourists as well as the historically minded. They're also selling a Diodoros olive oil harvested from the park's thousands of olive trees, some hundreds of years old.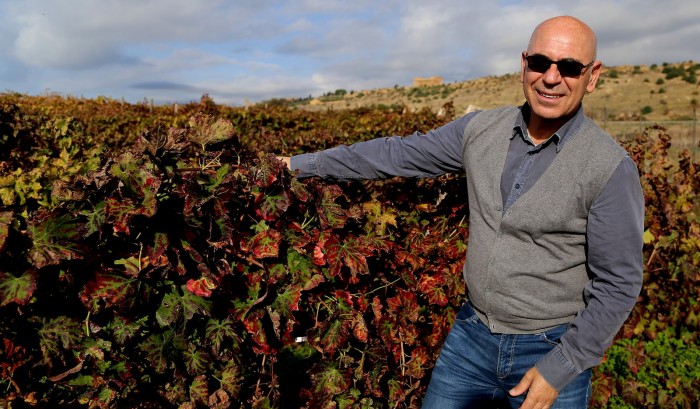 Park agronomist Calogero Liotta sees the job of taking care of the vines as a responsibility, albeit a thrilling one. "It's fantastic; it's unique," he says, of the vineyard, set below a hill topped by the Temple of Juno, its half-ruined but still graceful columns jutting into the sky. Looking up from the vines – squinting just a bit to edit out the modern road that carries coach loads of tourists to the popular site – it's not hard to imagine yourself back in 500 BC when the Greeks colonized Sicily, bringing their winemaking traditions to what was then known as Akragas, now Agrigento. "It's always different because of the light, and it's really beautiful to work here," says Liotta.
The vines themselves are fairly venerable, planted more than 40 years ago by park officials who had been selling the grapes uncrushed. But in 2011, the park authority and the Canicatti coop drew up a joint agreement to produce wine. The first harvest was 2012 and the wine was presented to the international trade and press at Vinitaly 2014.
Named for first-century historian Diodoros Siculus, the wine is mostly Nero d'Avola with a small percentage of Nerello Cappuccio and Nerello Mascalese, two red grapes commonly grown around Mount Etna.
The Canicatti coop, which has more than 480 members, produces about 80,000 cases a year with half of that going to export. About 15 years ago, leaders began an effort to improve quality, part of a regional trend that has seen the Sicilian wine industry lift itself out of the bulk wine doldrums and stake a claim as the home of premium wines.
Giovanni Greco, president of the CVA Canicatti, sees Diodoros as an emblem of what Sicily has been and what it can be.
"It's really an emotional thing, thinking that they used to grow wines and made wines here 2,500 years ago. This is really fascinating," he says. "Thanks to this wine, we realize that we Sicilians are not at the back of the list, but we are really great. We have a great history and we have a great potential."
Here are some tasting notes of Diodoros and other Canicatti wines.
2012 Diodoros: Red fruit aromas followed by more juicy, ripe red fruit in the glass for a hearty wine capable of standing up to an aged cheese. Lingering finish marked by firm but not gripping tannins.
Fileno Grillo 2013: This is a white wine made of the traditional grillo grape and is part of Canicatti winemaker Tonino Guzzo's efforts to encourage the production of premium white grapes. Aromas of white flowers and stone fruit follow on to a fresh and delicious wine with more of the same pulled together by a touch of honey. My note from the tasting dinner: "Could drink it all night."
Aquilae Catarratto 2013: Another fresh and fruity white, this wine made of the catarratto grape, another Sicilian native, smelled of white flowers and tasted of fresh green apples with a little tart peach and a touch of salt on the finish. A versatile wine.
Aynat 2009: The flagship wine and also my personal standout. Made from the Nero d'Avola grape this starts out with a rich aroma of dark red fruit and a little bit of sandalwood. It tasted of raspberries and bramble fruit and finished with soft, velvety tannins.