"I am une garagiste, a woman who makes wine in her garage, and I am maître liquoriste. I am the would-be parfumeur. I am mistress of alchemy."

—Deirdre Heekin, Libation: A Bitter Alchemy
Deirdre Heekin smiles a welcome as she hands us each a glass of sparkling Nebbiolo. It's a glittering Vermont evening in high summer. The sun's still shining, so the day's full moon hasn't yet risen over the rolling fields to our east. We raise a genial toast to her, then carry our glasses from the shelter of this open barn to greet the other guests in the garden.
There's a group already gathered by the tasting station, lined with the evening's wines from Tuscany and Campania. Other guests stroll the fledgling vineyard or drape languorously on lawn furniture, savoring this bright moment of our fleeting northern summer.
Deirdre's husband, Caleb Barber, is at the cooking station, stoking the hardwood fire, furiously toasting bread and grilling eggplant and radicchio for crostini. A slate chalkboard displays the evening's menu of simple, elegant appetizers contrived to pair with the wines. It's really just finger food, but no one will leave hungry.
The guests gathered here at Deirdre and Caleb's home are writers and restaurateurs, publishers and professors, software execs and Aikido sensei. Each has come to enjoy the party in the barn and vineyard the hosts call La Garagista.
The couple runs a tiny, flawlessly authentic Italian restaurant and wine bar in Woodstock, Vermont, Osteria Pane e Salute. Now in its thirteenth year, the restaurant has won acclaim from such publications as Food and Wine, Bon Appétit, and Travel and Leisure. Its Italian "revivalist" menu of traditional regional dishes is complemented by an extensive wine list.
Caleb commands the restaurant's kitchen. A master chef who trained in Italy, he emphasizes what's in season, sourcing provisions locally—even from the couple's own organic gardens—to craft Italian dishes infused with the flavors of Vermont's landscape.
Deirdre, meanwhile, runs the front of house, graciously serving as host, maître d', and sommelier. There is only one seating, so your table is yours for the evening, and Deirdre is your spirit guide through the meal, suggesting wines matched to the menu's regional cuisines.
She has made it her mission to assemble an archive of rare indigenous Italian wines. "When I choose wines for the restaurant," she says, "I look for regional varietals, so that when we make an heirloom recipe from that region, I can reach for the wine that traditionally complements that dish."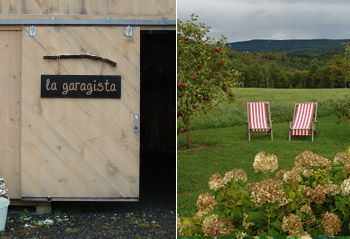 The meal, then, becomes a kind of re-enactment, a revitalization of a culinary experience: this way, she says, "we can have a sense of what people have historically tasted three hundred, five hundred, even a thousand years ago. This is what I like about making something that has existed for hundreds of years: I taste history."
Deirdre is also an exquisite writer. Her food writing has appeared in journals and anthologies, including Gastronomica and Best Food Writing. With Caleb, she has authored a cookbook and, more recently, In Late Winter We Ate Pears, a memoir with recipes of their first year of marriage.
In her latest book, Libation: A Bitter Alchemy, Deirdre recounts her experiences developing her vinous palate, deepening her knowledge, and trying her own hand at the making of wines and spirits. She is driven to understand the role these play in the fabric of culture, and to document her own quest to insert herself, as producer, into the narrative begun centuries ago by old world winemakers and liquoristes.
Deirdre's exploration has landed her in remote Italian hill villages, country cafés, vineyards tended by nuns, and even dusty bookstores, like the one in the Spaccanapoli neighborhood in Naples where, in the yellowing pages of an old cookbook, she once discovered a recipe for rosolio. That particular formula for the southern Italian liqueur was made from rose petals, using techniques easily mastered by home cooks. Back home in Vermont, Deirdre used roses from her garden to make her own batch of this sweet liqueur.
The hook was set. Cooking with their own produce, making their own liqueur—it seemed the leap to making their own wine was nearly inevitable. "To be fed by wine or food from our location is the best possible way we can live on our land," she told me recently.
But a vineyard in Vermont? Yes, it is possible. Cold-hardy, short-season varietals like Frontenac, Frontenac Gris, St. Croix, and Marquette yield reasonably and can survive the -30 degree Fahrenheit winters. So two years ago, Deirdre, with Caleb's ample help, planted 50 of these vines in their dense clay soil. This year they planted 250 more. Next year she'll plant another 300, and by 2011 she'll enjoy the first small harvest. Production will be in full swing by 2013.
She has also begun studying the work of several organic and biodynamic winemakers, and has spent time in the vineyards of like-minded Italian producers. This spring, she hopes to travel to France, learning from some of the great biodynamic growers in the Loire valley. Her aim is to transpose these techniques to her own plot. "Vin de terroir tastes of a place," she says. "I want to be as non-interventionist as possible. I want to use wild yeast, and to 'make wine in the vineyard.' Farming biodynamically is about the cycles of the earth, sky, the plant, and the weather. It's about keeping the soil healthy, and your vines healthy. It's about paying attention."
She's now in the process of having the property bonded as a winery, but in the meantime, she has been making wine with purchased grapes, her first rough experiments yielding passable results—but real wine—and lots of learning opportunities.
Libation is a kind of memoir of her learning process, and of her circuitous journey through the underworld of spirits. We follow her to Rome, where, on a sultry October evening, she tastes her first Campari. We read of her search to acquire a bottle of the scarlet-hued alkermes, a rare and storied liqueur flavored with cinnamon, cloves, nutmeg, coriander, and vanilla. We are with her in an artisanal perfumery in Paris, where she is suddenly struck by the similarities between the work of the master parfumeur and that of the sommelier, both of whom must learn to divine the infinite mysteries of these bright spirits, and to harness them in service of their craft.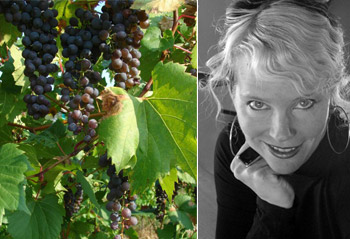 Deirdre also weaves deep history into the narrative, recounting her experiences cultivating her sense of smell and taste while providing background on the elixirs we have contrived to beguile us or simply slake our thirst. It's a book, Deirdre writes, "about soil, vines, fruit, history, scent, taste, chemistry, and memory."
"Taste is connected to history," she continues, "the history of the table, which is, after all, a narrative history, an oral history. The tongue experiences; the mouth tells a story." Our experiences of the table and the glass help seal the memory of a place and its people in our minds. Taken together, these memories constitute a culture's history.
This work is a kind of alchemy, but the winemaker and the liquoriste are searching for a different kind of gold. I asked her about the title. "Historically, a libation was shared at the altar or at a meal. You drank in remembrance of the dead, and you poured it on the ground to give something back to the earth. It was about the incorporation of food and drink into the routine of our lives. It still is. To me, the word also conjures something more. To make a wine from fruit, or a liqueur from herbs—that's nothing short of magic."
Magic aside, cultivating a vineyard means hard work ahead for Deirdre and Caleb. "This is the beginning of the journey," she says. "There's so much more to learn. And there'll be, I hope, another book about where it all has gone."
Some summer full moon evening, not too long hence, we'll gather again on the lawn at La Garagista, and raise a toast to Deirdre with a glass of her own wine.
Meg Houston Maker is an experienced cook and gardener, passionate about growing, preparing, and sharing beautiful food. A nonfiction essayist currently writing a memoir of home, she also authors Maker's Table, a journal of food, wine, and the pleasures of the table, and can be found on Twitter @makerstable.