Even more important than how many Shopping Days are left in the season: how many Wednesdays are there before New Year's Eve? Here at Palate Press that's the kind of thing we perseverate about – or at least I do… I have already started wondering what sparkling wine we will we sip while ringing in 2015. There are plenty of considerations, from monetary to type of occasion, to the style of the sparkling wine itself:
Will we have any money left for Champagne after buying presents for the extended family?
What if people come by for a drink before going out for midnight supper?
Is this our year to host the Big Bash for dozens of our closest friends?
Or are we celebrating quietly with one special person – and one special bottle of…what?
And what about flavor: what do we like? What are the best sparklers for food pairings?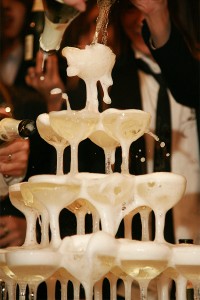 Each week until the end of the year we'll take a look at different types of sparkling wines – Champagne included, of course – so you'll be able to make a great choice for your own New Year's Eve occasion. Rather than an exhaustive overview of champagnes and sparkling wines, this series is meant to provide guidelines along with some pairing tips. We'll give a few specific examples, both classic and new. If you note the descriptions you'll be able to find something similar if your wine shop doesn't have any of those mentioned here.
First, a bit of background. You probably already know that "champagne" refers to the sparkling wine made in the Champagne region of France. Sparkling wines made in other parts of France – and other parts of the world – may have their own names such as cava, crémant, prosecco or simply "sparkling wine." The name is not an indicator of quality—though the price can be.
Now let's get started with an aperitif sparkler: fizz to serve before the meal. If you're serving a champagne or sparkling wine before a meal you may want to choose a crisper style. A sparkling wine with such bracing acidity your tongue tingles, and your mouth wants more. It's often best to serve a wine like this on its own, and let your guests savor it without food. Or with only the most delicate morsels involving lightly salty or smoky flavors – like salmon on toast points or sparingly salted nuts.
Some of the traditional high end champagnes in this category are often described as extremely dry or even "austere" or "acidic." They include the revered Champagne Salon, established in 1905 and traditionally made in tiny amounts, only from Chardonnay grapes. The wine is aged in Salon's cellars for many years before it is released. If you are lucky enough to get your hands on some, you can drink it right away because it is ready (though it can age for some time). Champagne Salon's current release is the 2002 Blanc de Blancs Cuvee "S" (about $420).
Champagne Salon also has a "sister" house, Champagne Delamotte. Delamotte is a much older, neighboring producer which has been in business since 1760. Delamotte has several champagnes in current release including blanc de blancs (around $60), 2004 blanc de blancs (around $90), and rosé (around $75). But it's the lovely, racy, non-vintage Champagne Delamotte that would be part of this aperitif category – at about one-tenth the price of Salon (around $43).
And there's a new sparkler I tasted recently that I would definitely put on this list. The first sparkling wine from New Zealand's Kim Crawford in many years: the 2009 Kim Crawford Small Parcels Fizz Methode Traditionelle from Marlborough. Kim Crawford made his name this way – by blending parcels – and it seems the Kim Crawford company has been very successful with this method in their new vintage sparkling wine. It has a vigorous mousse with tiny bubbles. There's lightly toasty, caramel yeast on the nose. On the palate, stunning acidity opens to a bit creamier mouthfeel. You also get some fruit and limey minerality on the palate and in the longish, lime finish. Great for a neo-classic "tiny bubbles" New Year's celebration. (Around $30).