At Poverty Lane Orchards on Farnum Hill, overlooking the Connecticut River in Lebanon, New Hampshire, proprietors Stephen Wood and Louisa Spencer grow true cider apples of English, French, and American origin. "We aim to re-establish fine cider making as a fact of life in the United States," says Wood, who  produces around 10,000 gallons of fine cider a year from about 80 acres of orchard.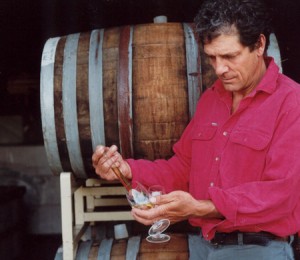 Just over two years ago, I joined Farnum Hill Ciders to direct their marketing efforts and help grow the brand—or, as I call it—spread the gospel of cider.
Cidermaking enjoys a long tradition in America. In Brian Palmer's article last fall for Slate.com, he writes of an earlier time in our country's history, when "Cider was the drink of the people…and deservedly so."  Most early colonists had no access to clean water, so "Alcohol wasn't an indulgence; it was what we drank…In 1767, the average Massachusetts resident drank 35 gallons of cider. (That includes children, who sipped a slightly weaker version called ciderkin.) John Adams drank a tankard of cider nearly every morning of his life…By the end of the century, apple orchards blanketed the American landscape."
Cider orchards were found widely throughout the US in those days, since the apple has the lucky characteristic of adaptability and can grow in many climates. But in the last two centuries, the Temperance movement and Prohibition resulted in the eradication of US cider orchards, largely by changing the mix of trees grown; apples suitable for fermentation into high-quality ciders were replaced with varieties only suitable for eating and cooking. (For more on apples, cider and humankind's relentless pursuit of sweetness, check out Michael Pollan's lush PBS documentary, The Botany of Desire, which was filmed partially at Poverty Lane Orchards.)
Now, with our country's blossoming interest in local foods, cider is ready for a comeback. Delicious, low-alcohol, and food friendly, cider offers consumers throughout North America a terroir-driven option for their table. It may be poised to become the Next Big Thing.
"Cider" in the truest sense simply means the fermented juice of apples—just as wine is the fermented juice of grapes, and perry the fermented juice of pears. The cider making process is closely akin to wine making: fruit is milled and pressed in the fall. The expressed juice is pitched with yeast (Farnum Hill uses a particular commercial wine yeast chosen for its its neutral character and reliable fermentation to dryness). Fermentation takes anywhere from two weeks to two months, then the fermented cider is racked into clean vessels and left alone to mature for another eight to 16 months.  The cider is then tasted, blended, re-tasted, filtered, and bottled or kegged.
True cider is a study in contrasts: driven by terroir, yet friendly and easy to drink; appreciated by sophisticates, but well known in farming communities; logically linked with the apple season, but consumed widely during warm months. Cider is accessible, with a lively, pleasurable taste. Although many cider apples are peculiar-tasting when eaten fresh, they produce gorgeous aromas, flavors, and sensations after pressing, fermenting, and blending. Our Farnum Hill Ciders are dry, complex, and a happy companion at the table.
The cider market in America is still young—or perhaps more precisely, young  again. One of Farnum Hill's biggest challenges is to understand potential cider buyers. Since cider making is closer to wine making than brewing, Farnum Hill has historically been distributed via wine channels. But a wine salesperson with an arsenal of terrific wines in his or her portfolio can only devote limited time and effort to an inexpensive, unfamiliar bottle of American cider.
So, cider makers are learning to walk the line between wine and beer, seeking out distributors who are intrigued by fermentation. We love the beer geeks, who are making sour and more rustic beers a serious portion of the market.
Our true challenge is education: real ciders compete in a market that's populated by the availability of mass-produced, sweet ciders. But we're not interested in trendiness, or in appealing mainly to younger consumers. We want to elevate the image of cider as a whole, to grow the market and build a category for today (and tomorrow's) cider makers. Cider may very well be where microbrews were about 25 years ago: positioned to boom, but in need of a critical mass, of a tipping point.
One of our strategies is actually to encourage more competition. Nothing would be better for all of us than the growth of a cider category—delightful regional ciders reflecting a unique sense of place. At Poverty Lane Orchards, we give away wood for grafting to prospective cider makers, and are happy to share what we've learned—the good, the bad, and the just plain confusing—in order to grow the market. We grin at the thought of cider "Napa Valleys," regions across the country where apples proliferate, and where natural variations of land, apple variety, and cider making skill will stage an American cider renaissance.
So go forth and drink more cider! Real cider is becoming more widely available online, at beer and wine shops, and at daring restaurants in apple regions. You may find both domestic and imported ciders at Whole Foods in California, New York, and various additional markets. Consider checking out ciders from West County in Massachusetts, Wandering Aengus in Oregon, or Foggy Ridge in Virginia.
Find your local cidery, and experience cider as our forefathers did: lightly alcoholic, refreshing, and truly delicious.
---

Corrie W. Martin joined Farnum Hill Ciders in August 2007 to provide marketing and organizational expertise to the business. She is responsible for building the Farnum Hill brand and spreading the gospel of real cider through outreach, education, and events. Prior to joining Poverty Lane Orchards, Corrie was at the Tuck School of Business at Dartmouth, first working with MBA students and then managing, marketing, and building executive education programs.