Daenna Van Mulligen looks at the 2018 vintage and select wines from 2015, 2016, 2017
The 27th annual "Chianti Classic Collection" took place as usual, in early February in Florence, Italy.
Despite the Italian government checking temperatures of every person entering the country when I arrived, by the time I left, one week later, Venice was in lockdown. I was not infected, and from my understanding, none of the other journalists were either. None of us was aware of how different the world would look in only a couple weeks.
However, that week in Florence, taste we did, and here are 44 of my top picks from the nearly 100 Chianti Classico Collection 2020 wines I tasted. They are listed alphabetically. The wines are either at wine shops now, or should be arriving over the next few months.
First, the format: for two days, just outside of central Florence in the Stazione Leopold, journalists and wine experts evaluated samples of the 2018 vintage of Chianti Classicos during an intensive sit-down tasting with sommelier service.
I found that overall, 2018 was a more successful vintage, fresher, fleshier and more approachable in my opinion, compared to the more astringent 2017s I had tasted during the 2019 tastings.
Alongside the new releases, previous vintages of Riserva and the ultra-premium Gran Selezione wines were also available to sample from the 200 attending producers; my notes on the finest of these wines are below.
Wines are 100% Sangiovese, unless otherwise noted, and a few (also noted) were barrel samples
A note about the weather during the 2018 growing season, according to the consortium of Chianti Classico producers:
2018 started with early budbreak due to above average temperatures for March and April, followed by a fairly rainy month in May. From 10th June onwards, temperatures started rising again and in the Chianti Classico area we had a good summer with little rain.
Veraison began in late July and continued quite slowly in the month of August. Summer temperatures were within the norm. In September, particularly, we had a succession of sunny days with considerable day-night temperature variation, allowing the grapes in the area to achieve the expected level of phenolic and aromatic ripeness.
The red grape harvest began in mid-September and finished in mid-October. Although it's difficult to give an assessment just after the harvest, Chianti Classico 2018 should be a 4/5 vintage.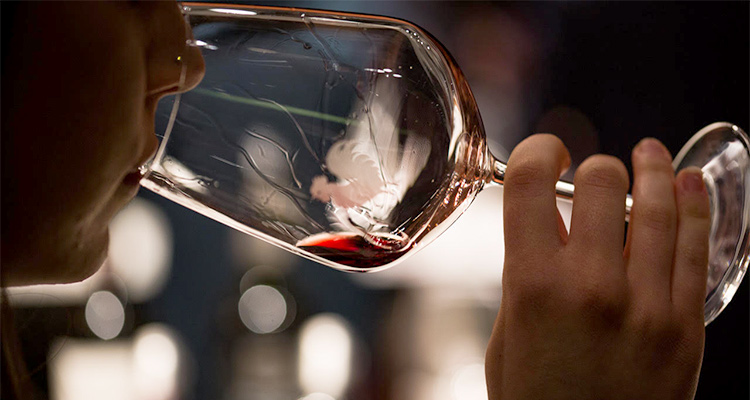 Chianti Classico DOCG 2018
Badia a Coltibuono
Gaiole in Chianti
An absolute standout in this 2018 vintage of Chianti Classico, it is a pristine wine brimming with juicy red fruits, fine sweet spices bordering on candied; It is also lifted with the perfume of roses. A precise palate features bouncy red fruits; it is refined and taut. Youthful chalky tannins contribute to a beautiful lengthy finish.
Bibbiano
Castellina in Chianti
Strawberry licorice and cherry jellies are woven with aromas of raspberry tea. On the palate expect precision and elegance. Fine chalky tannins and flavors of tobacco linger on the finish.
Bonacchi
Castelnuovo Berardenga
Tomato stem aromas layered with forest floor, cedar, juicy red forest berries and roses. In the mouth expect levity and flavors of tart red fruits to mimic the nose. It has freshness and grip with youthful sooty tannins,
Brancaia
Castelnuovo Berardenga
The Brancaia shows more intensity and depth of color than typical in this vintage plus it has a very charming nose that is floral and fruity. Expect good weight and concentration, notable heft on the entry. Elegant and balanced with fine sooty tannins. (Barrel sample).
Carpineto
Greve in Chianti
Warm and generous cherry aromas are muddled with vanilla and hints of star anise. The palate is lifted and fresh, dry and tangy with lovely expressive fruit. Expect notable structure, an elongated finish trailing cedary and tobacco flavors. Blend: sangiovese 90%, canaiolo 10%.
Castagnoli
Castellina in Chianti
Expressive and pristine red fruits are woven with purple flowers and tealeaf aromas. Bouncy red fruits flood the mouth on entry; it shows good posture but is also a bit hot and grippy. Classic tobacco and tealeaf flavors support buoyant red fruit.
Castellare di Castellina
Castellina in Chianti
Here is a perfumed wine of tealeaf, dried roses, cedar and candied cherries. It has a fresh entry laden with sweet and expressive fruits. Overall, great acidity, finesse and balance with notable dry chalky tannins. Blend: 95% sangiovese 5% canaiolo.
Castello Di Ama – Ama
Gaiole in Chianti
Expect a dulcet nose of cherry, vanilla and black current. The palate is slick and weighted on entry; a truly complete wine with good finesse and balance and sweet ripe tannins.
Castello Vicchiomaggio – Guado Alto
Greve in Chianti
Fragrant floral and high-toned red fruit aromas are layered with cedar, fine spice, and tealeaf undertones; there are some faint balsamic and soy sauce undertones. The palate is full-throttle and juicy; loads of fruit and plush weight. It is expressive and modern, lifted and smooth and boasts a sweet finely spiced finish.
Coccia Giuliano/Castellinuzza e Piuca
Greve in Chianti
Notes of strawberry tealeaves, currants and vanilla lead to a soft palate with good weight but lacking some levity. Approachable in its youth, the finish shows classic sangiovese bitterness. Blend: 90% sangiovese, 10% canaiolo.
Fattoria Carpineta Fontalpino – Dofana
Castelnuovo Berardenga
Expect grapey aromas muddled with red fruit and fine spice, that result in a pretty nose that is dulcet and floral. On the entry, mouthfilling red fruits preview a modern wine with no angularity; it is weighted and concentrated and drinking surprisingly well right now. (Barrel sample.)
Fattoria Carpineta Fontalpino – Montaperto
Castelnuovo Berardenga
A slightly dusty nose is buoyed with fresh cherry and juicy red berry notes. Weighted on the palate with concentrated cherry flavors, it also shows a good depth of fruit, a sturdy mid-palate weight and impressive length.(Barrel sample)
Fattoria San Michele a Torri –Tenuta la Gabbiola
San Casciano in Val di Pesa
The nose launches with spice and tart red berries, tomato leaf and sour cherry. Fresh and juicy, it has a classic style with lifted tangy fruit, tealeaf and appealing bitterness on the finish. A solid offering.
Fèlsina – Berardenga
Castelnuovo Berardenga
A delightful bowl of bright red berries and cherries scented with roses: impressive posture, complexity and brightness overall.
Luiano
San Casciano in Val di Pesa
Aromas of freshly picked strawberries and tart red cherries are laced with tealeaf and fine spice. Pristine fruit explodes on the palate; it is lively juicy and pristine. An elegant and complete wine with notable levity.
Rocca Delle Macie – Famiglia Zingarelli
Castellina in Chianti
This Chianti Classico starts with notes of wild shrubbery and herbs, which are lifted by tangy red fruits—creating freshness and lift. The palate is sweet, with far more expressive fruit than on the nose. Very nice overall, the palate really completes this wine and makes it sing. Blend: 95% sangiovese, 5% merlot.
San Fabiano Calcinaia
Castellina in Chianti
Sweet, almost jammy fruit aromas dominate wine. Buoyant and expressive, it has a pure fruit character woven with tobacco flavors. Classic chalky tannins linger across the finish.
Tolaini – Vallenuova
Castelnuovo Berardegna
Cherry confectionaries and sunwarmed red berry notes lead on the nose. Expect nice finesse on the palate; a very fresh wine with a classic Sangiovese palate. Sooty and youthful tannins grip the finish—an exceptional wine to cellar.
Chianti Classico Riserva DOCG 2017
A year of international climactic challenges left its mark on the 2017s resulting in some cases of astringency, but also excessive concentration. There were only a few wines from this vintage that I really appreciated, notably these:
Caparsa – Caparsino
Radda in Chianti
Expect high-toned and fragrant fruit–berries and cherries with vanilla and licorice. The palate echoes the nose; it has notable structure and levity, is seamless and is drinking nicely now. (Barrel sample)
Castellare di Castellina
Castellina in Chianti
This is a purely delightful wine showing notes of berry jellies and sarsaparilla. The palate mimics the nose; a purely sweet yet concentrated wine with elegance and buoyancy. Blend: 95% sangiovese 5% canaiolo.
Chianti Classico DOCG Riserva 2016
2016 was a good year across Tuscany, starting cool, then easing into a normal season followed by a heat spike and then a respite in August with rainfall: no real surprises. For some — Chianti Classico vineyards are diverse — it was an exceptional vintage with wines showing excellent aromatics and finesse.
Badia a Coltibuono
Gaiole in Chianti
Classic Badia a Coltibuono, this is a wine offering style, purity and substance. The nose suggests roses with bright wild berries and cherry aromas, vanilla, baking spice and earth. It is juicy and pristine with impressive complexity and depth; the finish is somewhat toasty.
Brancia
Radda in Chianti
A lovely perfumed wine of juicy red fruit and purple flowers with minty undertones. It shows great power and length with silky tannins. Overall, a delicious and stylish wine with a warm finish. Blend: 80% sangiovese, 20% merlot.
Casaioste
Greve in Chianti
Umami and savory notes of smoked meat are woven with cherry licorice, and balsamic. It's a more angular wine but with good weight and bold acidity. Notable finesse and elegance on this organic wine. Blend: 95% sangiovese, 5% other varieties.
Dievole – Novecento
Castelnuovo Berardenga
Expect a fresh nose lifted with cherries, vanilla and patchouli aromas. The palate entry is fresh and the fruit is expressive—it grows more powerful mid-palate with a few sharp angles and culminates in an assertive finish. Blend: 95% sangiovese, 3% canaiolo, 2% colorino 2%. (Barrel sample)
Gagliole
Castellina in Chianti
Charming and expressive, here is a delightful wine with lifted raspberry and cherry aromas along with milk chocolate and vanilla. Overall, it boasts a bright and stylish palate with pure sweet fruit and fine spices.
La Sala
San Casciano in Val di Pesa
A cluster of fragrant purple flowers is intertwined with cherry, baking spices, vanilla and licorice aromas. It boasts sweet expressive fruit and a bouncy palate but it also has backbone. Blend: 90% sangiovese, 10% cabernet sauvignon.
Quercia al Poggio
Barberino Tavarnelle
The nose is a muddle of tart red fruits with savory tomato leaf and rosemary, on the palate expect expressive fruit. It is harmonious and succulent; the finish is powerful with a smoked meat character.
Querciabella
Sweet and spicy, savory and fresh; this wine doles out sweet cherries and sun-warmed summer berries with fine spice, dark cocoa and tealeaf. It is an engaging wine with a robust finish gripped by ripe and mouthfilling tannins. A complex and contemplative wine.
Renzo Marinai
Greve in Chianti
Dusty plumy aromas are woven with vanilla, tealeaf and fine spice. It has nice levity and freshness overall, with sweet expressive fruit on the palate. An excellent wine with power, plus finesse; it is a plush modern style with a vanilla/cocoa finish. Blend: 90% sangiovese, 10% cabernet sauvignon.
Terra di Seta – Guardo Giro
Castelnuovo Berardegna
Scented with radicchio and tart red fruits, tobacco and burnt cocoa, which rolls into a sweet fruit palate that belies the nose. Expect an excellent wine with a velvety texture supported by power and balance.
Villa a Sesta
Castelnuovo Berardenga
Campari tomatoes and plums are alloyed with vanilla and licorice aromas. The palate is slick and spicy; it has oodles of concentration. This blend of 92% Sangiovese and 8% Cabernet Sauvignon is powerful, muscular and extracted but with well-integrated tannins.
Chianti Classico DOCG Riserva 2015
Like 2016, 2015 was a great vintage, although perhaps a little less exciting. The summer was very hot and for some was hindered with a stormy August, which resulted in lower yields; overall, the result was powerful wines with depth.
Bindi Sergardi – Calidonia
Castelnuovo Berardenga
While the oak still shows in this vintage (they've lightened up oak use now, according to consultant Federico Cerelli, winemaker at Castello di Gabbiano) it also provides vanilla and cherries, sweet strawberries, fine spice and vanilla. It boasts lovely weight and a silky mouthfeel; it's a bright and exuberant wine with fine tannins.
Fattorie Melini – Vigneti La Selvanella
Radda in Chianti
A mash of roasted herbal and red tart fruits appear on an earthy nose. The palate is bouncy with bright red fruits and fine spice but is also velvety. It has lovely balance, the tannins are chalky and ripe and it has smoky tobacco finish.
Chianti Classico DOCG Gran Selezione 2017
Castello di Fonterutoli – Vicoregio 36
Castellina in Chianti
Sweet and bouncy on the nose, this wine is wonderfully fresh and pretty on the nose with its roses, red berries and vanilla and licorice aromas. The palate is an echo of the nose; it is silky with a youthful character. It is tightly wound still but has loads of balance and promise for the future—it checks all the boxes.
Castello di Fonterutoli – Badiola
Castellina in Chianti
Incredible purity of aromas on the Badiola, which features wild roses and blueberry, vanilla and pipe tobacco. The palate is just as pretty—a silky, fresh and elegant offering.
Tenuta di Arceno – Strada al Sasso
Castelnuovo Berardenga
Potent aromas of licorice, chocolate, vanilla and cherry liqueur lead to a modern and sweet palate with vanillin oak and spice echoing the nose. It is a mouthfilling wine–concentrated and plush.
Chianti Cassico DOCG Gran Selezione 2016
Bibbiano – Vigna del Capannino
Castellina in Chianti
An earthy and stylish wine, it delivers tealeaf, classic red fruits and fine spice. Silky, woven and finessed with on-point balance, it is drinking wonderfully right now.
Bindi Sergardi – Mocenni 89
Castelnuovo Berardenga
An expressive and pretty nose suggests cola spices and cherries. It has lovely weight and balance. Overall a delightful wine with good posture and remnants of oak trailing across the finish.
Carpineto
Greve in Chanti
A pleasingly woven wine with sweet wild berries and vague dried cherry notes, which are muddled with vanilla, roses, saddle leather and pipe tobacco. A potent and modern wine that is ripe and plush but juicy and balanced. It has smooth tannins: a seamless and complete wine.
Dievole – Vigna di Sessina
Castelnuovo Berardenga
Expect cherries and mocha, vanilla and sweet spices on the nose. It is contemporary and approachable, woven with balanced acidity and notable posture. It is also delicious right now.
Fèlsina – Colonia
Castelnuovo Berardenga
Perky red cherry and raspberry aromas punch through on the nose. Expect impressive weight, body and freshness overall with slight angularity in the mouth. Chalky tobacco-flavored tannins cling to the finish.
Fontodi – Vigna del Sorbo
Greve in Chianti
Charred herbs, tomato stem and smoked meat mingle with tangy red fruit aromas. It has a classic demeanor with plenty of freshness but also structure. Lift and structure. The finish is angular, powerful and textural; bittersweet cocoa flavors line the finish.
Ricasoli – Colledilà
Gaiole in Chianti
Sweet spices, cherry cola and licorice lift succulent aromas of smoked meat and grilled herbal. A silky palate is bright, spicy, and harnessed by youthful tannins. A wine that needs time to soften and open up; it has loads of structure.
Ricasoli – Ceniprimo
Gaiole in Chianti
A distinctly savory offering with dominant meaty and herbal aromas layered with leather, tobacco and earthy undertones. The palate mimics the nose; this is a firm and contemplative wine with sturdy posture—definitely muscular in style.