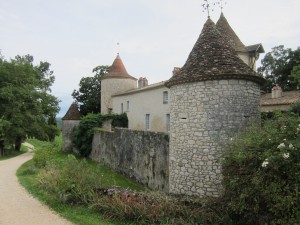 What if I told you there's a region with 6th-generation family-owned wineries, passionate young winemakers, and distinctive red and white wines that are truly reflective of their terroir?
What if I told you these wines can be had for under $20? That the reds are ageworthy, but can be drunk now? That the whites are food-friendly and delicious?
Such a region would be hip, right? And then I tell you, "It's Bordeaux." And maybe, you roll your eyes. "Oh, that old place?"
Bordeaux has an image problem. This is amazing given that most wine lovers freely acknowledge that it is responsible for some of the world's great wines.
Bordeaux is rare on by-the-glass lists. I went to nine wine bars and restaurants in a row in San Francisco without seeing a single Bordeaux by the glass, until I hit one place that had an older vintage of a St. Emilion — for $55 a glass. Nothing cheaper, anywhere, even though there are plenty of cheap Bordeaux wines to choose from.
There are a lot of reasons for this, including the constant search for something new. But I'll give a personal one that may be a little universal: Bordeaux pisses me off.
I resent the top chateaux of Bordeaux for pricing their wines above what I will pay, even if I win the lottery. I'm not going to spend $1,000 for a current release of Château Latour. But somebody will: some plutocrat in Shanghai or Dubai, who will flaunt it like a Rolex. I'll never drink Lafite-Rothschild again. (Continued below.)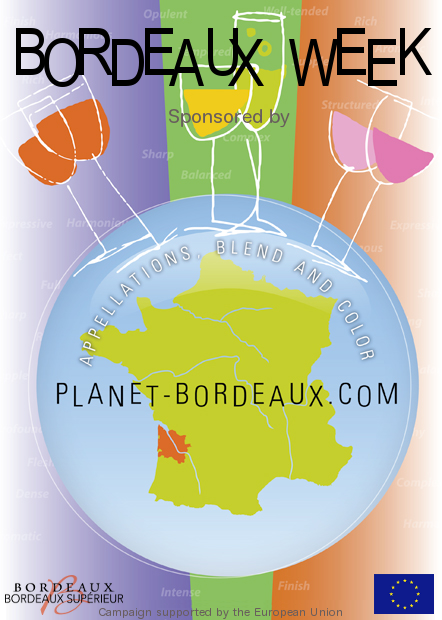 Bordeaux you can drink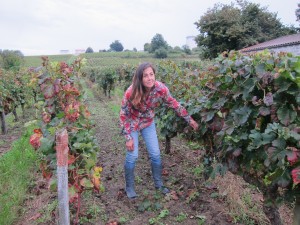 I nursed this resentment pretty deep into the week I spent in Bordeaux in September. Then I met Florence Prud'homme.
Prud'homme was an executive assistant at Marie Brizard Company, a big liqueur producer, when her husband, just 25, died of a brain aneurysm. She had two young children. She put her head down and worked. She didn't think; she cooked and cleaned and paid the bills.
About 10 years ago, she decided, "I needed to have a life project." A 40-acre vineyard was for sale about two miles from her parents' house. It wasn't in any of the famous Bordeaux appellations; she could make, at best, Bordeaux Supérieur from it. This is why there weren't Chinese investors interested. She bought it, using most of her savings.
"In the beginning, it was very hard," she says. "I try to increase quality, but it is very hard with little money. My father is dead now, but at the beginning he helped a lot."
The winery that came with it — because just about every wine in France is made on-site — is ancient and ill-fitted, with huge tanks designed for additional purchased fruit, which Prud'homme doesn't use. "I will change when I have the money," she says.
She spends her days there with her Jack Russell terrier and an aggressive cat which just showed up one day, which the dog co-exists uneasily with. Her kids are now 30 and 20 years old, and they don't work with her because "my children really don't want to become winemakers because they think it's a lot of hard work, no holidays and no money."
Her life has been rough, but her wines are delicate and interesting. Her dry white wine, Château de Saincrit "Ephemère" Bordeaux blanc, is made from the area's typical sweet wine blend of 70% Semillon, 25% Muscadelle and 5% Sauvignon Blanc because that's the way the vineyard was planted when she bought it, and may have been the way a farmer named Saincrit planted it in the 1800s. It's floral on the nose, but the Semillon is strong in the flavor; it's more like a great white wine from Hunter Valley, Australia than what you expect from Bordeaux.
Château de Saincrit rosé, made of 100% Cabernet Franc, is such a pale yellow, you'd think it's a white wine, and it's lively and delicious, with fruit flavors closest to yellow plum. Her top-end Château Saincrit Bordeaux Supérieur Cuvée Vieille Vignes red wine is elegant, with pretty raspberry fruit and well-managed tannins. Did I say "top-end?" I saw it for sale at New York's Sherry-Lehmann wine store for $15.
This is the majority of Bordeaux. The fancy, expensive wines are just a tiny percentage. Bordeaux has an ocean of wine it needs to sell, every year: more wine than all of California, about as much wine as all of Australia. And a little over half of it is labeled with the unsexy "Bordeaux" and "Bordeaux Supérieur" appellations.
Did you know that…
A few points about Bordeaux that you may not have known:
* The main grape is Merlot, not Cabernet Sauvignon. Clearly this is not going to help with its hipness. But that means that most Bordeaux are more approachable than formidable.
* Merlot and Cabernet Franc tend to have higher alcohol in Bordeaux than Cabernet Sauvignon. It wasn't until the latter grape got to Napa that people realized how much alcohol you could get from it.
* Sauvignon Blanc is the main white grape, but most Bordeaux whites are blends with Semillon and a little Muscadelle. White wine is the minority of Bordeaux wine, only about 10% of the total. Personally, and this won't make the Bordelais happy because they have a lot of red wine to sell, but they are my favorite Bordeaux wines: balanced, flavorful, more rounded and interesting than pure Sauvignon Blanc.
* "Bordeaux" and "Bordeaux Supérieur" are basically the same enormous region. Red wine labeled "Supérieur" is in fact supposed to be superior. The idea is that red "Bordeaux" is young, low- or no-oak, and should be drunk right away, while red "Bordeaux Supérieur" spends some time in oak barrels and could age if you chose to do so.
* For white wines, "Bordeaux" is always dry; "Bordeaux Supérieur" is always sweet. So paradoxically, if you like dry wines with dinner, white Bordeaux is superior to white Bordeaux Supérieur. This seems like a terrible idea, confusing the simple categories created for red wine, but even convincing the Bordelais that there's a problem will take decades — which is, of course, part of Bordeaux's problem.
* Bordeaux also makes two type of rosé: a light traditional one, and a new darker, heavier style called "Clairet" that might appeal to the US market. However, Bordeaux's rules won't allow wineries to simply label this wine as "rosé," as anybody else in the world would.
Personality vs creativity
As you can see, Bordeaux's regulations are a mixed blessing. They keep the wines tasting distinctive. But they also stifle the kind of creativity you see in most of the world.
One Bordeaux vintner, Arnaud Burliga of Château Paulin, worked at King Estate in Oregon, and told me he'd like to grow Chardonnay in Bordeaux.
"It would do well here," Burliga says. "Syrah could grow well here too. I'm not able to make wines here the way I want. But I want the advantage of the appellation system. We're not going to make competition with Burgundy for Chardonnay or the Rhone for Syrah. The appellation system was built up to keep the key industry producing."
Sylvie Courselle, owner of Château Thieuley, worked a harvest at Chalk Hill in California. "If you grow up in Bordeaux, you have to travel if you want to do something different," Courselle says. "I learned a lot in California: the hygiene. The process about how to clean tanks and hoses without any chemicals. It was the first place I saw dry ice used in fermentation. The organization: they are much better at it than we are."
Bordeaux has this young energy, these teachings from outside. It also has owners from outside.
"This is part of the history of Bordeaux," says Roland Quancard, whose family has owned Château Terrefort-Quancard since 1891. "At some point it was British, Dutch, Germans, Irish, Japanese, Russians. We have nothing against it. Last year there was a lot of hoo-haw when the Chinese bought a vineyard in Burgundy. The press asked us what we thought and we said, 'We like it.' It's bringing new ideas. And we'd rather have a vineyard that is giving a positive image to Chinese or Russians or Americans than a property that is run-down and still owned by French."
Joep Bakx and his daughter Audrey are an example. He's a Dutch national, and while his wife is from Bordeaux, Audrey was raised mostly in England. Bakx bought a small vineyard in between St. Emilion and Fronsac in 2003. He doesn't let its lack of a more prestigious appellation stop him from charging a hefty $32 for Clos Monicord Bordeaux Supérieur 2010. But it's a terrific wine, made with precision and care, bringing ripe cherry fruit and minerality from the limestone soils with nice freshness and good length. Audrey designs the bottles differently every year; they're works of art. But he couldn't initially sell them.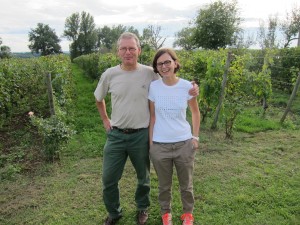 "I go to Switzerland or Germany or I go to the States and I don't see a Bordeaux on the shelf," Bakx says. "That makes me sad. It has an image of expensive, and it has an image of not good. And that's terrible because we have very nice terroir and we can make great wine. When I go to Holland, I show people the box and they taste the wine and I say how much would you pay, and they say, 60 euros. Then they see the bottle and they say, oh, Bordeaux Supérieur, 5 euros. We can't make this wine for 5 euros."
Joep sent some wine to a warehouse in New Jersey, and Audrey took samples around to New York retailers herself, and now they sell some wines direct and distributors are interested. It's what Bordeaux vintners need to do these days, personal outreach, but it's not something they're accustomed to.
But Clos Monicord is an outlier when it comes to pricing. Château Recougne is more the norm. The winery was founded in the 1800s and purchased by Xavier Milhade's grandfather in 1938.
Fourth-generation owner Marc Milhade, in his early 30s, is doing the main winemaking now. After graduating from university, he spent a year in Paris working as an engineer for Peugeot. "Then I came back because I thought it would be stupid not to work with something that had been built over three generations," he said. "When you grow up amid the vines, it's hard to adapt to urban life."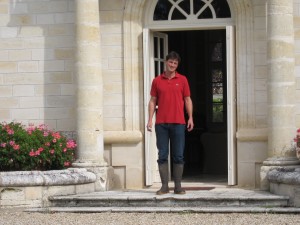 Marc and his father are innovating within Bordeaux's standards. They planted Carmenere, the almost-forgotten sixth red grape of Bordeaux, and have released a small amount of a Carmenere varietal wine. It's not quite ripe-tasting enough on its own, but they're planning to be patient.
"Look at England. Today they produce Champagne," Xavier says. "The last 10 years were warmer in Bordeaux. I was seeing picking dates move earlier and earlier. My thinking was, global warming and alcohol degree. When we grow Merlot in global warming, the alcohol is higher and higher. I think Bordeaux should be closer to 12 1/2% alcohol than to 14%. In the future, Bordeaux must think about other varieties."
The addition of 20% Carmenere to Château Recougne Vielles Vignes Bordeaux Supérieur 2010 keeps the alcohol at 14.5% and adds a nice spiciness to a round, ripe wine. You can really smell the Carmenere, which makes the wine distinctive, yet completely within the rules.
It's from a 4th-generation winemaker. It's terroir-driven. It's delicious. And it's about $20 a bottle. Which is great. If you can find it. Which is the problem of Bordeaux today.
"The price of Bordeaux Supérieur has never been so low," Xavier says. "Bordeaux is so well-known. If the price is very very low, it will make your decision easier."
A word from Planet Bordeaux, the sponsor of Palate Press Bordeaux Week:

Bonjour!

We invite you to take a journey through the beautiful vineyards of Bordeaux & Bordeaux Supérieur appellations – the heart and soul of Bordeaux. Planet Bordeaux winemakers offer fresh new ways to rediscover & enjoy high quality, terroir-driven, affordable wines from the world's wine capital.
[author] [author_image timthumb='on']http://palatepress.com/wp-content/uploads/2010/03/blake2.jpg[/author_image] [author_info]Wine writer W. Blake Gray is Chairman of the Electoral College of the Vintners Hall of Fame. Previously wine writer/editor for the San Francisco Chronicle, he has contributed articles on wine and sake to the Los Angeles Times, Food & Wine, Wine & Spirits, Wine Review Online, and a variety of other publications. He travels frequently to wine regions and enjoys coming home to San Francisco.[/author_info] [/author]