I will admit that I didn't grow up watching American football, but soccer. There's not much in common between the two sports except that they both involve a ball. But I've always been eager to adopt any holiday or occasion that involves a big crowd and food. So as a new immigrant to the U.S., I wholeheartedly embraced football and all the rituals that come with it—including hosting a Super Bowl party every February.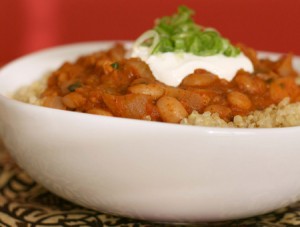 Super Bowl foods? Well that might also be a bit foreign to my French upbringing, but who wouldn't love pizzas, chicken wings, chili, dips and salsas, ice cream and cookies?
There are a couple of rules I follow when putting a menu together for a Super Bowl party. The food has to be copious (having to feed large men with equally large appetites for long hours–I learned about the infamous "football minute" early on in my football education), and it has to have kick!
So more often than not, I settle on making a chili with all the trimmings. And although I've created many recipes for different kinds of chili, the one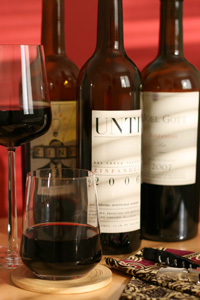 I love most is a pinto bean chili with pan-roasted spices. Dry-roasting cumin and coriander seeds in a hot pan gives these two spices a depth and nuttiness that permeates the dish. As I hand-grind the roasted spices in a mortar, the whole kitchen comes alive with their intense aroma. (Any recipe that starts this way, in my book, is a good dish!)
But then there's the question of what libation to serve. Do I dare bring a bit of my Frenchness here? Absolutely! It doesn't hurt that my husband is not much of a beer drinker and that I'm completely partial to wine.
So what do I pair with my big chili? Zinfandel… And what a dream pairing it is!
Zinfandel, being the American grape par excellence—having earnestly taken to the sunny hills of California–would seem the ideal choice to accompany a bowl of chili. But that's not the reason I chose it. I wanted a Zin because the grape's inherent boldness and spicy-smoky notes make it such a natural fit.
Here are three Zinfandels that not only pair superbly with the pinto bean chili, but would stand up to any chili, no matter how spicy, rich or smoky it might be!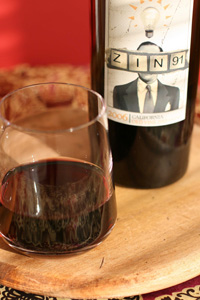 Vinum Cellar – Zin 91, Old Vine Zinfandel 2006 ($15). This small artisanal winery with an Old World approach to winemaking has always been a favorite of mine. It doesn't hurt that winemakers Richard Bruno and Chris Condos have loads a humor to go with their talent! "Quality, Value, Fun" are the three words that greet you on their home page, and they certainly live up to it—the quirky label alone of the Zin 91 will prompt a smile. But at $15 a bottle, this is not just a fun wine, it's one that really delivers for the bucks. On the nose, it has typical Zin aromas: cherries, plums and dark fruits – altogether quite pleasing. In the mouth, the dark fruits are the first thing you'll taste, but they're quickly followed by spicy notes, a hint of licorice and an ever-so-slight bitter finish. It's a chewy wine with good tannins and a smooth texture that make the spices in the chili come to life with each sip—a wine that can be enjoyed all night long (no matter how long those "football minutes" turn out to be!).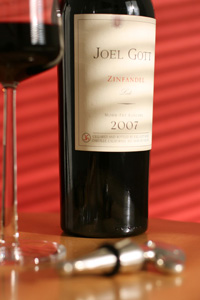 Joel Gott – Zinfandel, Lodi, Mohr-Fry Ranches 2007 ($25). This small-production bottling of 60- to 85-year-old vines from the Mohr-Fry ranches is simply spectacular. One sniff of this wine and I was seduced! Deep aromas of dark berry, currant and mocha make you want to sink your nose deeper in your glass, until the urge to taste it takes over. A gorgeous mouthful: this is a beautiful, smooth and complex wine with dark, juicy fruit notes up front and clove, cedar and even a hint of roasted coffee in the finish. The marvelous thing here is that the wine picks up all the roasted spices and the smokiness of the chili, making them come alive with every bite.
—
Unti Vineyards – Zinfandel, Dry Creek Valley 2006 ($33). I certainly didn't do this on purpose, but as I opened these three Zinfandels, I realized that all were from old vines. The Unti Vineyard Zin 06, though, is the only blend: 88% Zinfandel, 9% Petite Syrah and 3% Barbera. And what a marvelous blend it is – a refined wine that might even be a bit sophisticated for a Super Bowl party, but an indulgence I surely wouldn't forgo. Yes, I did decant it and I was glad to have done so, as it allowed the wine to unfold in the most beautiful way. The aromas swirling in the glass are seductive enough to make you close your eyes as you take it all in – it's all about dark fruit, cherry and vanilla. In the mouth, though, the fruit intensifies while subtle notes of spice and anise are revealed. Once again, the wine pairs perfectly with the chili, but it's one you'll want to keep sipping long after the meal is over. Winemaker Mick Unti says he wishes he could make Zinfandel like this every year… and so, I'm quite sure, will you!
Serving chili with a Zinfandel (even one you'd want to decant) might not be the first thing you'd think of for a Super Bowl party—but why not? It might even be the start a new American tradition!
Pinto Bean Chili with Pan-Roasted Spices and Chipotle
Served on a bed of quinoa
serves 4
For the chili
1 tablespoon cumin seeds
2 teaspoons coriander seeds
1/4 cup extra virgin olive oil
2 medium Vidalia onions – peeled and cut in 1/4″ cubes
2 garlic cloves – skinned and finely chopped
1 tablespoon chili powder
1/2 to 1 teaspoon ground chipotle to taste
1 – 4 1/2 oz canned chopped green chilis
1 – 28 oz canned peeled, whole plum tomatoes – coarsely puréed in a food processor
6 cups cooked pinto beans (no salt)
1 1/4 cups tomato juice
reserved cooking liquid from the beans (only if needed)
1 1/2 teaspoons sea salt or to taste
2 tablespoons Tequila
1/4 cup finely chopped cilantro
For the quinoa
1 1/2 cups quinoa
2 1/4 cups spring water
1 tablespoon extra virgin olive oil
1 garlic clove – skinned and left whole
3/4 teaspoon sea salt
sour cream as garnish
finely sliced scallions as garnish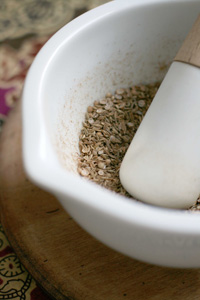 Step 1: Heat a small, heavy-bottomed frying pan over medium-high heat. Add the cumin and coriander seeds and cook until they turn a dark color and are fragrant — about 2 minutes — shaking the pan constantly and taking care not to burn the spices. Transfer to a mortar and grind until coarsely powdered.
Step 2: Heat a large heavy-bottomed pot over medium-high heat. Add the olive oil and onions and sauté for 8 to 10 minutes, until the onions have softened and begun to caramelize, stirring from time to time. Add the roasted seeds, chili powder, chipotle, garlic and green chilies and sauté for 1 to 2 minutes. Add the puréed tomatoes and tomato juice, mix well and bring to a boil. Reduce heat and simmer, covered for 10 minutes. Add the beans and bring back to a boil. Reduce heat again, cover and simmer for 20 minutes until the chili has thickened, stirring from time to time to prevent it from sticking to the pan. (If chili gets too thick, thin with a little reserved cooking water from the beans.)
Step 3: While the chili is simmering, rinse the quinoa in cold water 3 times. Strain and shake excess water. In a medium heavy-bottomed pot bring spring water to a boil. Add quinoa, garlic, olive oil and salt. Reduce heat to medium-low, cover and slow-simmer for 15 minutes until the water has been absorbed. Turn off the heat, remove garlic, stir the quinoa and let stand covered for another 15 minutes.
Step 4: When the chili is ready, remove from heat. Add the salt, tequila and cilantro and stir well (taste and adjust the seasoning if necessary).
Step 5: Spoon the quinoa in large bowls. Top with the chili. Garnish with a little sour cream and scallions. Serve immediately.
Cook's note: To double the recipe, double all the ingredients and cooking times, except for the last stage. Once the beans are added to the chili/tomato base, add 5 minutes to the cooking time or cook the beans for 25 minutes.
---

A native of a French island in the South Pacific, Viviane Bauquet Farre publishes food & style, showcasing innovative recipes inspired by seasonal ingredients and local farmers. She has appeared in and contributed to several regional publications, and her recipes have been featured in Bon Appetit, Vegetarian Times, and Saveur (which crowned her site one of the "Best of the Web"). In addition to her food writing, photography, and videos, Viviane also hosts the private no bones! dinner club in New York City, festive evenings overflowing with beautiful, creative dishes paired with unique wines.