Italy is currently the world's number one producer of wine, and the top exporter to the US, yet Italian rosé hasn't been more than a bit player in the pink market. Though actually the world's second-largest exporter, much of Italy's contribution has, in the past, fallen in the cheap, bulk category made for mindless summertime quaffing. In the premium space, on the other hand, category growth has remained elusive. To some extent, this relates to the fact that Italians don't drink a lot of rosato themselves; they're sixth in consumption, much lower than overall numbers. (In fact, the pink stuff still carries a certain stigma in a country where traditional masculinity remains relevant.)
As the world rosé market continues to grow, however, Italian producers are catching on. It's finally becoming easier to find high-quality, delicious bottles all along the boot, from north to south. In the former, Chiaretto from Lake Garda (Bardolino to the east, Valtènesi to the west) leads the way. In Abruzzo, it's Cerasuolo d'Abruzzo. In southern regions — where rosé was once made by necessity, to avoid fermentation concerns in warmer climates — look for Puglia's Salice Salentino or Castello del Monte. Beyond these key areas, reds that normally produce tannic, burly wines show their softer side, yet remain vibrant enough for versatile food pairing. 
Without further ado, here are a few that I've been enjoying recently:
Bardolino Chiaretto
Bardolino, arguably Italy's top spot for pink, has remade itself over the past 10 years, transforming rosé from a forgettable afterthought to the region's flagship vino. Beginning in 2008 with local wine consortium director Angelo Peretti's "rosé revolution," Bardolino Chiaretto has become a world class, pale pink wine with a unique and special minerality. (I don't use this term lightly — as it is currently ubiquitous in wine writing — but here it is completely apt.)
Read my deeper dive on Bardolino Chiaretto at VinePair. Or check out some of my current favorites:
Le Fraghe Bardolino Chiaretto Ròdon 2018
Simply one of the best… lovely watermelon fruit mixed with a pleasantly bitter finish.
Poggio delle Grazie Bardolino Chiaretto 2018
A sneaky wisp of anise adds intrigue to this otherwise crisp, savory pink.
Le Morette Bardolino Chiaretto Classico 2018
Another outstanding example of the style, featuring fresh citrus and a stony finish.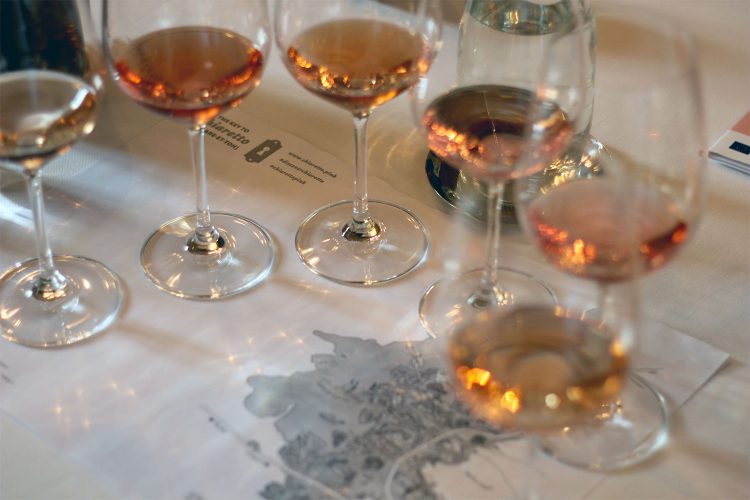 Tannic Toughs
Beyond Chiaretto, we can look to some of Italy's most tannic reds to create pink wines with backbone, which helps them pair well with a wider variety of food, especially meats from the grill. A few examples:
Ippolito Cirò Mabilia 2017
Named after the Norman princess "Mabilla," who lived in Calabria in the eleventh century, this one, according to the winery, "recalls [her] freshness and elegance." Silly story aside, this is an outstanding rose; intense pink fruit balanced nicely by mouthwatering acidity. Gaglioppo — the indigenous grape of which it is exclusively made — is naturally quite tannic, which adds verve here. In fact, this was my rosé pick of the summer last year, from any country.
Villa Guelpa Longitudine 8.11 Rose Lessona 2017
Hailing from Alto Piemonte, the northernmost winemaking area in Italy's famed Piedmont region, this wine is mostly Nebbiolo — the grape mostly known for Barolo and Barbaresco. Here it's blended with 20% Pinot Noir to outstanding effect. Fresh strawberry and red cherry mingle with herbs, and decent tannins make themselves known on the loooong salty and chalky finish.
Mastroberardino Lacrimarosa Irpino Rosato DOC 2017
Don't be fooled by the incredibly pale color here — this wine, made from 100% Aglianico, has plenty of complexity. Herbal, almost resinous notes lead into red apple and strawberry, followed by a pleasantly intense bitterness on the finish. Pair with lighter food or drink as an aperitif.
Some of the wines mentioned were provided as media samples