What is it like to be the absolute best? I bet that many of us have speculated about this at least once in our lives. If you are an actor, what is it like to win an Oscar? If you are an athlete, what is it like to win a gold medal at the Olympics? Or the Nobel Prize, if you are a scientist?
In the wine world, there is an achievement that is a lot like winning one of those awards: 100 Parker points. Nowadays, almost everybody has to admit that if a wine gets 100/100 by the most influential wine critic of the world, it must have something that no other wine has: call it personality, or perfection, harmony, or…whatever you want.
So far, only six Italian wines have been awarded 100 Parker points. There is only one Brunello di Montalcino: the "Madonna delle Grazie 2010" produced by the small winery "Il Marroneto." Years ago, I was lucky enough to meet the producer of this wine, Alessandro Mori – a regular guy from Tuscany: generous, frank, impetuous. His passion for his vineyards, his winery, and his wines is intense and tangible.
Personally, I've always considered his Brunello di Montalcino the very best example of Brunello, therefore I was pretty happy when I heard about the 100 points. I just wish I could have been at Il Marroneto to see Alessandro's face when he received the news. "An initial disbelief was followed by an hour of thrills and screams," he tells me today. "I ran around like crazy in the vineyards, while my co-workers looked at me laughing and shouting. General euphoria!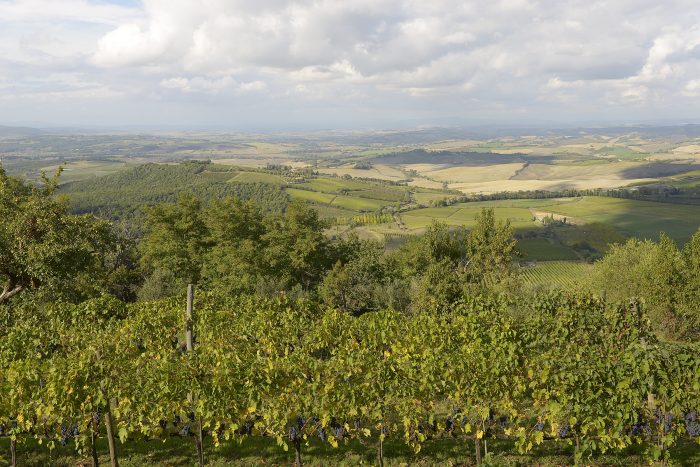 "Soon after, however, the telephone started ringing and chaos broke out. I lost customers who felt treated badly because I didn't give all my wine to them. I lost friends who had begun to speculate on my wines. Everybody was asking about me and I had no time for anybody…The logical thread on which I'd been building my business was totally blown away. I had to start over with a different, more complex marketing idea. Thus, today Il Marroneto is a perfect, small winery which collaborates only with a few importers, the best ones in the world, and all my wines are allocated the year before the sale. I have only 25 customers who compete for my wines: a dream!"
The vineyards of Il Marroneto extend on the north slope of the hill (at about 400 meters or 1,300 feet high) very near the walls of the hilltop town of Montalcino in Tuscany. Twelve thousand square meters of Sangiovese grapes, with a cru [single vineyard], the Madonna delle Grazie, named for the small church nearby that overlooks the vines and a little woodmof chestnut trees ("Marroneto" is from the word "marrone", a kind of chestnut).
When I visited the first time, I remember you told me that the management of the vineyards is based on a traditional philosophy whose practices and systems respect the plants; the vines receive minimal treatments to avoid intensive production. Is it still this way?
"Sure. Even better, today I'm more respectful of the vines and of their time, if possible. My wines are an expression not only of the uniqueness of the place but also of the tradition of our ancestors in wine making. Nowadays chemistry and mechanics help make a good, drinkable wine — but without any soul, because every manipulation of nature is destructive.
"Only by following the laws of the nature can you give depth to a wine. The treasure of Il Marroneto is exactly this: its ability to express the story of the place. My wine is a picture of each vintage, with no manipulation."
Thirty harvests, 30 pictures. An authentic scrapbook. No selected yeasts, no temperature control, no soft modern press (only an old but still effective winepress), no big steel tank (only some small tanks for the fresh wine), no barriques (only big wooden vats for aging the Madonna delle Grazie). The Alessandro Mori cellar is the exaltation of minimalism.
Are you telling me that you don't have an oenologist either?
"I have a consultant oenologist, Paolo Vagaggini, who monitors the health of the wine, but he doesn't know how I make my wine. And I don't tell him!"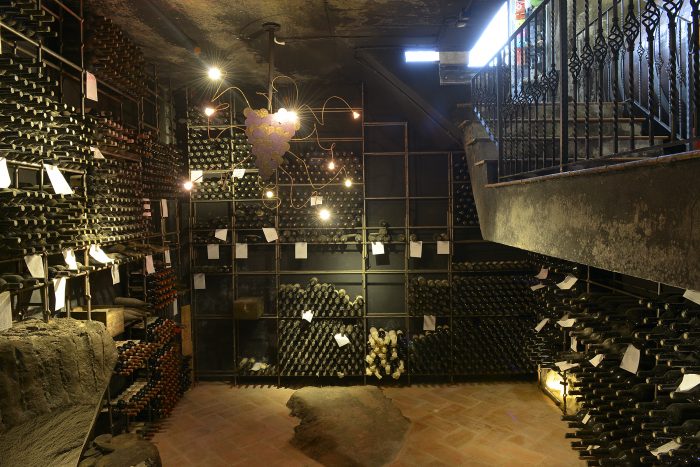 Let's take a step back now: what about your beginnings in this world? You are not a grape grower, are you?
"My father was a lawyer in Siena and bought Il Marroneto when I was 13 years old. In my head there are unforgettable memories of pure joy from that time: endless days spent under the hottest summer sun with my brother preparing the soil in order to plant the vines. Endless nights spent listening to the pumps pumping over the must. The fussiness of my mother (a very good pharmacist) weighing out grams of bisulfite while we, impatient children, were teasing her. The huge stove heating the water to clean the barrels where, with a full-face mask for protection, my brother and I alternated entering barrels…
"Afterwards, my life moved ahead. I graduated, my brother joined my father's law firm, I became a lawyer in a bank in Rome. Everything was OK, but I was far from my baby, Il Marroneto."
When did you realize that your life needed a change?
"When I was 33 years old. Maybe it was the desire to start a family (where better than in Il Marroneto?) Maybe because I was aware of feeling empty, with no real purpose. I resigned and came back to Marroneto. From lawyer to farmer. Here, I basically did everything myself, with just the help of our old cellar worker and another old man. I was the agronomist, the winemaker, the cellar rat, the tractor driver, the salesman, the bookkeeper…" A hard job, but it worked.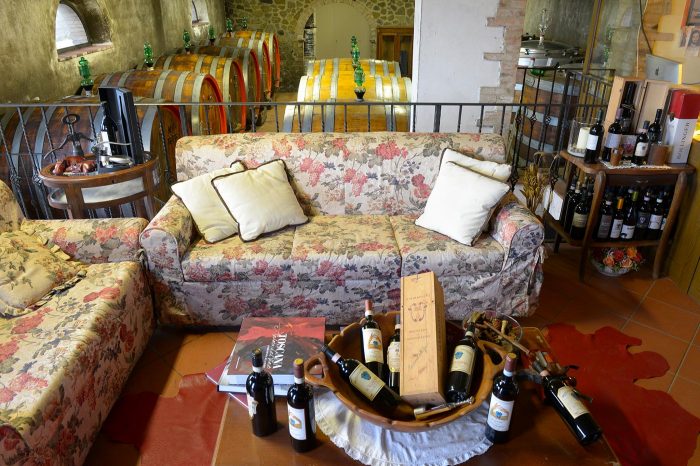 How would you define your Madonna delle Grazie Brunello di Montalcino?
"The perfect expression of what Nature is capable of doing if you take care of it and show it maximum respect. Only small, loosely clustered grapes, with a relatively thick skin, a slow fermentation without excessive pumping over, a compact skin cap where the wine slowly filters through, taking all the relevant components to make a great wine."
What is Sangiovese to you?
"Sangiovese is a grape that doesn't express itself in a powerful way, but with complexity, like the best pinot noir. Making wine is a form of art, and like any form of art it is a way to talk to people, to tell them your story… And people hear you through a glass of wine."
Do you love eating? What food or dish goes best with your wine?
"Oh yes, I love eating, and I'm lucky because due to my job I can often attend excellent restaurants and become friendly with great chefs. But I can also cook quite well, in my family I am famous for my roasted meats.
"As for my wines, I don't think there is a season in particular for enjoying them: all I can say is that I absolutely love to uncork a bottle with my friends, or watching a good movie, or playing cards, or reading a book… To me, the wine that is my companion in a moment of serenity is the perfect wine. And I love to think that my wine can be such a companion for many people in all over the world."