Passing through a guarded gate, my wife and I, on an anniversary trip to Spain, entered the bucolic 1000-hectare estate of the storied Vega Sicilia. This Bordeaux-style winery, founded in 1864, originally was a small village inhabited by the wineries' employees and connected by rail to Valladolid, 40 kilometers to the west. We walked by the façade of a chapel that was built for the employees and residents, accompanied by Puri Mancebo, Export Manager at Grupo Vega Sicilia, for a private tour of these hallowed grounds.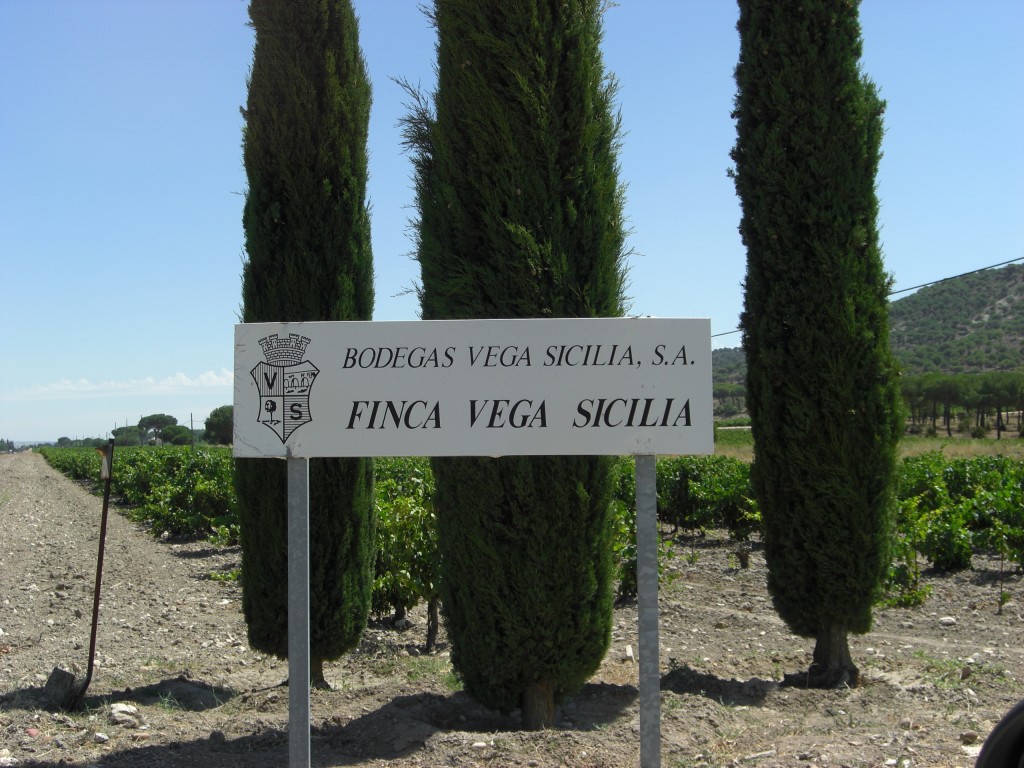 The Álvarez family, with Pablo Álvarez as director of the winery operations, purchased Vega Sicilia in 1982—the same year that Ribera del Duero achieved Denominación de Origen (D.O.) status. Vega Sicilia makes only three wines: Valbuena 5° is aged 5 years (the five is used to differentiate from the now extinct Valbuena 3°); Unico, made only in exceptional years, is aged a minimum of 10 years; and Reserva Especial is a house-styled blend of three vintages of past Unico releases and is an homage to the traditional-style Ribera del Duero wines. They are all celebrated examples of a special tempranillo clone with smaller amounts of cabernet sauvignon, merlot and malbec from 200 hectares of estate vines.
The vineyards are composed of at least 19 distinct soils, which provide tremendous complexity to the wines, grading from alluvial gravels and clays near the river to more chalky soils in the hills to the south.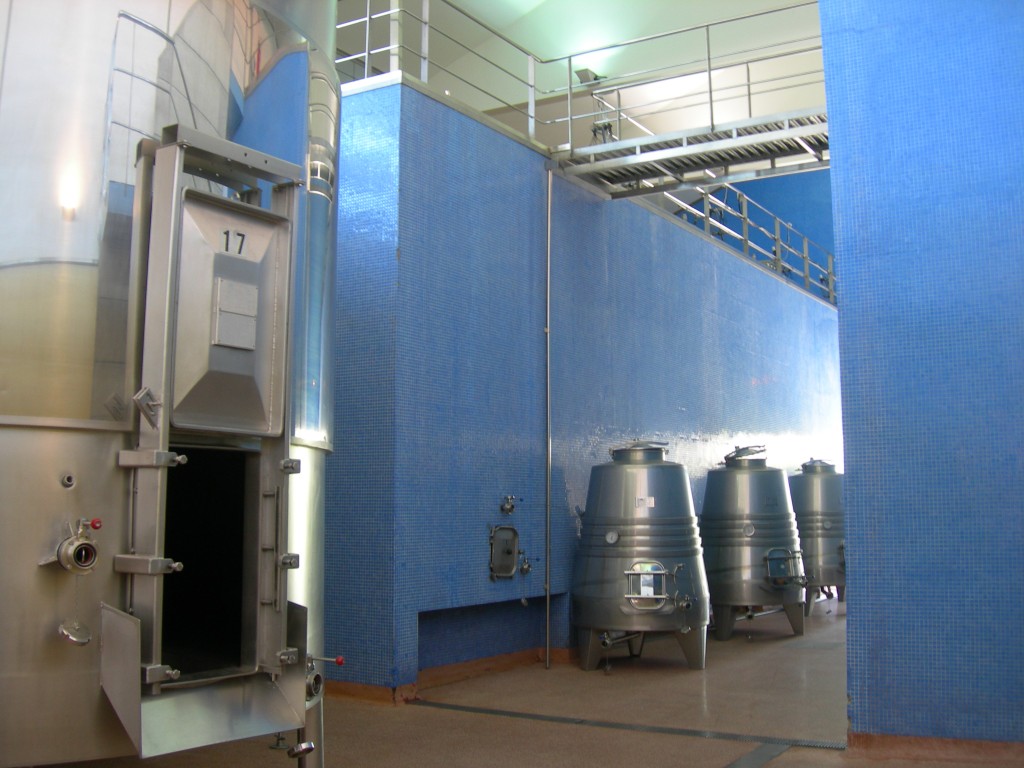 The grapes are fermented by parcel in a series of wooden vats, stainless-steel tanks, and concrete tanks. After fermentation, the wines are aged in large-capacity wooden vats, and then matured in French and American oak barrels before being returned to the large vats for further ageing. Puri also showed us several barrels of the experimental project from small plots of white grapes—chardonnay, viognier, marsanne, and rousanne—perhaps to be released commercially if winemaker Xavier Ausás deems it worthy of the Vega Sicilia brand.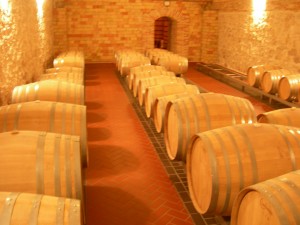 Outside, we passed the aqueduct that once brought water to the winery from the Duero River. We peeked inside the cooperage where a third-generation barrel maker meticulously crafts casks from American oak exclusively for Vega Sicilia. In the fermentation facility, we admired the old concrete fermentation tanks lined with little blue tiles like the inside a large swimming pool. A new fermentation facility was under construction and will soon replace the existing facility.
We ducked into the bottle-storage room where cases of Valbuena, Unico, and Reserva Especial await distribution atop stainless-steel pallets. Puri explained that Vega Sicilia is committed to making very clean wines, hence the pallets. Corks are purchased and painstakingly tested; if one cork fails, the entire lot is rejected. In fact, Puri explained that the family planted 20,000 cork trees on the estate after a TCA problem with the 1994 Valbuena the idea being to produce estate-grown corks when the trees mature.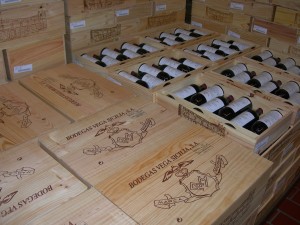 The entire collection of 1994 Unico, fifty double magnums in all, were nestled in unique wooden boxes made from the winery's old large-capacity vats. As if that weren't an amazing enough collection on its own, Spain's entire allocation of Domaine de la Romanée-Conti wines sat hiding in a corner. Puri explained that Vega Sicilia is the exclusive importer and distributor of DRC wines in Spain.
Down the road, sister winery Bodegas Alión was born in 1986 when the Álvarez family decided to start a new project; the first commercial vintage was produced in 1991. Alión Reserva Tinto differs from the more traditional, blended wines of its sister winery. Made from 100 percent tinto fino (the Ribera del Duero synonym for tempranillo) and aged in 100 percent new French Nevers oak barrels, the Alión wine is made in a more modern style and is meant to be consumed younger than the wines of Vega Sicilia.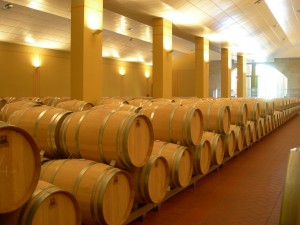 In addition to these two Ribera del Duero wineries, the Álvarez family has invested in three other wineries. In 1993, they purchased Oremus in the Tokaj region of Hungary because the family wanted a botrytized wine. Oremus produces a dry furmint-based white Mandolas, a sweet late-harvest white, three sweet Aszú wines and a super-sweet Eszencia.
In 1997, the family looked downstream from Ribera del Duero, to the up-and-coming (and warmer) Toro D.O., when they began buying and investing in approximately 100 hectares of vineyards for their new Bodegas Pintia wine. This very modern and powerful wine's first commercial vintage was 2001. The 100 percent tinto de toro (the Toro synonym for tempranillo) sees a blend of new French and American oak.
Spanish media announced this summer that Vega Sicilia has joined with Baron Benjamin de Rothschild in Rioja by buying a little over 100 hectares in the Rioja Alta region. The new venture is to be called Bodegas Benjamin de Rothschild & Vega Sicilia: look for this on exclusive wine lists in the next few years.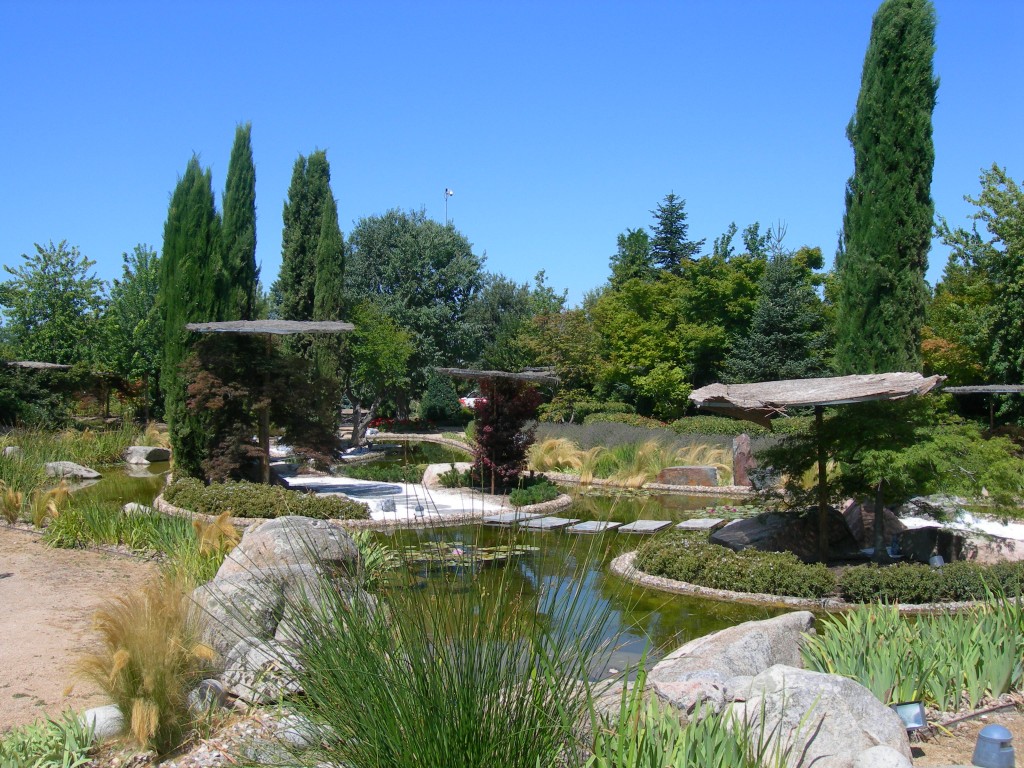 After our tour, we sat with Puri in the late 19th-century house that hosts visitors and private family events, tasting a selection of wines from all of Vega Sicilia's properties (tasting notes below).
On the way back to our car, Puri led us through the Japanese-style garden built at the request of Pablo Álvarez. Each of the momiji (Japanese maple) is protected from the intense summer sun by individual parasols and nearby a modern teahouse accommodates outdoor VIP gatherings. For us, the garden was a vivid illustration of the quest for perfection for which Vega Sicilia and its associated properties strive.
2005 Alión
100% Tinto Fino. Visually, shows a concentrated and deep purple color. The aroma yields hints of vanilla and dark red and black fruits. In the mouth, strong yet smooth tannins are balanced well by the acidity. Complex flavors of cherries, cola and good minerality. Very Good.

2006 Pintia
100% Tinto de Toro. The glass shows an opaque and inky purple color. The nose is much more powerful with oak, espresso and blue fruits dominating. On the palate, austere blueberry and blackberry liqueurs fill the mouth as it is coated by puckering tannins. Very Good.

2004 Valbuena 5°
90% Tempranillo 10% Merlot and Malbec. A rich red color filled the glass. The aromas are more refined than the Alión or Pintia. Scents of ripe strawberries, chocolate and figs permeate the glass. The supple tannins and acidity create a velvety feel in the mouth. Violets, cherries, strawberries and a bit of earthiness yield a long and satisfying finish. Excellent.

2000 Oremus Tokaji Aszú 5 Puttonyos
Mostly Furmint but blended with some Hárslevelü and Muscat de Lunel. Golden yellow nectar coated the glass. Honey, apricots and floral notes tempted on the nose. Exceptionally sweet but not cloyingly so. Honey, apricots and dried tropical fruits coat the mouth. Very Good.
Related articles by Zemanta
---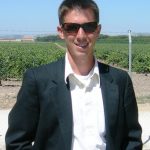 Kyle Schlachter has been in the wine industry for about five years now. He currently works for the Colorado Wine Industry Development Board and is pursuing a Ph.D in geography; focusing on Colorado's wine industry. He writes about his personal wine adventures at Colorado Wine Press.