Here in Oregon I'm surrounded by two things that make me happy during the holidays: excellent wine and an intense embrace of vegetarianism. While it's definitely easy to have a meat-free diet in the Portland metro area, it might not be as practical in other places. So what exactly do you serve on Thanksgiving when you're preparing food for friends that don't eat meat or animal by-products?
I have a number of friends who are vegan or vegetarian, so our holiday meal this year posed exactly that challenge. And furthermore, I had to find wines that were appropriate! From a couple of the veg-focused food blogs I follow and recommendations from friends, I've put together a vegetarian menu complete with wine pairings that's sure to please any veggie.
Chickpea cutlets with red quinoa and roasted Brussels sprouts
The chickpea cutlet recipe was taken from one of my favorite Portland-based vegan cooking sites, Post Punk Kitchen.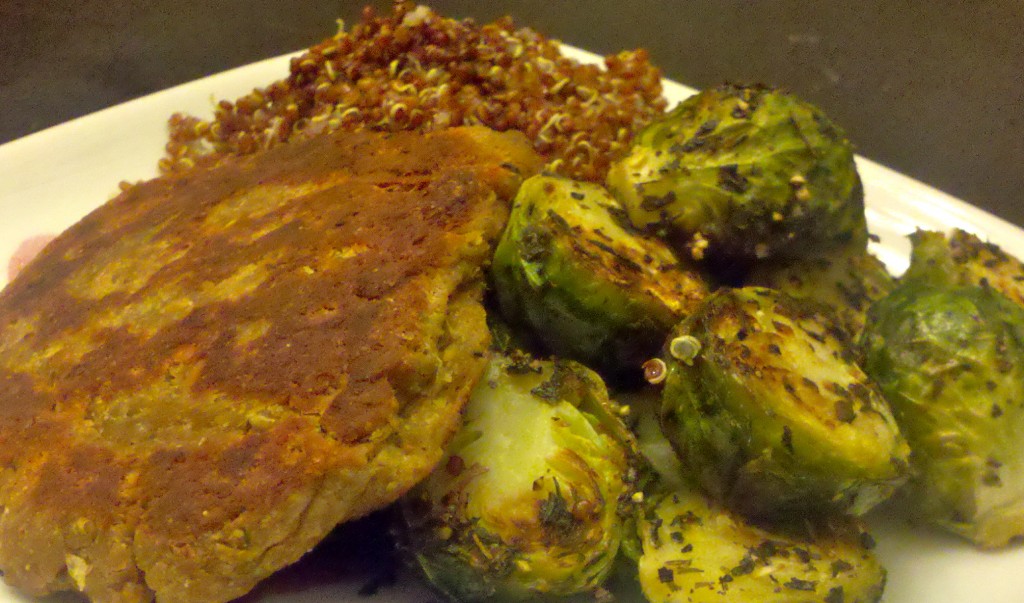 1 16 oz can chickpeas, drained and rinsed
1/4 cup extra virgin olive oil
1 cup vital wheat gluten
1 cup plain breadcrumbs
1/2 cup vegetable broth or water
1/4 cup soy sauce
1 teaspoon dried thyme
1 teaspoon paprika
1/2 teaspoon dried sage
Olive oil for pan frying
4 cloves garlic, pressed or diced
Mash the chickpeas in a mixing bowl until they're mostly broken up. Then toss in all the remaining ingredients and mix—though I found kneading with my hands worked best—for about three minutes. The gluten will form everything into a solid dough that is stringy when stretched apart.
This recipe makes eight cutlets, so divide the dough into even pieces and form them into patties. Fry in a large skillet with a little olive oil for 6-7 minutes on each side or until browned and crispy.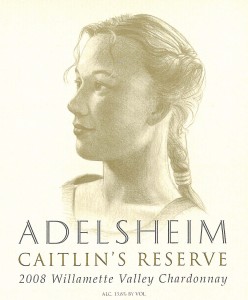 Halve the sprouts then toss them with olive oil, salt, fresh cracked black pepper, cumin, mint, thyme, and coriander. Roast at 350ºF for 15-20 minutes until they begin to blacken.
Cook the quinoa just like rice: one part grain to two parts water. Rinse the grains thoroughly though before cooking—quinoa has a compound on it that is bitter if not rinsed off. Bring to a boil, then cover and simmer for 15 minutes.
1789 2008 Chehalem Mountain Pinot Noir ($48)
Clear, ruby red color and a nose balanced between earth and fruit; dust, blackberry, and raspberry. Dry, medium-full body, medium acidity with dark cherry, sweet plum, pepper, and cooked strawberries on the palate. The fruit is dominant, but not lush, pairing well with the faux meat and blackened sprouts.
Adelsheim Vineyards 2008 Caitlin's Reserve Chardonnay, Willamette Valley ($40)
Dried yellow grass in color and stewed yellow apple, vanilla, and clove on the nose. Full bodied with flavors of lemon zest, apple, hazelnut, and oak. Highly recommended with the savory cutlets, which bring out the more subtle fruit notes of the wine.
Acorn Squash stuffed with roasted nuts and wild rice
This recipe is an adaptation of one a friend prepared for me recently. She used delicata squash and a mixture of onions, sage, and roasted nuts. I was unable to find the same squash, so I opted for acorn, and wanted the filling to be a little lighter while still having the intensity from the roasted nuts.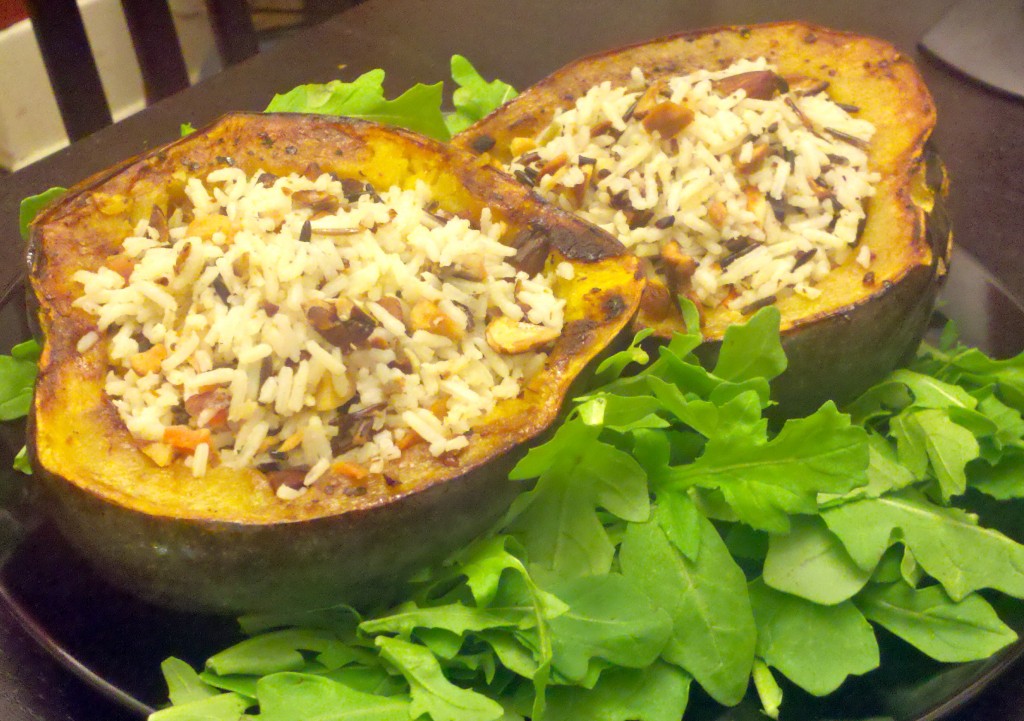 1 acorn squash, halved and cleaned
2 cups cooked wild rice
1 cup raw mixed nuts, chopped
2 tablespoons olive oil
1 teaspoon dried sage
1 teaspoon dried tarragon
1 teaspoon dried rosemary
salt and pepper to taste
1/2 teaspoon lemon zest
Preheat the oven to 375ºF and roast the chopped nuts on a baking sheet for 5-7 minutes or until fragrant. Remove from the oven and stir into the rice with lemon zest, salt, and pepper.
Whisk the herbs and olive oil together, brushing onto the cut side of the squash. Place the squash skin side up on your baking sheet and bake for 35-40 minutes until it begins to soften. Remove from the oven and spoon the rice and nut mixture into each halve. Wrap in foil and continue baking 15-20 minutes.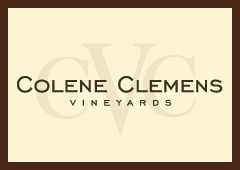 Colene Clemens 2008 Estate Reserve Pinot Noir, Chehalem Mountains ($42)
Bright ruby color with some garnet highlights around the edges. An earth driven nose softened with dark fruit, black cherry, and rich spice. Dry with unassuming tannins, flavors of bright cherry, smoke, and baking spice leading to a nice long finish.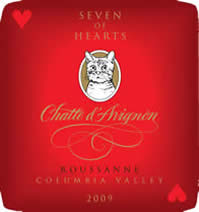 This wine really complimented the roasted hazelnuts and wild rice.
Seven of Hearts 2009 Chatte d'Avignon Viognier-Roussanne, Columbia Valley ($20)
Golden yellow color with a nose that offers fragrant aromas of orange blossom, tropical fruit, and yellow apple. The full texture lingers as flavors of peach, candied citrus, and honeysuckle develop. Paired well with the roasted squash, and while this wine is dry it would also be a great compliment to a rich pumpkin pie.
Thai-spiced pumpkin soup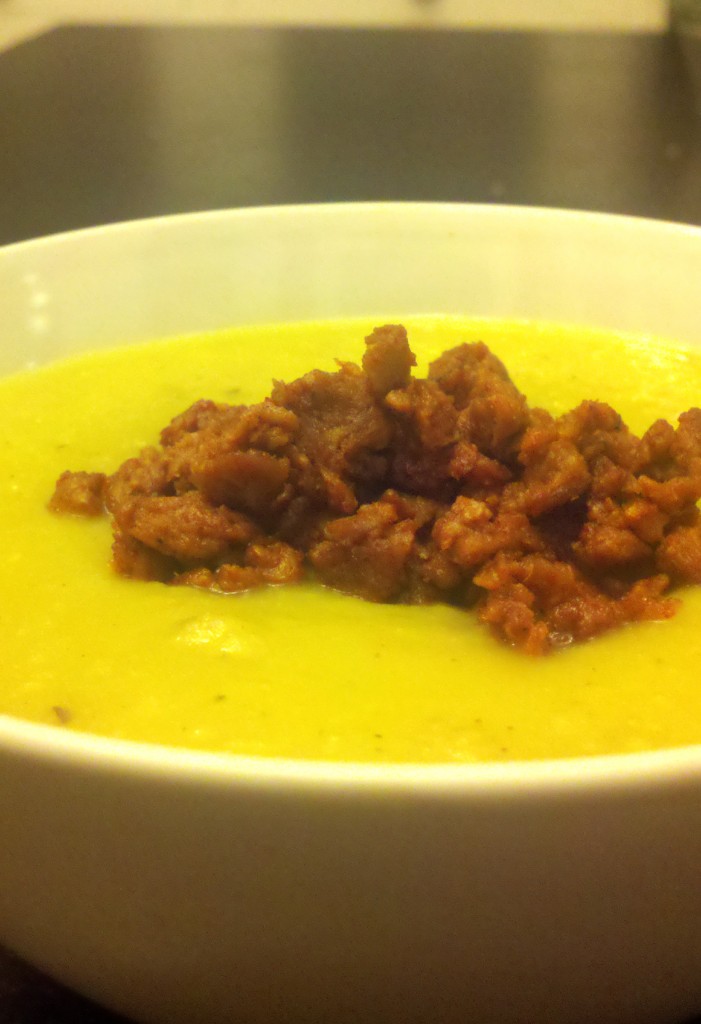 Gleaned from another favorite food site, Heidi Swanson's 101 Cookbooks. I continuously turn to this resource when looking for new ideas to try in the kitchen. Here I got to use two of my favorite ingredients—pumpkin and curry.
2 pumpkins, or other smallish winter squash
2 tablespoons olive oil
1 14-ounce can coconut milk
1 teaspoon (or more) red Thai curry paste
water or vegetable broth
2 teaspoons fine grain sea salt (or to taste)
Quarter the squash and clean out the insides before rubbing with olive oil and salt. Bake at 375ºF as with the last recipe, 40-60 minutes until soft.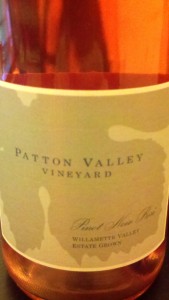 When done, scoop the flesh into a large pot over medium-high heat, add coconut milk and curry paste, and bring to a simmer. At this point use an immersion blender to purée, then add water or vegetable broth until the soup reaches your desired consistency. Again bring to a simmer, and re-spice with salt and curry paste to your taste.
Patton Valley 2009 Pinot Noir Rosé, Willamette Valley ($16)
Clear, bright pink in color and a nose that boasts fresh red fruit like strawberry and cranberry with a twist of orange, and some vanilla notes. Dry, with medium body and acidity, fresh fruit flavors that seem almost sweet on the tongue. Contrasts the creaminess of the soup nicely.

Anne Amie 2009 Cuvée A Müller-Thurgau, Willamette Valley ($12)
Brilliant golden yellow in color with fruity aromatics including Golden Delicious apple, fresh pineapple, and canned pears. Somewhere between dry and off-dry with medium acidity and further fruity flavors. Apple, pear, lime, and candied citrus peel. The perception of sweetness is a nice balance to the spice in the dish.
[author] [author_image timthumb='on']http://palatepress.com/wp-content/uploads/2012/05/ryan-reichert.png[/author_image] [author_info]Having grown up in the midwest, Ryan Reichert followed his passion for wine to the Willamette Valley region of Oregon. Always the explorer seeking to learn more he has travelled around the United States and through France, Spain, and Italy. He holds the Advanced Certificate with Distinction from the Wine & Spirits Education Trust, is a French wine enthusiast, a certified Spanish Wine Educator, and is working towards certification as a sommelier with the Court of Master Sommeliers. Ryan is the creator and author for Northwest Whites, a site dedicated entirely to the white wines of the Pacific Northwest. You can also learn more about Ryan on his personal website. Ryan lives in Portland, OR.[/author_info] [/author]