There was a time when I loved Australian Shiraz: that time was 2005, and the wine in question was Yellow Tail. Fortunately for me, I wised up and graduated to better wines. Unfortunately for the Australian wine industry, so did everyone else.
In 2004, Australia overtook France as the principal supplier of wine to the United Kingdom. However, by 2008 total exports of Australian wine fell for the first time, shrinking in the UK by 17.5% and in the United States by nearly 25%. Australia's woes were not caused primarily by the vagaries of the economy or by brutally hot weather, as some commentators have claimed. Instead, there is consensus that the problems now facing the Australian wine industry were caused by two sets of deliberate choices. The first was the decision to flood the market with cheap, uninspired wines like Yellow Tail. The second was the decision among higher-end winemakers to embrace the "bigger is better" mentality—more oak, more body, more alcohol.
For me, the combination of these two factors meant I hadn't had any Australian wines in over a year. Nevertheless, in the spirit of experimentation I decided to give Australia another chance. With redemption on the line, however, I would need to pick a stellar,and enjoyable,wine, one that wouldn't bombard me with tannins or alcohol, one I could drink and savor.
What to choose?
I have appreciated the portfolio at Seattle-based Epicurean Wines (my favorites include Cimicky's Trumps Grenache/Shiraz blend and Glaetzer's Amon-Ra Shiraz), but because these were "bigger" wines I decided to start with something different: Penfolds.
One of Australia's biggest and oldest wineries, Penfolds is now owned by beverage supergroup Foster's. So this choice was akin to trying to salvage an opinion of California Cabernet by drinking Robert Mondavi. Why Penfolds? First, they make what is indisputably Australia's most famous (and expensive) wine: the Grange Shiraz. This is a serious, serious wine with huge, full flavors and a big, bold body. Unfortunately, the 2004 vintage of Grange, their most recent, retails for about $500—far above what I was prepared to spend.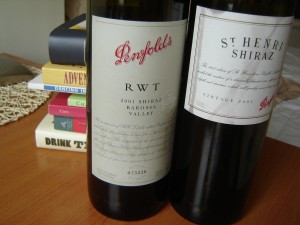 Luckily, Penfolds has a few more wines in its stable. One of these, the St. Henri Shiraz, has much in common with the Grange. Both wines are blends of Shiraz grapes from different vineyards, and so highlight the quality of the grapes as well as the talents of the winemaker. Both wines were first made in the early 1950s, and both cost the same when initially released.
This is where the similarities end. The St. Henri could be said to be the restrained, cerebral counterpart to the Grange. Whereas Grange is aged in small barrels of American oak and is meant to be huge, powerful, and have the aging potential of a first-growth Bordeaux, St. Henry is aged in large, neutral-oak foudres and is made to showcase the fruit and nuance of the shiraz varietal.
Over the years, Grange has taken the spotlight, and its price has risen accordingly. Meanwhile, St. Henri languished and was even in danger of being discontinued. But its proponents at Penfolds persisted, and the wine has remained on the market. I was able to pick up a bottle of the 2005 for $59.99 at MacArthur Beverages in D.C.
Still, I didn't want to base my opinion on only one wine. I wanted to get a more balanced picture of Shiraz, but to minimize variables, I decided to stay with Penfolds. I chose as my second wine the 2001 Penfolds RWT Barossa Valley Shiraz, available for $69.99 at Schneider's of Capitol Hill.
The RWT—for "Red Winemaking Trial"—is composed of shiraz from vineyards specifically in the Barossa Valley (whereas the Grange and St. Henri use grapes grown from a wider area). The RWT is aged in small French oak barrels, which means it should be closer in style to the Grange than the St. Henri. The RWT is also a relative newcomer to the Penfolds lineup, and attained its first vintage in 1997.
So, neutral oak versus French oak. Grapes from a large swath of Oz versus grapes from only the Barossa Valley. A pedigree starting from the 1950s versus a baby born in 1997. The differences between these two wines would give me a greater understanding of Shiraz, and that understanding would rescue my opinion of Australian wine. At least that was the idea.
My tasting panel, consisting of my roommate and three discerning food- and wine-loving friends, convened in my living room at the appointed time. Trays of charcuterie, cheeses, and chocolate awaited, but before we could dig into the food we would have to try the wines.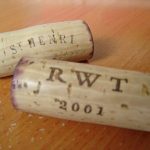 The St. Henri was first. I poured a taste into the waiting Riedel Vinum Syrah glasses. It was remarkably light-colored for an Australian Shiraz, ruby and opaque rather than dark and deep. The nose was incredibly floral and aromatic, and I sniffed my glass for about a minute before taking a sip. Wow—completely smooth, like drinking silk. Blackberry, chocolate, and baking spices danced across my tongue. Substantial, but with understated tannins. Absolutely easy to drink and very refined—almost Burgundian.
How would the RWT compare to the St. Henri? I had only one decanter, and since the RWT was older, I used it to aerate the RWT awhile. This wine was darker in color, inky and not opaque. The nose was more concentrated, with a bit of leather and plum. The sip:  awesome. Again, smooth—but not as smooth as the St. Henri. Bigger, with more tannins and more of an "abrasive" mouthfeel. Dark fruits, anise, minerals. There was an umami note on the finish that made this wine very satisfying.
I would recommend the St. Henri to those looking for an easier, more approachable wine. It would be great with chocolate desserts. Meanwhile, the RWT would be better with meats, and for those who want a little more character in their wine.
The final verdict? Both wines were truly exceptional, especially because they were so very drinkable.
I am personally at a point in my wine journey at which I've started to value finesse and restraint—hence my new appreciation for Burgundies. Before this tasting, I believed that Burgundies offered more for the money than comparably-priced Australian wines by being, well, less: less oak and tannin, less alcohol, not painfully concentrated. Unlike the Shirazes I had tasted to date, the best Burgundies are sensuously light, gorgeously perfumed, and complex, and I can drink two or three glasses and not feel like I had been hit over the head.
But this Shiraz tasting showed me that—at least among higher-end bottlings—Australia holds its own. Those tired of the "bigger is better" Australian wine mania should seek out good bottles from the land down under. Like me, you may be pleasantly surprised.
---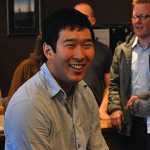 Joon Song is a native Angelino who discovered his budding love of wine during his college days in the Bay Area.  After a few years back home, he left for law school in D.C., where he will remain until the spring of 2011.  When he's not busy being a law student or fighting Snowpocalypses, Joon enjoys learning about and drinking wine.  He is the author of Vinicultured: A Wine Blog and writes a wine column for GW Law's student newspaper.