Michigan. Ohio State. The college football rivalry has been around for 112 years. The wine rivalry, not so long. And maybe not as competitive, but my experience in this battle of state wines—my first ever as a judge—came complete with some nerves and adrenaline.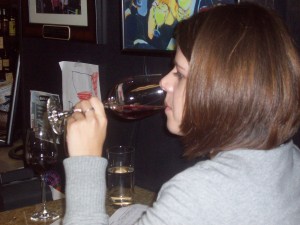 Andrew Hall throws an Ohio/Michigan wine clash every fall to coincide with said football rivalry—between the Ohio State Buckeyes and Michigan Wolverines. Andrew contacts wineries from both Ohio and Michigan and selects 11 wines from each state (which matches the number of players on the field for each team in a football game); 22 in all, for a blind tasting. There are two legs of judging: one in Columbus, Ohio, and another in Ann Arbor, Michigan. Results compiled from each tasting are averaged to determine a winner. The judging I participated in was held at the Twisted Vine wine shop in Columbus.
As a newly minted wino, I must say I was intimidated when I first arrived. Not only was I the youngest judge, I was also one of only two women on the 8-person Ohio panel. I quickly realized what people mean when they say wine is a man's world. Other judges were discussing various Champagne brands and saying they were surprised that we could have them shipped to Ohio. It was a daunting conversation to walk into, and I felt like I had no idea what I was doing there.
Fortunately, the pre-judging butterflies went away once we got through the first flight of wines and began to discuss them. I noticed that most of the things I liked and disliked about the wines were similar to what the other judges pointed out. I gained the confidence I needed to give more input and to get to know the judges.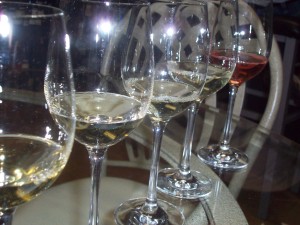 There were three flights: white, red and dessert. We judged on color, aroma, bouquet, taste on the palate and finish. We totaled up the points for each wine (using a 20-point scale), took notes and came up with a first, second and third choice for each flight. At the end of the tasting, we picked our overall favorites, regardless of which flights they came from.
The final results from the clash were announced in a press release a few days after the event, and I was very pleased to see that the wine that won the competition was also my personal favorite: Longview Winter Ice 2007 (Dessert Wine) Leelanau Peninsula, Michigan. The wine was outstanding. It isn't available in Ohio, sadly, as I would like to have bought a bottle to share with my friends.
The other winning wines were all reds. This surprised me as I felt the whites were much better in general. The Ohio panel's top three turned out to be Michigan wines and the overall winners were for the most part from Michigan as well. So in the end Michgan won the 2009 wine battle, but Ohio State won the football game. To view full results, check out the official wine clash site.

— Emma Criswell writes for an online wine magazine called The Second Glass, based in Boston. She is pursing here Master's degree in media and cultural studies; specifically wine culture from Ohio University.