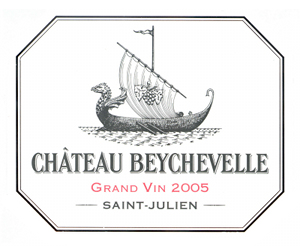 WHO: Chateau Beychevelle
WHAT: Red Bordaux Blend
WHERE: France, Bordeaux, Médoc, St. Julien
WHEN: 2005
SIZE: 750 ml
RESERVE: $190
MINIMUM BID INCREMENT: $10
93 Points, Wine Enthusiast
Very much in an elegant style, this wine shows soft, almost velvet tannins supporting the ripe fruit. It has richness, a round character masking the dense texture, and setting off the clean red berry fruits and fresh acidity.
92 Points, Wine & Spirits
We hit Beychevelle at a fragrant, gentle moment in its evolution. With a few hours of air, the wine was a lithe beauty, its cool red fruit giving a soft, sculpted feel. My notes are all about elegance, finesse and restraint-similar to the harmony this showed en primeur. With another day of air, the power of the tannins shows more directly, tarry and strong enough to sustain this wine for a decade or more.
Please submit your bid in the comment section, below. If the reserve is met, the auction will be won once a bid goes unanswered for a full calendar day.
The winning bidder will be asked to pay directly to the Hillel Foundation at Indiana University, "Find Lauren Fund." The Hillel Foundation at Indiana University is a 501(c)(3) charity with a dedicated fund. Palate Press: The online wine magazine will not collect any proceeds as part of this auction. The buyer will also pick up the wine at, or pay shipping from, Zachy's in New York City.
For more about the auction please go to Wine for Lauren. For further information about the search for Lauren Spierer, please visit http://www.findlauren.com.