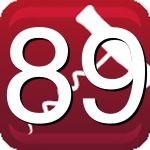 This does a good job of letting supporting players strut their stuff before the Cabernet Sauvignon takes over the show. The nose shows dark fruits, black currant and plums, and tomato leaf. Just out of the bottle, the palate shows a quick pop of grape soda before settling down into wine. Decant it, though, and that disappears quickly.  The Petite Verdot and Cabernet Franc, though only a small part of the wine, have powerful effects, the Petite Verdot adding dark flavors of mulberry, and the Cabernet Franc adding loads of tobacco leaf. The Cabernet Sauvignon comes out from behind the supporting players on the mid-palate, offering up cassis and black cherries, with hints of vanilla and touches of cinnamon.. Tannins have a big grip. Drink with prime rib rubbed with herb paste. Recommended. 89 points.
WHO: Judd's Hill
WHAT: Cabernet Sauvignon, Merlot, Petite Verdot and Cabernet Franc
WHERE:  California, Napa Valley
WHEN: 2010
HOW MUCH: $50
Judd's Hill is offering Palate Press readers a discount on all its wines. Shop Judd's Hill and use promotion code "palatepress" to get 50% off shipping on all orders of six bottles of wine or more.