Taylor Fladgate CEO Adrian Bridge has the kind of resume that makes other resumes shuffle their feet sheepishly in a corner.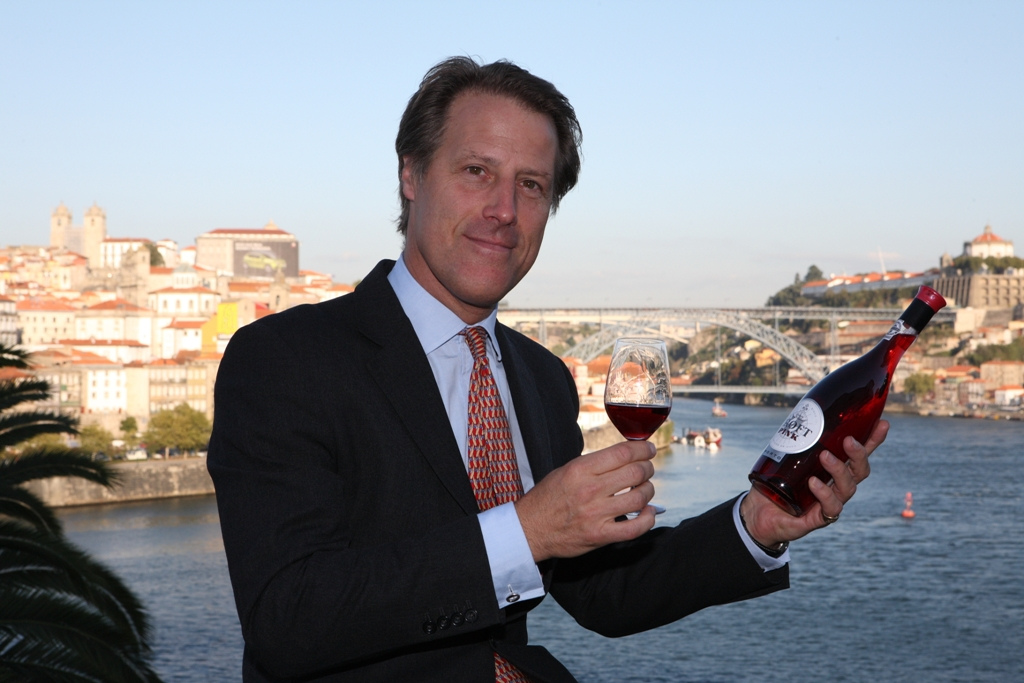 He spent six years as an officer in The Queen's Dragoon Guards after attending Sandhurst, Britain's military academy, and then went on to six years running the U.S. equity sales team for NatWest Investment Bank.
He was introduced to the Port industry in 1982, when he met his now-wife Natasha, daughter of Taylor Fladgate Chairman Alistair Robertson, and became involved in the business in 1994 when he and Natasha moved to Portugal and he took over the company's Port brands in the United Kingdom and United States, overseeing their expansion in those markets. As well as maintaining the vintage Port business, he pioneered the introduction of Croft PINK, a rosé Port that along with products like Taylor's White Port is part of an effort to get people thinking of Port as more than an after-dinner drink.
Since then, he's become CEO of Taylor Fladgate and is also CEO of The Yeatman Hotel, a luxury wine lodge in Vila Nova de Gaia, Portugal, that he was a leading force in creating, right down to choosing the art work that hangs on the walls. He came up with the unusual concept of having rival Port producers as well as still wine producers get involved in the hotel, becoming partners by, among other things, adopting a room and decorating it with items designed to introduce guests to their wines.
In his spare time he's a runner, biker and mountaineer, recently celebrating a climb in Antarctica with a glass of Port at the summit.
And the killer part? He's such a personable guy that even if you were, let's say, the kind of insecure person inclined to hate anyone that successful on sight, you'd have a hard time doing it.
After meeting Adrian on a recent press trip to Oporto and the Douro Valley sponsored by Taylor's, I had a few questions about where Port's been and where it's going. Here's what he had to say:
 PP:  Do real men drink PINK?
 AB: Yes, real men are confident enough to say, do and act as they believe they should to express their character (always within the confines of decency of course).  Drinking PINK Port or wearing Pink shirts are signs of a confident person who is happy in their skin.  Why would I care if people think drinking PINK Port is unmanly — that is their problem. Ultimately they are missing a great wine.
PP: Why is everyone buzzing about the 2011 vintage?
AB: As they should be for something so good and so rare.  The best vintages are the longest lived wines in the world yet can be enjoyed at many different stages of their lives – albeit for different reasons.  The 2011s have brought the spotlight back onto Vintage Port as one of the great classic wine regions of the world; one that is still very affordable to the majority.
PP: Port producers have been trying a lot of new ways to connect with consumers, from white and PINK ports to port cocktails — is it working?
AB: When I came up with the idea of rosé Port in 2005 it was because such a new style and concept would attract new consumers and new consumption opportunities.  Luckily, this is what has happened and rosé Ports now account for over 1.5 percent of Port sales worldwide. They were only launched in 2008 and continue to grow strongly.
PP:  What's the best way for a novice to start enjoying Port?
AB: Buy a good Port glass and a corkscrew.  The latter point is made because so many fine Ports have a stopper cork — only Vintage Port requires a corkscrew.  There is a Port for everyone, finding your favorite is much of the fun.