When we talk about Italian wines, we usually talk about the men behind them, but in doing so we forget that the Italian wine world is made up of both men and women. This time, let me speak about three young women who were able to turn their passions for wine into successful professional lives; I know each one of them personally, and I would like to relate their individual adventures. Each one has a different approach, yet each is always a positive force in this world.
Laura Albertini produces Valpolicella wines from her 4.5 hectares (11 acres) of vineyards at Tierra de Pietra. Originally she studied accounting but she was unhappy amidst papers and documents. Since her childhood, part of her life had been spent in the vineyards with her father.
"Unfortunately, my dad did not agree with me. He was persuaded that the place for a woman is in an office, not on a tractor," Laura sighs. "I struggled for years against his mentality, pointlessly. Finally, one day my father-in-law allowed me to cultivate a small vineyard; he removed his car from his garage and gave me that room for the vinification. So started my new life as a wine producer."
And today? "Finally, I'm having fun," she says. I have a great friend, Flavio Peroni, as a winemaker consultant, and my husband Cristiano as my biggest supporter. In 2011 we built the new cellar, and currently we have also some new, rented vineyards to cultivate."
And your dad, what does he think about you, now? "He was my toughest challenge, because not being supported by a parent in your difficult choices makes you feel empty. But now he is satisfied and proud of me. The wines of the line Vigna del Peste ("Pest's Vineyard"), are dedicated to him, with a sketch drawn by my daughter on the label."
What is your biggest challenge, currently? "To use only indigenous yeasts in all my wines. It's hard, because Amarone della Valpolicella is a quite difficult wine to make. But I try anyway, because I want my wines to be like me: truthful."
---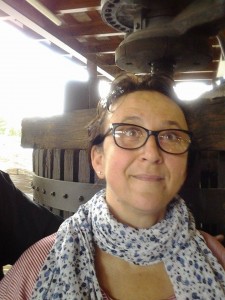 If being a wine producer can be difficult for a woman, what about being a woman winemaker in a cooperative, where you have to deal with dozens of [often male] grape growers? Claudia Donegaglia is such a person, and has been since 2000. "I studied oenology and after my degree I worked in a private wine company; 10 years later I moved to a cooperative in Modigliana [Cantine Sociali a Modigliana in the Emilia Romagna region]," she explains. "There, my task was to develop the 'quality project.' I had to get together a team, to 'educate' the members to work better in their vineyards, to plan the expansion of the cellar. A lot of work, definitely — not to mention a pair of tough harvests like 2002 and 2003, and this latter one I had to handle just after my daughter was born…"
Who is your best advocate? "When I started working it was my father. Now I have my husband and my daughter."
Have you ever come across chauvinism in your workplace? "Yeah, of course, sometimes. But I didn't care. My opinion is that what matters is the wine in your glass, not the sex of the producer."
Tell me about a lesson you will never forget. "Again, it's from my dad: never blend water into a glass of wine, and always use a glass to drink wine."
Your cooperative produces Sangiovese di Romagna, how would you describe it? "Surly yet generous, like the people of our region. When it's young it's a concentrate of floral and fruity flavors – violet, blackberry – but it is strong and persistent like a true friendship, when it's aged." 
---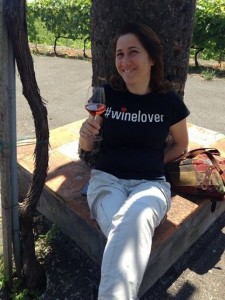 Let's move now towards South of Italy to meet the third woman: Valeria Carastro, an agronomist and promoter of her land, the Etna area in Sicily. She worked tirelessly for two years to collect the data for the zoning project of the Etna wine appellation so she knows every clod of soil, every stone, hill, pathway, vineyard and winery in this area. Who better than she could be the general manager of the Wine Road of Etna? "I've managed this association (Strada del Vino dell'Etna) for two months," she tells me. "There are 150 producers of wine and other products typical of this land. My challenge is to get this group more involved than ever, because we have a huge amount of work to do in order to promote our region and develop food and wine tourism."
In its history, Sicily seems to be a country with very minimal feminist leanings; what is your relationship with the [mostly male] producers?"I feel comfortable. In agricultural Sicily the women are quite important in certain phases of production, and I experience a certain amount of respect because of this."
Your biggest sense of satisfaction is…?"To feel the trust of the producers in me, and to know that I'm contributing to the growth of my land."
Is there a challenge you have not yet overcome?"The unification of all the producers — because we can be effective only if we are united. But I'm working on it!"
If a true passion drives you, it leads you to turn the stones on your path into steps toward your own success. This is what Laura, Claudia and Valeria are doing: they never give up.