When it comes to Australian wines most people think of densely fruity, spicy Shiraz, or robust, oaky Chardonnay from the country's well-known wine regions like Barossa Valley and McLaren Vale. At the southwest tip of the continent, however, lies the Margaret River region of Western Australia. Margaret River specializes in classic Bordeaux varietals like Cabernet Sauvignon and Sauvignon Blanc. Its wines are gaining both market share and critical recognition around the world.
I recently had the opportunity to travel there under the auspices of Tourism Western Australia. The agency wanted to introduce American travel writers like myself to the burgeoning hotel and restaurant scene in Perth, and to the unspoiled natural beauty of this once isolated region. They set aside a day for us to explore Margaret River's wineries, though I took every opportunity to try the wines for myself.
Before wine came to Margaret River, it was primarily a dairy and lumber region with an itinerant population of Endless Summer surfer types straggling through the beach towns. All that changed in 1965 when an agronomist named Dr. John Gladstones conducted a study of the climate and topography and determined that the area displayed the same conditions as those of Bordeaux. Put simply: maritime influences and gravelly soils. Soon vineyards were being planted everywhere and wineries started popping up.
Like every young wine region, this alluring place has some aging to do before it comes into its full potential. Winemakers here split their time between the vineyards and the waves (many of the wineries are within a mile or two of the coast), and most of the seasonal workers are surfers attracted by the famous breaks off the coast. That means the winery schedule can sometimes come second to the pull of the tides. Many wineries also seem not to have quite decided upon their identity yet, experimenting with different varietals and blends—sometimes successfully, sometimes not.
The finer producers, however, are making wines that fall somewhere between their more famous counterparts in California and France. They exhibit the full fruit characteristics and higher alcohol levels of New World wines, but the food-friendly acidity and more reserved flavors of the Old World. It is this hybrid that distinguishes the best wines from Margaret River, and which will establish their popularity with drinkers who are fans of both styles.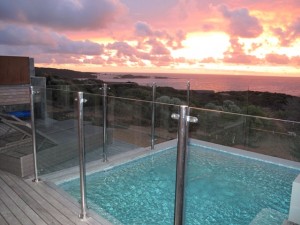 Our first destination was Injidup Spa Retreat (www.injidupsparetreat.com.au) in Yallingup, which means "Place of Love" in the local aboriginal dialect. The tiny luxury hotel has only ten villas with private decks and plunge pools overlooking the dramatic red cliffs—perfect for spending a morning watching whales frolic in the surf below.
That evening, we went to the nearby Smiths Beach Resort (www.smithsbeachresort.com.au) for a cocktail at the cheekily named Bouzy champagne bar, and dinner at Bathers Restaurant. Smiths Beach is one of the few accommodations in the area in the mid-price category. Resorts tend to polarize either toward high-end luxury (like Injidup) or hostel-like, beachy motels, though that is changing as the region develops its tourism industry.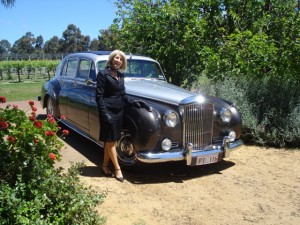 We started our dinner with a huge plate of oysters and the 2008 Moss Wood (www.mosswood.com.au) Semillon. The wine was straw-yellow and crisp with primary notes of citrus and green apple that whetted the appetite and cut through the briny pucker of the oysters. To accompany my main course of harissa-spiced chicken with eggplant and preserved lemon yogurt, I drank a 2005 Clairault (www.clairaultwines.com.au) Cabernet Sauvignon with a dark ruby color, and classic Bordeaux notes of cassis, black cherry and violets, as well as mellow oaky characteristics. Though delicious that night, I could only imagine what it would taste like in another five years.
The following day was dedicated to touring some of the region's most famous wineries with the indomitable Nola Gaebler of Lifestyle Margaret River (www.lifestylemargaretriver.com.au), who chauffeurs clients in a 1955 S1 two-tone Bentley with a red leather interior. Her services are expensive, at over $100 Australian per hour, but you'd be hard-pressed to find a guide with more winery contacts or insider knowledge.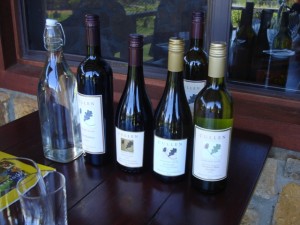 We started at Cullen Wines (www.cullenwines.com.au), whose first 18 acres were planted in 1971, and which went biodynamic in 2003. The 2007 Kevin John Chardonnay, with flavors of apricot and lime fading into a vanilla-oak finish, was the most interesting white we tried, with some real heft to it. The real star, though, was the 2007 Diana Madeline Bordeaux blend. Already complex with dark berry flavors and herbal notes like licorice and fennel, this wine should peak about seven years from now.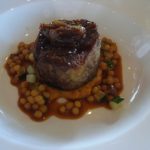 We continued to the first commercial winery in area, Vasse Felix (www.vassefelix.com.au), for a tasting lunch. Roasted barramundi came with 2007 Heytesbury Chardonnay, a barrel-selected blend fermented with wild yeast then matured in French oak for 10 months. The greenish tinge at the edges of the glass translated into zesty mineral and citrus notes on the palate giving way to a creamy vanilla finish. The 2006 Cabernet Sauvignon seemed to be in its prime, its deep crimson color and intense flavors of currant and menthol standing up to the Moroccan-spiced lamb shoulder.
The following day we stayed at the region's best known luxury hotel, Cape Lodge (www.capelodge.com.au). A Small Luxury Hotel of the World designed like a classic South African lodge, it is set on 10 hectares of forest and parkland along with a vineyard that produces the hotel's in-house wine.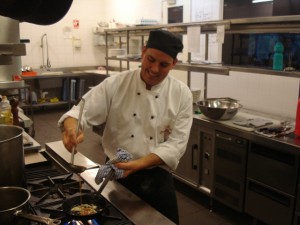 Dinner began with slices of beef carpaccio and seared scallops, and enormous king prawns with prosciutto and mozzarella. Chef Tony Howell showed off with a main course of three different meats—pork, beef and venison—each prepared in its own individual sauce and garnish. Our wine pairings began with the Lodge's own estate Semillon, a dry white that prepared our palate for a Moss Wood Cabernet to follow. That was still only the lead-up to what would be our main wine for the evening, the 2007 Fraser Gallop (www.frasergallopestate.com.au) Cabernet Sauvignon. The wine was profound with rushes of black cherry and cassis tempered by fine tannins and the cedary spice of barrel aging. The fact that it won Decanter's International Wine Award for Best Bordeaux Blend is even more impressive given the vines used to produce it were just nine years old at the time. What a wine to finish my trip. For all too soon, it was time to head back to the airport in Perth for the trip home.
Because of the distance and time it takes to travel there, Margaret River might not be on every traveler's map yet, but thanks to some of the most spectacular scenery in the world, and a wine community that is starting to come into its own as the producers there find their identity, this undiscovered, offbeat destination is sure to become a major player on the world wine stage.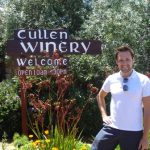 Eric Rosen is the restaurant reviewer and wine writer for LA.com. He also regularly contributes to several other area publications including Los Angeles Confidential Magazine, Hotel Chatter, Jaunted, Frontiers IN/LA, Edge Publications, and The Rundown. Rosen has traveled all over the world exploring wine regions including those of France, Argentina, Chile, Spain, Italy, Austria, Germany, Portugal, and most recently Australia. To read more of his articles and see what he has been up to lately, you can read his personal blog and web site, Eric the Epicure.