Alec White is one of those amazingly generous people who took the suggestion "open your cellar, open your heart," well, to heart. He sent three different bottles. This is the second, a Delaforce 1994 Vintage Porto. Retail value is $100.00.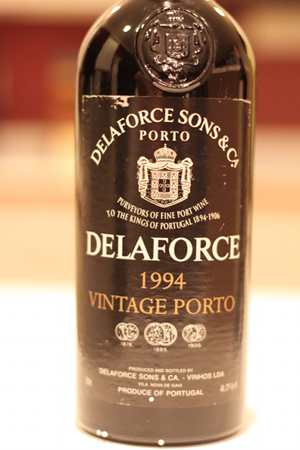 "If you love classic vintage Port, you're going to fall head over heels for 1994. Great Port vintages like this only happen a few times in a lifetime." – James Suckling, Wine Spectator, June 15, 1996.
Opening bid is $50.00. Minimum bid increment $10.00.
[How it works- Each auction lot will get its own post. As soon as it gets its own post, the auction is live. Once a bit of time has passed, and people really know about Wine for Haiti, lots will go live AND HOT. Every item will got "hot" if bidding reaches retail value.  Once hot, each lot is on a 24-hour cycle, ending at 10:00 p.m. Eastern Time. If a lot goes a full 24 hours, from 10:00 p.m. to 10:00 p.m., without a new bid, the last bid in the comments wins. If we get into a bidding war, with the same people going back and forth, one day at a time, we will post something in the comments of that Auction Lot and schedule a time to bid to the death, at a time mutually agreeable to everybody involved.]
For more auction Wine for Haiti auction items, please see the Wine for Haiti Auction Catalogue.