The Gamble Family Vineyard made one of those generous contributions that made me say "WOW!" out loud when I received it. The winner of this auction will get two nights for up to three couples at the Gamble Family Vineyards guesthouse and a private tasting with Tom Gamble. When Gamble says "guesthouse," they really mean "GUESThouse." It is not available for rent, it is actually reserved for guests. Similar accommodations and tastings would have a retail value of approximately $3,000.00, though this particular offer is, well pricelesss.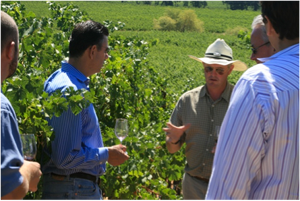 Accommodations for up to three couples at our lovely and secluded Yountville Appellation guest house, tucked in along the Napa River.
Across the river, a private tasting with vintner and owner Tom Gamble at his home nestled in his Sauvignon Blanc vineyard. Vintner Tom Gamble will personally guide you through our wines as you relax and gaze upon the vines that created them.
[How it works- Each auction lot will get its own post. As soon as it gets its own post, the auction is live. Once a bit of time has passed, and people really know about Wine for Haiti, lots will go live AND HOT. Every item will got "hot" if bidding reaches retail value.  Once hot, each lot is on a 24-hour cycle, ending at 10:00 p.m. Eastern Time. If a lot goes a full 24 hours, from 10:00 p.m. to 10:00 p.m., without a new bid, the last bid in the comments wins. If we get into a bidding war, with the same people going back and forth, one day at a time, we will post something in the comments of that Auction Lot and schedule a time to bid to the death, at a time mutually agreeable to everybody involved.]
For more auction Wine for Haiti auction items, please see the Wine for Haiti Auction Catalogue.