Norris Cunningham, from Hall, Render, Killian, Heath & Lyman, dug into his own cellar to generously contribute two bottles, a 2005 Rombauer Zinfandel (retail value $35.00) and a 2007 Bergstrom Pinot Noir, De Lancellotti Vineyard (retail value $70.00).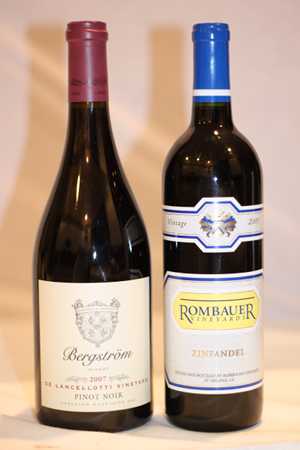 Rombauer Zinfandel
"The Rombauer Zinfandel is a great example of our ongoing commitment to quality vineyard selection. Here we have harvested Zinfandel from low yielding, tested-old vine blocks in a unique blend. The fruit is hand picked at optimum maturity and rushed to the winery in refrigerated trucks. At the winery we spare no effort or expense in the wine making process to insure quality and enjoyment." – G. Graham, Winemaker
Bergstrom Pinot Noir, De Lancellotti Vineyard
"The 2007 Pinot Noir Estate is medium ruby-colored with an expressive bouquet of smoke, minerals, damp earth, spice box, cherry, and raspberry. Moderately structured on the palate with excellent depth and savory fruit, this lengthy, substantial Pinot will evolve for 2-3 years and drink well from 2011 to 2019." – 91  points. Jay Miller, Robert Parker's Wine Advocate
Opening bid is $60.00. Minimum bid increment $10.00.
[How it works- Each auction lot will get its own post. As soon as it gets its own post, the auction is live. Once a bit of time has passed, and people really know about Wine for Haiti, lots will go live AND HOT. Every item will got "hot" if bidding reaches retail value.  Once hot, each lot is on a 24-hour cycle, ending at 10:00 p.m. Eastern Time. If a lot goes a full 24 hours, from 10:00 p.m. to 10:00 p.m., without a new bid, the last bid in the comments wins. If we get into a bidding war, with the same people going back and forth, one day at a time, we will post something in the comments of that Auction Lot and schedule a time to bid to the death, at a time mutually agreeable to everybody involved.]
For more auction Wine for Haiti auction items, please see the Wine for Haiti Auction Catalogue.