Jonathan Swinchatt made an incredibly generous contribution from his cellar, a 1986 Dunn Vineyard Howell Mountain Cabernet Sauvignon.  There are not a lot of these twenty-four year old wines are around, a few (a very few) are available on line for prices starting at $129.99.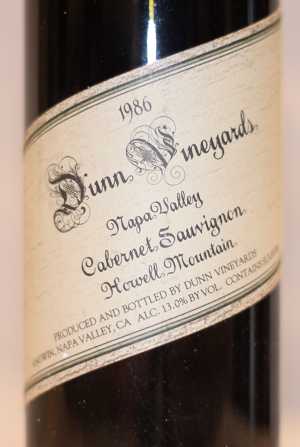 95 points, Robert Parker, Wine Advocate
August 1996
"Two of the most impressive wines in these tastings, both of Dunn's 1986s tasted like 3-4-year old Cabernets rather than 10-year old adolescents. The opaque purple-colored 1986 Cabernet Sauvignon Howell Mountain offers awesome richness, mindboggling intensity, huge tannin, a massive mouthfeel, and a closed yet formidably long, well-endowed finish. This wine could be put in a tasting of 1994 California Cabernets and not stand out as a 10-year old wine. Give it another 5-7 years of cellaring and drink it over the subsequent 25-30 years … amazing!"
Opening bid is $70.00. Minimum bid increment $10.00.
[How it works- Each auction lot will get its own post. As soon as it gets its own post, the auction is live. Once a bit of time has passed, and people really know about Wine for Haiti, lots will go live AND HOT. Every item will got "hot" if bidding reaches retail value.  Once hot, each lot is on a 24-hour cycle, ending at 10:00 p.m. Eastern Time. If a lot goes a full 24 hours, from 10:00 p.m. to 10:00 p.m., without a new bid, the last bid in the comments wins. If we get into a bidding war, with the same people going back and forth, one day at a time, we will post something in the comments of that Auction Lot and schedule a time to bid to the death, at a time mutually agreeable to everybody involved.]
For more auction Wine for Haiti auction items, please see the Wine for Haiti Auction Catalogue.