A pair of cellar treasures. Retail value $700.00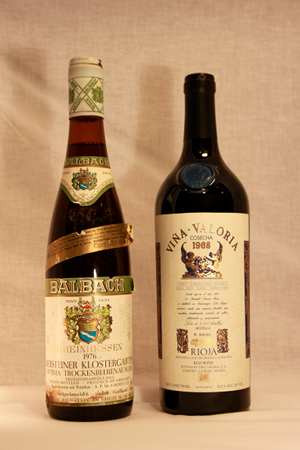 Mr. Vina Valoria Rioja-1968
From one of the most respected wine regions in Spain comes this 42 year old gem. A hyper low production of less than 8500 bottles of year, one could go a long time and not find an ageworthy Rioja of this caliber. I defy you to find this in even the most luxurious wine store. A must own for any true collector. Available online for $100.
Mrs. Balbach, Warsteiner Klostergarten Trockenbeerenauslese – 1976
A fantastic vintage for Germany, especially among the BA and TBA designations. There is hand picked…and then there is Trockenbeerenauslese. . .arguably one of the finest white wines on the planet. It's one of the few designations that can age for decades. Only available at $600.00, own not only a piece of German history, but a rare TBA of remarkable quality.
Opening bid is $350.00. Minimum bid increment $25.00.
[How it works- Each auction lot will get its own post. As soon as it gets its own post, the auction is live. Once a bit of time has passed, and people really know about Wine for Haiti, lots will go live AND HOT. Every item will got "hot" if bidding reaches retail value.  Once hot, each lot is on a 24-hour cycle, ending at 10:00 p.m. Eastern Time. If a lot goes a full 24 hours, from 10:00 p.m. to 10:00 p.m., without a new bid, the last bid in the comments wins. If we get into a bidding war, with the same people going back and forth, one day at a time, we will post something in the comments of that Auction Lot and schedule a time to bid to the death, at a time mutually agreeable to everybody involved.]
For more auction Wine for Haiti auction items, please see the Wine for Haiti Auction Catalogue.