Cornerstone Cellars has generously, incredibly generously, contributed an etched 6.0L bottle of their wonderful 2003 Cornerstone Cellars Howell Mountain Cabernet Sauvignon. Retail value is $1,000.00. This is a single bottle auction lot.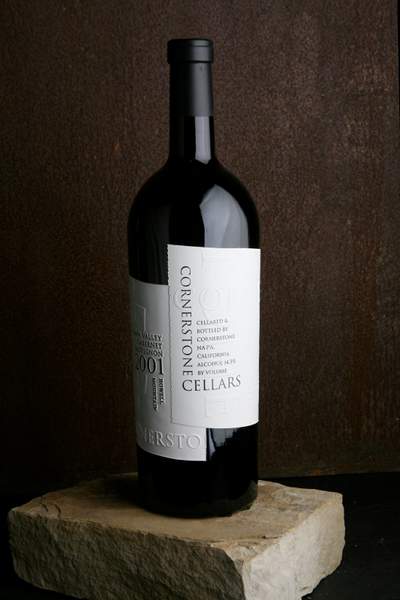 From Cornerstone:
This is 100% Cabernet Sauvignon from Ink Grade Vineyard. The imprint of Howell Mountain clearly identifies this wine: intense fruit tempered with savory herbal notes, rich tannins, good acid for aging, and many layers of complexity. Fresh raspberries lead in the nose followed by mocha/chocolate, a subtle nuance of pine needles, mint and herb tea, with an undercurrent of vanilla rounding out the aromas. The entry starts big and blooms with a very rich and full mid-palate. The finish is strong cocoa and caramel with a little more "grip" than the Napa Valley bottling. This wine was aged for 22 months in small oak barrels, primarily French, and about 80% new.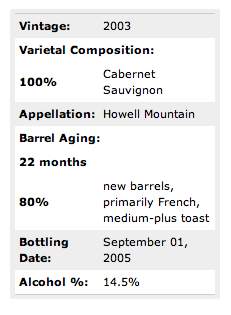 Opening bid is $500.00. Minimum bid increment $10.00.
[How it works- Each auction lot will get its own post. As soon as it gets its own post, the auction is live. Once a bit of time has passed, and people really know about Wine for Haiti, lots will go live AND HOT. Once hot, each lot is on a 24-hour cycle, ending at 10:00 p.m. Eastern Time. If a lot goes a full 24 hours, from 10:00 p.m. to 10:00 p.m., without a new bid, the last bid in the comments wins. If we get into a bidding war, with the same people going back and forth, one day at a time, we will post something in the comments of that Auction Lot and schedule a time to bid to the death, at a time mutually agreeable to everybody involved.]
For more auction Wine for Haiti auction items, please see the Wine for Haiti Auction Catalogue.