New Jersey. To many people, it means Bruce Springsteen, Snooki, and Tony Soprano—but quality wines?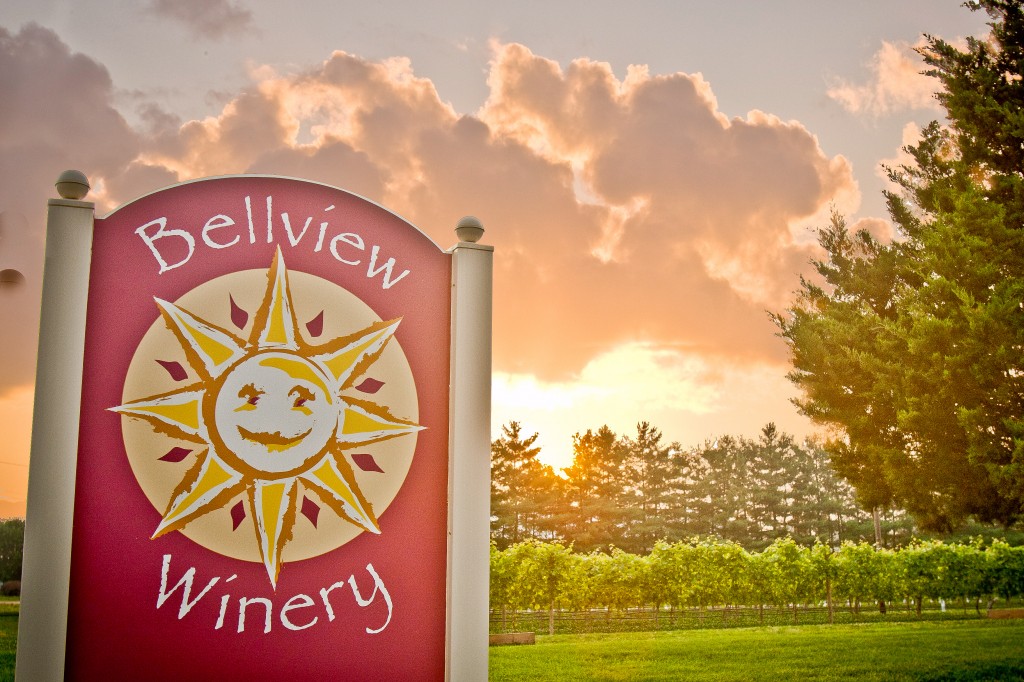 "The last thing people associate New Jersey with is fine wine, mostly because of negative pop culture images," says Jim Quarella, owner and winemaker at Bellview Winery, less than an hour west of Atlantic City, adding "Most people think that New Jersey is all gangsters, trash, smells funny, etc. They've only ever experienced maybe Newark or the New Jersey Turnpike. They rarely view us as the Garden State and see how beautiful it is, down here in the rural areas."
Quarella, a fourth-generation farmer, planted his first grape vines in 2000—three acres of chambourcin, cabernet sauvignon and chardonnay—and since then has planted a total of 40 acres. Twenty different varieties grow at Bellview Farms: everything from Vitis labrusca to hybrids like traminette, fredonia, and vidal blanc to a wide array of Vitis vinifera grapes like cabernet franc, viognier, lemberger, sangiovese, touriga nacional, and tinto cão.
The Bellview owner admits that "most of what we're all doing here in the Garden State is experimental and seeing what performs the best to try and narrow down the focus of New Jersey wine." Still, he firmly believes that New Jersey can make a name for itself on a national—or even international—level.  On paper, at least, it seems that the potential is there.
New Jersey gets a lot of hot weather during the summer "but not excessive sun that raisins the grapes, which often happens in dryer climates," Quarella adds. "We do see some unpredictable rain in the growing season which can cause some tough vintages, but mostly it's a Mediterranean climate that is moderated by the Delaware Bay and the Atlantic Ocean."
The soils are sandy loam and drain well, too. It should come as no surprise, then, that there is a town nearby called Vineland.
Before prohibition, New Jersey was the largest wine- and grape-producing state in the country—and is currently the fifth largest—but that history was not necessarily built around quality wines. When I asked Quarella to pinpoint the greatest challenge to growing and making wine in the state, he did not talk disease pressure or weather. Instead, he pointed to a "lack of history of quality winemaking in this area."
Another challenge is legislation that makes it difficult to get wines into the hands of consumers. "When we finally get people in our tasting room that appreciate our wine and say, 'Hey, they are making good wine here!', we can't ship our wines commercially to them. We have a literal glass ceiling that we can't break through until the legislation changes that allows us to ship our wines to consumers around the country and once that happens, then people will start to see New Jersey in a new, brighter light."
Quarella is still experimenting in the vineyard—he just planted sauvignon blanc and is also exploring nebbiolo—and is not ready to choose a signature grape or blend—for the state or for Bellview Winery. "We are still fairly young and don't want to jump the gun," he says. Still, he points to several red varieties, including cabernet franc, syrah and lemberger which are showing real potential.
So, fine wines? From New Jersey? Based on my limited tasting—only a dozen or so wines made from New Jersey grown grapes in my lifetime—I think there is some potential here.  Two of the best, by a wide margin, came from Bellview Winery.
The 2007 Bellview Winery Cabernet Sauvignon ($20) is blended with 8% Syrah, 4% Cabernet Franc and 3% Petit Verdot and is fairly straightforward with currant and blackberry fruit and subtle earthy spice. The oak is a bit overt on the finish, which is also a bit short, but overall this is a solid Cab from a lesser-known region.
Quarella pointed out his Cabernet Franc for its potential, and after tasting the 2008 Bellview Winery Cabernet Franc ($19), I can see why.  This warm-vintage Cabernet Franc brings all of the spice, earth and herbal notes franc fanatics crave—everything from black tea to bay leaf to dried oregano to black pepper—with ripe, medium-intensity tannins, well-incorporated oak and just a bit of acidity on the finish to improve the balance.
---
Lenn Thompson is a Palate Press Contributing Editor and is the executive editor of The New York Cork Report. Formerly the editor of the Long Island Wine Gazette and a contributor to Edible Brooklyn and Hamptons.com, Lenn contributes to Edible East End and is the wine columnist for Dan's Papers in the Hamptons.