The streets of old Europe can be hauntingly quiet. In small villages, one can walk along cobbled corridors in the middle of a weekday afternoon and hear nothing but the breeze. The streets are lined with stone buildings, some of them homes, some of them businesses. Trousers hang to dry out windows next to potted plants. There must be people close by. But where?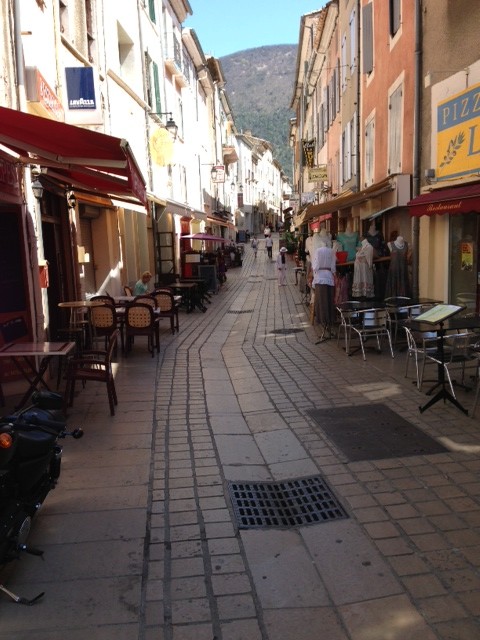 These roads date from long before the automobile's arrival. They're narrow and winding, resisting any kind of grid or urban planning, and the effect is to enhance the acoustics. A voice bounces off stone and returns to the sender.
Suddenly a huge wooden door swings open and light bursts forth, accompanied by a surge of laughter and conversation. That must be a cafe! Then the door pulls shut and sops up the sound. It's quiet again.
This is a spiritual experience. These hilltop towns, these riverside villages seem barely disturbed by modernity, and a simple midday walk can render a visitor numb with the wisdom that we're only a whisper in an afternoon. All the stress of our jobs? All the rancor of our politics? Stand at the base of a hill, staring up at the facade of a thousand- year-old chateau, and you wonder if anyone will remember what we were so worked up about. We'll be gone soon enough.
All of which is to say, if you're at all interested in such a peaceful, grounding experience, tear up your itinerary when you visit Europe's wine regions. Fewer appointments. More discoveries.
I first learned this lesson in Buonconvento, Tuscany, years ago.
My wife and I were late for dinner. To call Buonconvento sleepy would not be cliche; it would be euphemism. This little enclave just north of Montalcino promised a restaurant celebrated by the locals, but how could we find it with no street light and no one to approach for directions?
Then, peeking our heads around a corner, we spied a thick old door creaking open. There came the flood of light and sound of sated diners. At last! As we slipped in to the only open table, we felt like we were in on a secret that few people in the world knew. And in fact, we were.
In Barbaresco several years ago we faced a similar situation. We were searching for the restaurant for which we had a reservation, but the entire village seemed to have gone to bed by 8pm. We parked our car on the edge of town and walked streets that had a glow that seemed to pour straight from a Conan Doyle novel.
We found ourselves whispering instinctively. If anyone was occupying the old buildings around us, they must be sleeping.
Then: a creak of a door, a burst of voices, and a surprise. A familiar face! Just four hours before, we had gotten lost on our way to visit Giuseppe Cortese's estate. A man driving a tractor had cheerily redirected us. When he saw our faces in Barbaresco, he stopped, shook his head with a smile, and seemed to know we were lost again. That night we enjoyed tajarin, the regional rendition of pasta, along with the notion that getting lost is more fun than knowing where you're going.
Last month we set aside a couple days in the Rhone Valley and Provence for the purpose of getting lost once more. (We even nixed a trip to Bandol and Domaine Tempier, a decision that I hope to rectify in a future trip. That one hurt.) On a mistral- swept afternoon, we parked our car at the bottom of a hill and climbed the steps to the village of Seguret, just a few kilometers from Gigondas.
At one point, a friend who had joined us wondered aloud whether the entire village had taken this weekday off. Where, he wanted to know, had everybody gone? In Italy, you could credit the silence to a generous siesta. But here? Even the local art galleries we passed, wedged in to the small downstairs spaces of several buildings, were closed. (One comes to understand that in southeast France, "ouvert" is an arbitrary term.)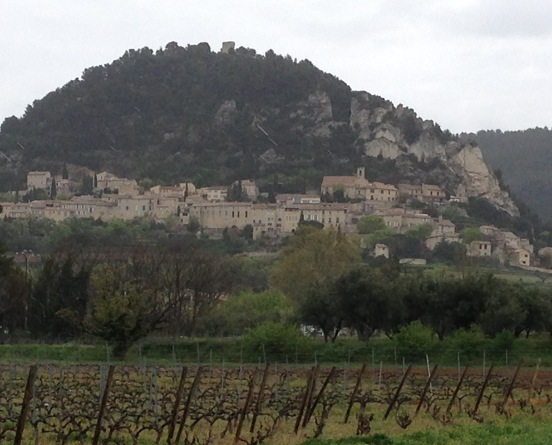 Public guides claim that 900 people live in Seguret. We walked for fifteen minutes and saw none of them. Imagine a stunning village, shoved tight against a limestone hillside, and you can have the run of the place if you're content with being your own tour guide. We passed a store for the local vignerons to displays their products; once again, ouvert it was not. The 14th century bell tower was a solemn distraction, juxtaposed a few paces from the only car we saw in the village — it appeared to have been delivered by helicopter. These were the thickest of cobblestone streets, which produced a rhythmic rumble in our umbrella stroller, and would have sent my one-year-old son into instant daydreams had he been anywhere near his nap time.
Then—of course!—the creaking of a door, the rising of voices. We stumbled upon a cafe and wine bar in the center of town that enthusiastically offered Gigondas and Vacqueyras by the bottle. And a framboise gateau that will slow your blood. The rain kept us indoors, but it couldn't obscure the jaw-unhinging view of the valley.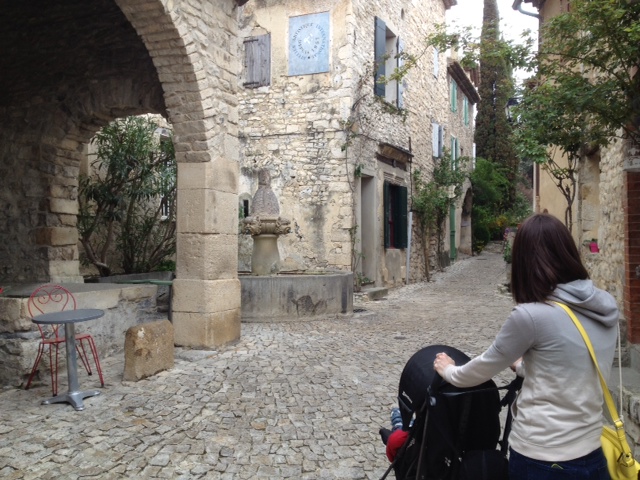 If you're the type of person who checks their email several dozen times a day—like I am—you'll be cured of that affliction in Seguret.
I should disabuse you of the notion that all small villages are always quiet affairs. Market days are celebrations. On one of our final days in France, we surveyed a list of towns with a market that day and settled on Nyons. We zigged from Rasteau to Nyons on a sun-dappled, mistral-free day, wondering what the market would offer.
We hadn't set aside enough time to fully find out. Parking far from the center of town, we started on a street spotted with clothing stands. Then we found the handmade goods and snapped up several herb presses as gifts. Curious, we thought, that everything was made from olive tree wood.
The market spilled onto another street, and then a friend did what one can only do in these century-old towns: he peered down a stone alley carved underneath a building, and glimpsed a wide-open courtyard, filled with yet another cast of market merchant characters. It was the kind of thing we could have easily missed; towns built before grids require some experience before you understand the full layout.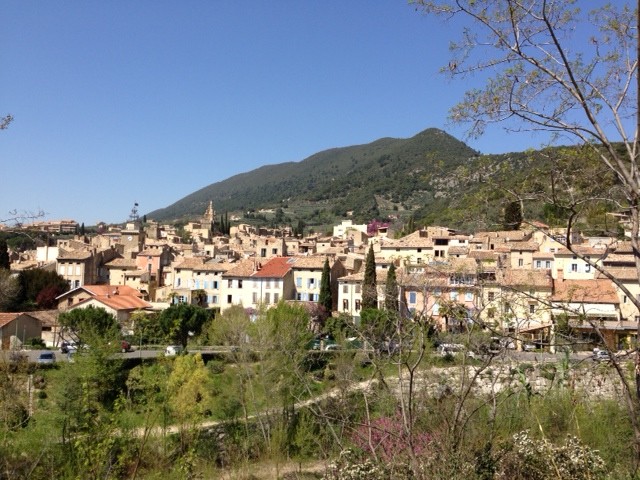 At lunch we learned why olive wood was ubiquitous in Nyons: the town serves as the olive oil capital for the country. Who knew? Gazing at the hillsides surrounding the town, we could see not vines, but olive trees. Nyons features a kind of black olive that naturally shrivels, and the resulting oil is yellow, not green. It's more earthy than many Italian versions, and it's delicious. Just about every lunch dish featured it in some way, including my carpaccio de boeuf.
Nyons olive oil was the first in France to attain an AOC designation of quality. Serious stuff! We headed home with as much as we could fit in our bags; even our food-loving friends will learn something new in tasting it.
As we digested lunch, I craved a crepe, which we found in a cafe farther into the town's center. And here we stumbled upon one more happy accident. The owner asked us if we had stood on the bridge. What bridge, we asked? She laughed and said it was only a hundred meters away. But again, with no modern grid planning, it was obscured by swirling streets. We hadn't even seen it!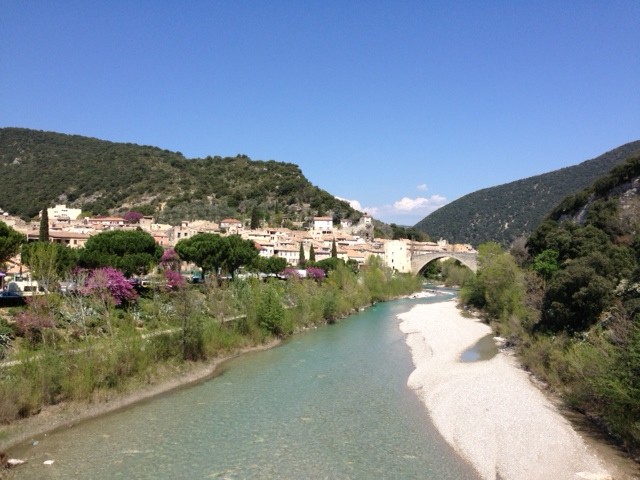 In the mid-afternoon heat, we stood on that old Roman bridge and looked back at the town. Then we looked at the river below, glowing almost green, with couples strolling barefoot into the water. High above, a house seemed to grow out of the rock cliff. This time my son was sleeping in the stroller. He was missing it.
I've made the mistake of overbooking trips to wine regions in the past, but generally, we try to let our trips breathe. A long day in the vineyards and cellars can be magical, but four appointments in 10 hours can be exhausting. Everyone moves at a different pace when they travel. I can only recount my journeys. There is a powerful effect to throwing out a day's itinerary and replacing it with a simple curiosity about small towns, their people, and their produce. We can not possibly see our entire world, but if we slow down once in a while, we can see our past. In some places, it's not that different from our present, or our future.
[author] [author_image timthumb='on']http://palatepress.com/wp-content/uploads/2009/11/evan.jpg[/author_image] [author_info]Evan Dawson is the author of Summer in a Glass, a book about Finger Lakes winemakers. Evan is also the Finger Lakes Editor for the New York Cork Report. His paid job includes offering his best Ron Burgundy impersonation as a morning news anchor and political reporter for WHAM-TV in Rochester, NY. [/author_info] [/author]