This rich addition to the Tulip line spent 18 months in French oak, just 20% new. The nose shows blackberry, blueberry, and seared beef fat. The palate opens with big blackberry flavors. Red fruits on the mid-palate add tartness. Underlying everything is a flavor reminiscent of the crisp end of a nice prime rib, with seared beef fat, salt, pepper, and leafy herbs. Tannins are sweet, the mouth feel soft and round. Drink with filet. Highly Recommended. 90-91 points.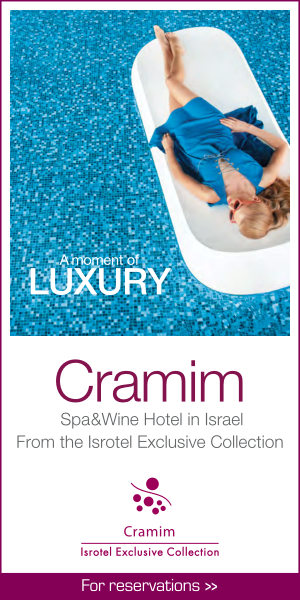 WHO: Tulip Winery
WHAT: Syrah (95%), Petit Verdot (5%)
DESIGNATION: Kosher
WHERE: Israel, Judean Hills and Upper Galilee (Golan Heights)
WHEN: 2011
HOW MUCH: $45
A statement from Cramim Spa and Wine Hotel, our Kosher Wine Week Sponsor

Cramim Spa and Wine Hotel

is situated in the heart of the Judean wine region, a 15 minute drive from Jerusalem. The hotel is surrounded by a beautifully scenic, pastoral setting and offers a quality experience of combined leisure, recreation, fine wines and impeccable tastes. Hotel guests will enjoy an exquisite chef restaurant, boutique wine bar, a contemporary spa complex with unique vino-therapy treatments, as well as pampering rooms and suites that boast a modern interior design.