Last week, the New Zealand Organic Focus Project gave a public presentation on three medium to large NZ wineries who participated in a side-by-side organic versus conventional agriculture trial. The aim was to demonstrate the relative ease or difficulty of conversion to organic viticulture. Palate Press's own Erika Szymanski reported on the results, which were promising if inconclusive.
Two of the three wineries were convinced enough by their results to want to continue – but Wither Hills, the biggest, most well-known producer, could not apparently reconcile their business drivers with the decidedly lower yields from the organic plots. You could say that speaks volumes.
Whilst the study was undoubtedly interesting, it's debatable whether three years is really enough to glean meaningful data – converting a conventionally-farmed vineyard to organic is a slow process, and most practitioners in that space would agree that it takes more than three years for vines to forget their dependency on chemically-synthesized pesticides, herbicides and fungicides – and for yields to stabilize and recover after the initial dip which is common during a conversion period.
Grave situation
My mind was drawn back to a visit a few months ago to Graves and its higher quality sub-region Pessac-Léognan. Bordeaux is one of the more difficult places in the world to be an organic grower. With 900 mm (35 inches) of rain a year, and decidedly unpredictable weather in spring and autumn, "biologique" producers here need to be made of stern stuff. That isn't to say that New Zealand doesn't have its fair share of rain, however the regions where the trial took place are famed for much warmer, dryer summers than you'll find on the banks of the Garonne.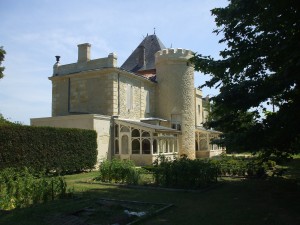 Château du Seuil
Château du Seuil's Nicola and Sean Allison (no, they're not originally from France) were decidedly twitchy when I contacted them this May. Nicola told me "It's not stopped raining for the last couple of weeks – I'm very nervous, and the only reason I'm not pulling my hair is because it's also been really cold.". Nicola and Sean have been converting their estate of 25 hectares since 2009, and are proud that from the 2012 vintage, all their wines now have full organic certification. I happily confirmed during my visit that the wines are delicious, both pre- and post- certification. The Graves Rouge 2010 is worthy of particular praise.
But why go through the turmoil of agonizing about the weather when you could just spray a systemic fungicide, and rest easy your grapes won't suffer from mildew or rot? Like many smaller family wineries, the Allisons and their children live on the property. They have a vested interest in not spraying noxious chemicals and want to get the best from their soil, without leaving it barren for future generations.
It's worth noting that organically certified growers are allowed recourse to copper and sulfur (a.k.a. "Bordeaux mixture"), as contact treatments that act as fungicides. Copper is also harmful if it builds up in the soil, however the allowable spraying limits per year, currently 6 kg in the EU, are being progressively lowered. Additionally, most conscious organic growers try to keep usage to an absolute minimum – often significantly lower than maximum allowed.
Baulos-Charmes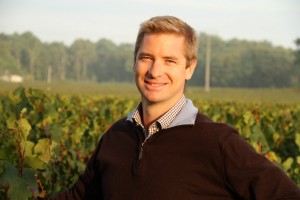 A similar story unfolds when I talk to Sean Matthys-Meynard, a rather dapper young man who bought six hectares (15 acres) of prime vineyard next to Smith Haut Lafitte (Pessac-Léognan) in 2007. Meynard established Château Baulos-Charmes and started the conversion to organic a few years later. He describes himself as "part of a new wave of producers who are passionate about ecology and the soil" and confidently predicts that "we are going to see much more of this approach in the next five to ten years, as this generation takes control."
A trained pharmacist, Sean explains that he's no romantic – he has a bank loan to repay, he has to have confidence in his approach. I only have to glance at his beautifully tended vineyard to know that this is a guy who means business – and yes, the wines are excellent too. But when Sean talks about his plans to build a family home in the middle of his vineyard, the look in his eyes lends the words added weight: "That is of course another reason why I'm organic."
Château Lusseau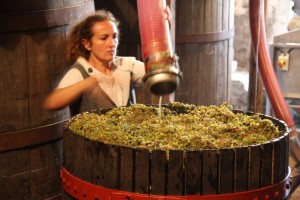 Then there is Bérengère Quellien de Granville, who literally runs a one woman show at Château Lusseau (Graves, not St. Emilion). Bérengère is passionate about preserving traditional methods, and says that for her, being organic is about "respect for the terroir, the wine and the people who work here". Visiting during harvest – the only time of year when Bérengère employs helpers – the work of getting all the grapes through a hundred-year-old basket press was so frantic that I didn't get to chat much. But I did taste the wines, which are as classic and timeless as the methods used to produce them. Track down the Château Lusseau Graves 2007 if you can – it's wonderful cassis-scented, elegant stuff.
There are common factors to all three of these fearless producers – their dedication to farming organically is not marketing or sales-driven. Instead it's a combination of ideals and the belief that putting as little as possible into the soil is the best way to get a true expression out of it.
Trials like the Organic Focus Project are undoubtedly valuable, so long as one accepts they are slightly artificially constructed – and perhaps lacking the passion and drive that usually fuels conversion to organics. Sometimes a dose of good old-fashioned French ténacité cuts much deeper, and speaks much louder.
---
Château du Seuil wines are widely available in the US
Baulos-Charmes lacks a US distributor at the present time. Contact contact@baulos-charmes.com
Château Lusseau wines are available in New York and North Carolina.