Palate Press contributor Adam Caperton recently returned from a trip through Greece. Previously touring Santorini, this week we follow him through Cephalonia. Check back next week for his report from the Peloponnese.
---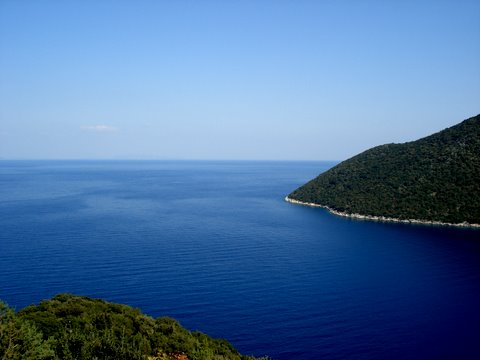 Speaking with Petros Markantonatos and his wife, Marianna Cosmetatos, their brimming enthusiasm for Cephalonia would lead you to believe that life on the island, the largest in the Ionian chain in far western Greece, has always been good. Engaging, charming and both extremely well educated—he with a Masters of Science in Biotechnology from Sussex University and she with a degree in Hotel Administration from Cornell—together they run the Gentilini winery near Minies. Marianna's father, Nicholas, founded it in 1978. Managing the estate since 2002, they are passionate ambassadors of the islands cultural heritage and winemaking traditions and about their relatively newfound international success in the wine game.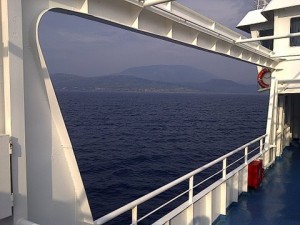 The truth is life has often been very tough on Cephalonia.
With a wine tradition dating back to Homeric times, historically it has always been hampered by invasion, domination and bloodletting. In modern times, politics and world wars have all had an adverse effect.
But the events of August 12, 1953 really shook things up, literally. A devastating earthquake, the third in a series of four, essentially leveled the island. Of the 125,000 inhabitants, it is estimated that 100,000 left never to return. Economic and physical devastation were at hand.
Within a decade the economy started recovering. Concurrently, the islands natural attraction for winemaking led to an invigorating surge in quality and production: a pristine, disease-free climate, extreme variation in vineyard elevations and soil diversity.  Several wineries were instrumental in the new winemaking trends at that time. Calligas wines helped revive winemaking here in 1960's, working with native varieties and starting to create awareness in the burgeoning export market. By the late 1970's, Gentilini was ramping up. In 1991 Yiannikostas and Martine Metaxas established their eponymous winery. Both the Cosmetatos (Gentilini) and the Metaxas had roots on Cephalonia but Nicholas Cosmetatos had been in business in London and Yannikostas Metaxa had been creating a successful business empire on mainland Greece. Both had a passion for producing fine wines from local grape varieties and a strong desire to return to the island.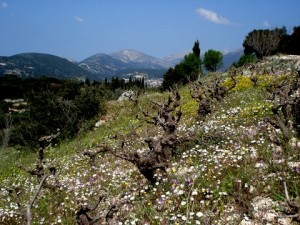 On this island, there are three appellations (Protected Designations of Origin or PDOs): Robola of Cephalonia, Muscat of Cephalonia and Mavrodaphne of Cephalonia. Robola of Cephalonia—100% robola—displays a beautiful acidic thread of citrus and sea salt spray that defines this high altitude loving grape. Muscat of Cephalonia (PDO) is white and sweet; production was nearly extinct but it's now experiencing a resurgence in popularity and quality. Mavrodaphne of Cephalonia (PDO) is red and sweet, but much of the islands production of the grape is dry. The Muscat and Mavrodaphne are made in extremely small quantities.
Other native white varieties utilized for still whites are tsaoussi and zakynthiko. On the international side, chardonnay plays a limited role and sauvignon blanc is thriving. Mavrodaphne is the main red grape. Petros Markantonatos and his winemaker, Mike Jones—a witty Brit who is a foil to Petros with his technical background and inquisitive nature—are doing some incredible blends with syrah. They also buy some Agiorgitiko from the Peloponnese courtesy of their good friend Yiannis Parakevopoulos (see last week's article on Santorini) who has vineyards located in Nemea and has been a big influence.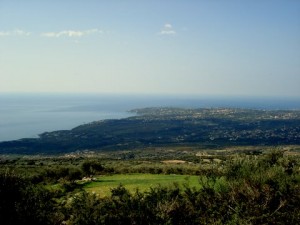 Cephalonia has come a long way since that fateful day in 1953 when disaster unfolded. Standing in a robola vineyard on Mt. Ainos at 850 meters overlooking the Ionian Sea, I thought of the story of how a few weeks after the quake, the Greek military showed up to start the cleanup process. It meant bulldozing what was left standing. Marianna's grandmother stood in the doorway of her beautiful old family house in Argostoli and essentially told them they would have to proceed over her dead body. Her house was one of the few left standing in Argostoli and the Cosmetatos have lovingly restored it to much of its former glory. I suggest you visit.
Wineries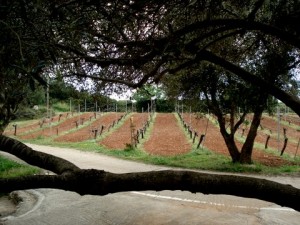 Gentilini, with vineyards overlooking the Ionian Sea, is stunning. Petros and winemaker Mike Jones are pushing boundaries in terms of quality and winemaking. Calligas Vineyard, owned under the large Greek Kurtakis family umbrella, is well established. Martine Metaxa near Mavrata produces exceptional Robola. The Agroindustrial Coop of Robola Production of Kefalonia produces wines of decent quality that reflect its name; it is located very close to the Convent of St Gerasimos, the patron saint of Cephalonia. The convent is the central church on the island and is itself a recommended attraction.
Restaurants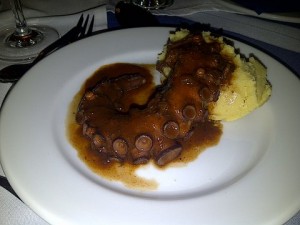 Kiani Akti located on the harbor in Argostoli is superb, small and intimate. Owner Andronikos Lazarotos is close friends with Pertos and Marianna and his cuisine is delicious and the service excellent. In the breathtaking coastal town of Agia Efimia, don't let the oddly named Paradise Coast fool you. A beautiful outdoor pergola on the cliff at the restaurant awaits those lucky enough to score one of the prized tables overlooking Paradise Beach. Seafood is tops, but try the famous Cephalonian meat pie, an island specialty.
Lodging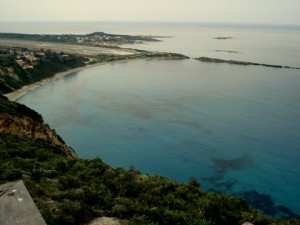 In Argostoli, Hotel Aenos is well situated and a short stroll away from the picturesque harbor; ask for a room facing the town square. There are a number of nice resorts on the southwest coast between Argostoli and Minies. A real stunner in Platos Gialos, is the newly renovated White Rocks Hotel and Bungalows, surrounded by a string of magnificent beaches. Gentilini has six rooms available known as the Gentilini Retreat not far from the winery. A stay there also comes with privileged and complimentary access to the winery and private tastings. It's run by Marianna's sister Helen, who is very entertaining and gives a welcome overview of the amazing history of the estate and of the Cosmetatos family history on Cephalonia.
Getting There
Olympic and Aegean airlines service Cephalonia (EFL) domestically. A number of UK and European airlines provide seasonal charters. The port towns of Patras (mainland) and Kyllini (Peloponnese) provide ferry service to Argostoli and Sami on Cephalonia. Brindisi or Bari, both located in Apulia on the Italian boot, service Sami as well. The picturesque Cephalonian port in Fiscardo in the north offers excursions to the island of Ithaca.
A tour of Cephalonia in photos

---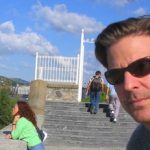 Adam A. Caperton is a culinary, wine, and travel consultant and writer. He has been affiliated with The Viking Range Corporation and The Culinary Institute of America on their Viking Life / Worlds of Flavor travel program. A former chef, he lives in Richmond, VA with his wife Stephanie who works with Alton Brown of Food Networks Good Eats and Iron Chef America. Follow Adam on Twitter, @forknbottle