In 2009, riding the wave of popularity  of Top Chef – and perhaps the peak of reality cooking shows in general – Bravo debuted Chef Academy, a new program following French celebrity chef Jean Christophe Novelli in his quest to open a training center that would groom amateur chefs into professional-caliber ones. Poorly-conceived and lacking any sense of competition or drama (8/9 contestants "passed" the final exam), it was justly cancelled after the first season. Despite its lack of substance as quality garbage TV, I'll never forget the episode where Chef Novelli shared his grandmother Louise's technique for tomato sauce. This brilliant, easy and versatile technique – I use that term in place of recipe because of its inherent flexibility – has become an invaluable part of my culinary repertoire, a weekly go-to, and something I'll now pass down to future generations of my own family.
Even if you aren't of the Sunday Gravy persuasion (that's Philly-speak for a long-simmered tomato sauce made on the day of rest), now's the best time of year to jump on this stuff. Farmers markets all around the country abound with dozens of varieties of juicy, succulent heirloom beauties, begging for myriad uses. And though some might balk at the idea of cooking late summer's bounty, I myself think this is just about the best way to take advantage.
Without further ado, here's the drill: First, wash and roughly half a bunch of unpeeled fresh tomatoes. (Let's say 4-6lbs, but exact amounts are not crucial here.) Heat a heavy saucepan or stockpot to medium heat, and place the fruit cut half down.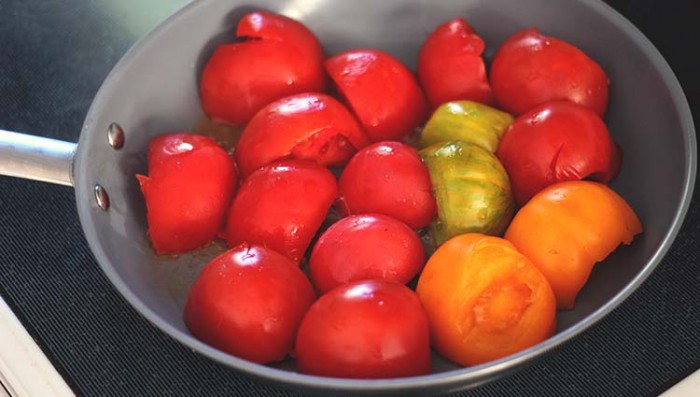 Let them warm up a bit, then crush them softly with a potato masher. (If the tomatoes are less ripe, you might need to let them cook a while longer, then press again.)
Once the tomatoes are mashed, add a few pinches of sugar. (It's best to taste the raw tomatoes to see how sweet they are before cooking, to get a sense of how much sugar is needed. Practice makes perfect.)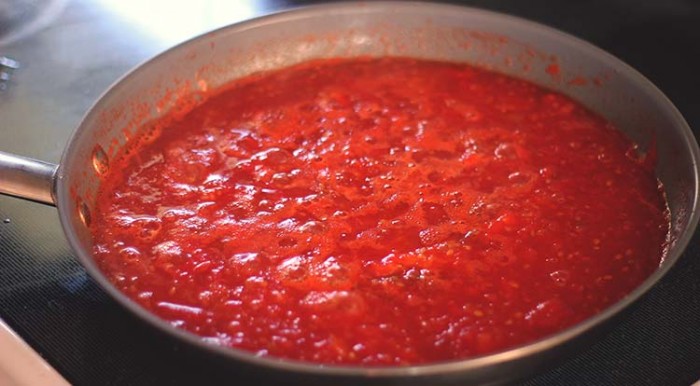 Next, add the spices. In his TV demonstration, Chef Novelli added whole star anise, a vanilla pod, bay leaves, sprigs of fresh thyme, and salt & pepper. But this is where it gets fun – you can add just about anything, within reason, that suits your palate. Some other things I've added over the years include:
Cinnamon sticks
Whole allspice & cloves
Grated nutmeg
Cardamom
Cocoa
Ras el Hanout
Red wine
Apple cider (replaces sugar)
Parmigiano rind (or similar aged cheese)
Other fresh or dried herbs: sage, oregano, rosemary, etc.
Start with a little and add more to taste, as you learn how these choices affect the final product.
Cook on low heat – to a slight bubble – for 1-2 hours until the liquid has evaporated and the mixture has become a paste. Remove any solids you don't want to eat (anise, cinnamon, etc.).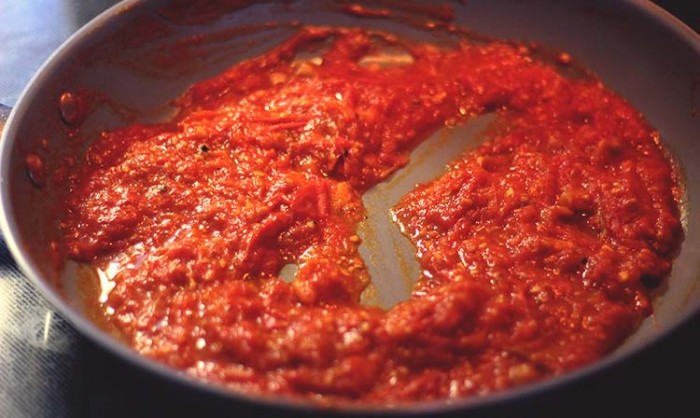 Roughly chop a garlic clove or two and add. The later you add the garlic, the stronger the flavor will be, so you can experiment with when to add. I like to cook it for about 10-15 minutes so it is still pungent but not completely raw.
Roughly chop a handful of fresh basil for adding at the very last minute. This can be mixed into the sauce, or added to the plates when serving, or both.
Just before adding the pasta, ladle a little pasta water to help bind and smooth out the sauce, as well as a good bit of extra virgin olive oil. (Add EVOO on top of the finished plates too!)
In terms of wine pairings, it's difficult to justify leaving Italy here, given the built-in acidity and proclivity for tomatoes. In spite of the "if it grows together it goes together" trope, however, I love Barbera with this dish. A simple, everyday bottle that's young, bright, and hasn't seen much (or any) wood. Many think Barbera's natural partner is mushrooms – and certainly it is a good one – but there's something about the way the tomatoes' fresh acidity matches the wine that makes me wonder how they don't grow together. In particular, Michele Chiarlo Barbera d'Asti Superiore Le Orme ($14) is an excellent choice – beyond the vibrant red fruit, it offers notes of dried herbs and aged cheese that mirror other elements in the dish. It's also widely available with outstanding QPR.
When pairing, do be wary of which tomatoes are used, especially in the heirloom realm. These days there are a plethora of options, colors, etc., some fruitier, brighter in flavor, especially in the orange and yellow spectrum. As such, these might create a lighter sauce, which in turn might call for a lighter wine… maybe even a Rosato… especially on a warm late summer evening.
Cin Cin.