A wine region's reputation is often frozen within a slice of time, like a specimen encased in paraffin awaiting the guillotine cut of the microtome followed by the analysis that occurs under the wine-glass microscope by the consumers of the world.
Take Dão.  The region is located in the interior of Portugal south of the Douro Valley but inland from the Pacific with fertile valleys surrounded by granite mountains.  Like the rest of Portugal, it has long staked its reputation chiefly on indigenous varieties, even though some of these are simply analogs of wine grapes from other countries. One of these is Tinta Roriz (Tempranillo) which, along with Touriga Nacional, is the primary red wine grape, while Encruzado is generally considered the best indigenous white grape.
During the late 1800's, Dão sported the title of the "Burgundy of Portugal," not because its wines tasted like those of Burgundy, but rather in deference to the latter's reputation for quality. However, Portugal fell into economic decline for much of the 20th Century, having long ago lost its reputation as a colonizing sea power. Unlike the rest of Europe, which prospered between the devastation of world wars, Portugal fell behind its neighbors.
The infrastructure was particularly behind the times, with transportation from one region of the county to another very difficult, especially in the mountains away from coast.  Major highways were few, and some roads were little more than cart paths. Most importantly, Portugal during this period was ruled by the dictator Alberto Salazar for almost four decades, from 1932 to 1968, which caused further stultification.
For a variety of reasons, Salazar imposed collectivization on winemaking in the Dão, while trying to take advantage of its reputation as a wine producer. The upshot was that only the state-established cooperatives could buy wine grapes from farmers, which was ironic as Salazar was a fascist who opposed communism. Of course, collectivization – whatever its name – can only produce whatever its leadership demands, and the Portuguese leadership demanded quantity, much as the Soviet government set back much of the wine production of Hungary and Rumania during the cold war by forcing them to produce rivers of ordinary wine.
During this period, it was possible for Americans to buy very old Dão wines aged in neutral casks and bottled under the label of "garaffeira" or "aged red wine." The wines offered some charm for only a few dollars. In fact, these garrafeira were how those of us of a certain age were first exposed to Portuguese and Dão table wines.
After Salazar's death in 1970 and after Portugal joined the European Union, the collectivization experiment was ended beginning with the 1989 vintage. Gradually, independent wineries began to again pop up in the Dão.  But a region cannot restore its reputation that quickly.  It takes a decade or so to develop a progressive wine culture and an infrastructure, and then it takes an additional decade or so for the wine trade to validate these positive changes.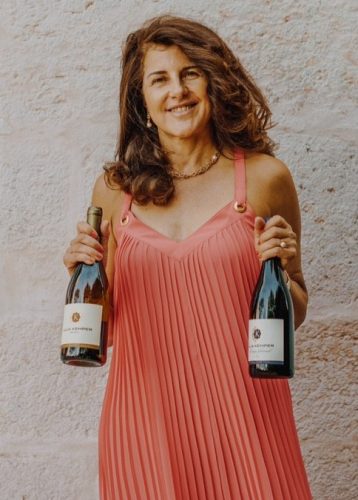 One of the brighter faces of this Dão comeback is Julia Kemper, who now heads an eponymous winery built on her family's reputation as winegrowers. People unfamiliar with modern, family-owned wineries located in traditional European cultures such as Portugal and Spain are often surprised to see fathers, retiring as head winemakers for the family businesses. often turning over the keys to the cellar and control over the vineyards to their daughters, perhaps seeing them as more level-headed and less pains-in-the-butt than their sons.
Such was the case with Kemper, a mother of two and a practicing lawyer in Lisbon, the capital, a hefty drive from the estate in Mangualde where the Melo family – her maiden name – has farmed for centuries. "My father kept asking me to come back and head the business," says Kemper, a confident woman with full-blown auburn hair. "After three years, I finally said 'yes'." Her first vintage was completed in 2008, but it has only been recently that she decided to give up her law practice.
Today, seven of Kemper's wines are imported into the U.S. by Wine in Motion, which has its headquarters in New Jersey. While the Julia Kemper entry-level Elpenor line starts at about $20 retail, the Julia Kemper Touriga Nacional varietal sells for $38 and her top-level Curiosity white and red go for $60 and $75 respectively.  It one could use two words to describe the whole Julia Kemper range of wines, they would probably be wines that are "alive" and very "intriguing." In many ways, those words might apply more broadly to the wines of the Dão renaissance.
Like many winemakers, Kemper has a philosophy that drives her winemaking. "I view the vineyard and the cellar as two completely different moments," she says. "I decided to be organic in the vineyards, and the vineyards are an experience in itself related to the way that I feel. The cellar, on the other hand, is like a big kitchen. Some of the grapes we make into wine aren't well-known and have never been given a chance." She laughs. "Why not give Alfrocherio" – a popular Dão red grape – "a chance?"
"My parents blended in the vineyard," Kemper continues, "but I decided to separate things. This year it took up two months to complete the harvest, whereas my family in the past picked everything at the same time. Those wines were just average."
In many ways, Kemper approaches winemaking the way a parfumier might approach the creation of a new scent.  She doesn't just want to make wines that merely suit her tastes; she wants to makes wines that reflect her tastes, wines that illustrate who she is. "I look at three things in making my wines – tradition, new ideas and how I feel about something. When the grapes come to the cellar, I take the approach, 'Let's see what we have here.' Sometimes, I can spoil myself."
Her adventurousness, grounded by the region and its grapes, often takes a humorous twist. "We named the Curiosity wines after the Mars ship, [the rover named] Curiosity," she says, to reflect what she hopes are their adventurous nature.
After having been reluctantly convinced to put the practice of law in the background and to take on the role of winemaker, Kemper has evolved into the family keeper of the flame. Fortunately, she says, her cousins and other family member are enjoying the winery's success after several moribund years.
"I feel it's my responsibility to keep our farm alive," Kemper says. And, in part, Dão with it.