Sparkling wine has continued to out-effervesce just about any other sparkling wine in the short two years since our last English Sparkling Wine report (below). Everything we said before is true, only more so, and with bells on. Even the French Champagne producers are jumping on the bandwagon, with Taittinger as well as Pommery planting in the UK in the past few years.
More English wines are winning awards, and more of these sparklers are besting French Champagne in professional competitions, time after time. Just a few weeks ago English sparklers beat Champagnes in the Sommelier Awards https://www.sommelierwineawards.com/
Also this spring, well-known Cornish winery Camel Valley (established in 1989) https://www.camelvalley.com/ became the first English winery to be awarded a Royal Warrant which means they are official suppliers to a Royal household.
Of course Queen Elizabeth II also has her own sparkling wine called Windsor Great Park, which is perhaps the strongest contender for serving at royal events https://www.windsorgreatparkvineyard.com/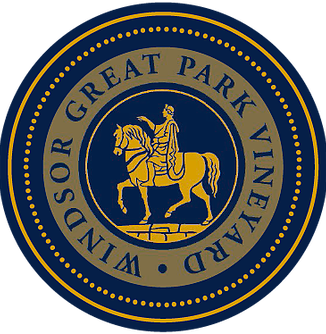 Now, less than two years after the events detailed below, the English Wine Producers have merged with the United Kingdom Vineyards Association; their new name is WineGB or Wines of Great Britain Ltd. http://www.englishwineproducers.co.uk/ And the astounding total number of vineyards in the UK, as of May 2018, is 576, with 130 independent wineries (though not all of them make sparkling wine). Vineyard acreage has double in the past ten years, and sparkling wine is leading the charge in production gains.
Quality, quantity and enthusiasm are all inspiring the growth of English sparkling wine. Yet this is a lingering question: what to call English sparkling wine? Over the past decade, so many names have been proposed it's a wonder nothing has been found that really resonated with the public or the producers. One of the latest pushes for an independent name for sparkling wine produced in the UK from grapes is the moniker "British Fizz" – a term that has so far received equal measures of love and loathing. Stay tuned for further attempts…
Trending: the English Sparkling Thing
(originally published July 7, 2016)
English sparkling wine is now a thing. Unless you're a sparkling wine nut like me, you might not have noticed. In fact it's more than just a thing: English sparkling wine has been beating French Champagne in blind tastings every year, lately. Why? And why now?
At some point in the last few decades, potential grape growers realized that sections of the south of England have the same underlying chalky soil as the Champagne region of Northern France, across the English Channel.
Also, Champagne grapes are harvested when they are slightly on the underripe side in order to make the best sparkling wines. Now it appears climate change has warmed things up just enough to allow traditional Champagne grapes to ripen in England — most years. We talked about this on Palate Press earlier.
About five years ago I visited many of the well-known English sparkling wine producers at that time, wineries such as Ridgeview, Nyetimber, Gusbourne, Denbies, Chapel Down, Camel Valley and Bolney. While these names are definitely holding their own in both quality and sales, more recently a newer group has cropped up, which includes Wyford, Wiston, Sixteen Ridges, Langham, Hush Heath, Hambledon, Furleigh and Davenport. They are all catering to an increasing UK demand for English fizz as well as an increased awareness of the quality of these wines. It's no wonder there's a reported 40% increase in applications to plant vineyards in England this year.
So how is English sparkling wine made, and what does it taste like? I took myself to the London Wine Fair this spring, where the English producers were represented in a big way, and spent time talking with some of the more well-established winemakers and their representatives, as well as newer producers.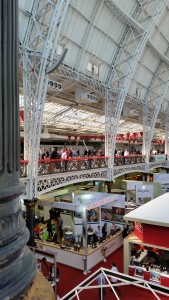 Most of these wines are now made with a majority of traditional Champagne grapes – chardonnay, pinot noir and pinot meunier – and the wines are vinified in the traditional (Champagne) method of ageing in bottle, on the lees.
One of my old favorites, Nyetimber, produces wines with all estate-grown fruit. The 2010 Classic Cuvée had complex fruit ranging from berries to apples, perhaps because they had used more pinot noir here than in past vintages. The Rosé was a clear, medium-deep pink/salmon color. A red-fruit nose belied its acidity on the palate. And the 2009 Blanc de Blancs, after five years on the lees and a touch of new oak, had a nice light toasty, yeasty aroma with sweet toast on the palate; it was very fresh, with a citric lime and mineral finish.
Denbies Wine Estate was established in 1986. "Whitedowns" (made with seyval blanc, reichensteiner and a bit of chardonnay) is its most popular, entry-level sparkler — though not an impressive entry, to my taste.  The 2011 "Greenfields" which is made with pinot noir, pinot meunier and chardonnay had three years on the lees; it was a better balanced wine, with hints of toast and fruit as well as citric notes – as was the 2010 "Cubitt Reserve" which had a similar grape content and one more year on the lees.
Chapel Down might be the grand dame of modern English wine, having begun planting its vineyards back in the 1970s. The crisp Vintage Reserve Brut is claimed to be the best selling English sparkling wine in the UK; it is made with equal amounts of chardonnay, pinot noir and pinot meunier, and a small amount of pinot blanc. The 2011 Blanc de Blancs was also light but with honeyed fruit as well. And the Rosé Brut had an earthy nose before becoming fruitier on the palate; it was a pale pink color and had spent 2-1/2 years on the lees.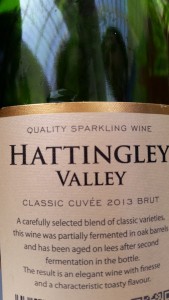 Hush Heath is an ambitious new producer of sparkling wines. Its 2011 Balfour Brut Rosé spent three years on the lees and was made with pinot meunier, pinot noir and chardonnay. It had some sweetness and a touch a honey but basically it was a very nice, light wine. The NV Balfour Leslie's Reserve was a sweet sparkler, yet I found the acidity nicely balanced out the fruit in the wine.
Hattingley Valley, also a young producer, was glowing with the news of its new partnership with Champagne Pommery – and everyone is eager to see what the next few years brings. In the meantime, Hattingley is transitioning its vintage sparkling wines to non-vintage now that they have enough back vintages to blend the wines the way they want. The 2013 was made with about half chardonnay and a third pinot noir, with some pinot noir and pinot gris. A quarter of the wine saw older barrels, and the wine spent 15 months on the lees. In addition to the wines' fruit aromas and flavors, there was a honeyed note they attributed to the oak in the wine. The Rosé was largely pinot noir and pinot meunier along with a little pinot noir precorce which is an earlier ripening pinot I had never heard of. The wine was characterized by strong acidity and a deep red berry palate. The Blanc de Blancs, four years on the lees and 10% barrel fermented, had big honey notes; it was super citric especially in the finish. King's Cuvée, 100% barrel fermented, was lively and extremely fresh on the palate as well, though a delicate wine over all.
Sixteen Ridges is one of the newest members of the group of English Wine Producers, having planted its vineyards less than ten years ago. The Signature Cuvée was lightly citric, made with pinot noir and seyval blanc. The Pinot Noir Rosé was the palest of pink colors, but on the palate it was much richer and fruitier.
Featured image courtesy windsorgreatparkvineyard.com