If you were visiting the rich agricultural community of Walla Walla and were told, "visit the incubators" on Piper Avenue at the Walla Walla Regional Airport and Industrial Park, you would typically think of a controlled environment that is hatching eggs. Not so! In Walla Walla, they are "hatching" wine in their incubators.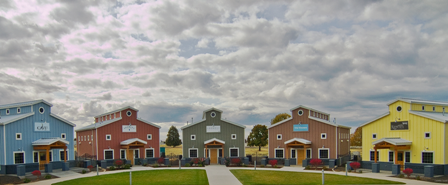 In 2006, the Port of Walla Walla in Washington State, with the assistance of a state economic stimulus grant, constructed three buildings to serve as space for new start-up wineries and by 2008, two more buildings were constructed. Inside the five whimsical-colored buildings, that resemble a village out of  "The Simpsons" cartoon, are winemakers with an entrepreneurial spirit and the dream of someday flying away from the incubators to be on their own.
In the beginning, these actual working wineries (not just tasting rooms) take on a reasonably low monthly rental lease that will gradually move higher as they progress in their businesses until the rent maxes out at the end of their six-year lease. At that point, it will be time for them to leave the nest. This lease hopefully provides each winery the opportunity to use most of their start-up funds for other necessities such as grapes, crush equipment, tanks and barrels. For now the five wineries share a crush pad and even more important, they also share a sense of community.
The first two wineries to take root at the incubators were Adamant Cellars and Trio Vintners. Later to the community came Lodmell Cellars and in 2008 when the last two buildings were completed, Cavu Cellars and Kontos Cellars joined the flock. And don't let the word, "incubators" fool you, as these winemakers are no hatchlings to the world of wine.
"Each winery has their own story and each winemaker has their own style. I enjoy this area and the view of the Blue Mountains. When it is time for us to move to our own winery, we want to stay in the same neighborhood." – Devin Stinger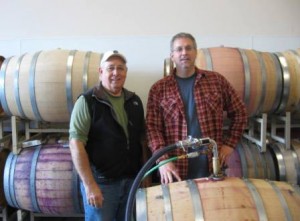 In 2001, Devin Stinger of Adamant Cellars was making Pinot Noir in the basement of his home in Portland, Oregon along with his father, Ken.  Six years later, Devin and his wife Debra, and bringing along Devin's passion and dedication to winemaking, moved to their new incubator winery in Walla Walla.  The incubators made it possible for Devin to realize his twenty-year dream.  Adamant Cellars produces a palette of varietals such as Cabernet Sauvignon, Merlot, Syrah and a very popular white blend, "Bliss" that sells out quickly.
"There is a sense of community here, even though we are in different stages of our businesses. I love seeing each other succeed.  There is no place like this and Walla Walla should pat themselves on the back." –   Denise Slattery
Denise Slattery and Steve Michener, Trio Vintners
Trio Vintners is a partnership between three graduates of the Institute of Enology and Viticulture at Walla Walla Community College: Tim Boushey, Denise Slattery and Steve Michener. The trio's winemaking style, as shown on their label, celebrates a 'sense of place' contributing to the geological history of Washington State. In their wine repertoire, Trio Vintners produces some unique and new varietals to the area such as Carmenere, Mourvedre, Tempranillo, and Zinfandel. Denise is often the movement behind the communal spirit.
"The incubator project has been twofold for us. Not only can we share equipment, but we have been embraced by a sense of community and we are known as a destination." – Kristie Lodmell Kirlin, Partner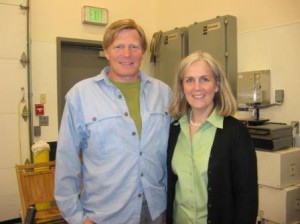 In 1995, Miles Lodmell and son, Andrew, third and fourth generations of a  long time Walla Walla farming family, planted their first 15 acres of grapes near the lower Snake River in Walla Walla County. Now, almost 15 years later, the 30 acre Lodmell Vineyards and Estate Winery's inspiration and logo is a coiled snake on their wine label. The Lodmell Family has sold grapes to the most prestigious winemakers in the Walla Walla area and Andrew Lodmell, now winemaker,  surrounded himself with some of the best "wine minds" around. The star of their show is the Lodmell's Estate Merlot.
"I enjoy sharing and bouncing off ideas with the other wineries and sometimes we are competitive in a very 'friendly' way. It has been a supportive environment, but most of all, we don't have to share a thing with our Dad." – Chris Kontos
Cameron Kontos, Kontos Cellars
Brothers, Cameron and Chris Kontos were inspired to open their own winery by their father, Cliff Kontos of Fort Walla Walla Cellars. Chris manages the winery and Cameron is the winemaker. The brothers are no strangers to wine since they are now second-generation winery owners, and Cameron has worked seven years as an assistant winemaker for another local winery. The incubators have given the Kontos family the opportunity to produce two different wine labels, "Kontos Cellars" and "LeeVeLooLee (Greek for 'Dragonfly') for their blended red and white wines.
"The incubators bring us opportunities for the future. We share equipment back and forth, such as rakes, clamps and even leased a fork-lift together and share the bottling truck. We have gone in together to advertise and of course, promote each other."  – James Waite
James Waite, CAVU Cellars
"It's a great day to go flying" is the motto behind CAVU Cellars. The name, CAVU is an aviation acronym for 'Ceiling and Visibility Unlimited' and a very appropriate name for a winery that is located in the airport district, as well as owner, James Waite is a former pilot. James and Karen Waite's son, Joel is the winemaker. Joel studied at the Institute of Enology and Viticulture at Walla Walla Community College and worked as an assistant winemaker for a year before he joined the family project. One of their current releases includes Barbera, a bold Italian varietal and with plans to release a Barbera Rose' in 2010.
In the future, each of these five wineries will be considered the original pioneers behind the Port of Walla Walla's Wine Incubator project. When it is time for each of the wineries to fly the coop, their success will be an inspiration to future incubator wineries. And hopefully their sense of community will perpetuate to each new generation of wineries and be the first lesson in business.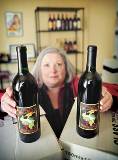 Catie McIntyre Walker was born and raised in Walla Walla, WA and is the original Walla Walla wine blogger and "locapour." After almost eight years of cleaning spit buckets and pouring for the masses, she hung up her cork screw to pursue her writing and open her online wine store, Walla Walla Wine Woman.