Is it wise for a winemaker to keep some of the most basic information about a wine off the label? Say, the grape variety used in making the wine?
This is an information age, an age in which more wineries are peppering their labels with all kinds of technical information, including harvest date, brix at harvest, tons per acre, and more. Tech sheets are now available on many wineries' websites.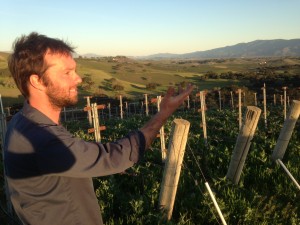 But winemaker Matt Dees is placing a bet on less being more, and on wine consumers who care more about where a wine is from.
Dees, the winemaker at Santa Barbara County's Jonata, has launched his own line of wines that will keep the label simple and focused on place. Goodland Wines was born out of Dees' desire to focus on what Santa Barbara County does best in each appellation. Instead of following the garish American trend of prioritizing a wine producer's name, or the name of the grape varieties, Dees wants the appellation to stand out. It's the old European model; think of a bottle of Morgon, or Cornas, or Volnay.
Goodland Wines are labeled the same way. For example, their Pinot Noir comes, naturally, from the Sta. Rita Hills appellation. The label includes Goodland's name in small print, then a large, classically fonted "Sta. Rita Hills", then "red wine." That's it. The same format goes for Goodland's Sta. Rita white (Chardonnay), Santa Ynez Valley red (Syrah and Grenache), Ballard Canyon red (Syrah), Happy Canyon red (Cabernet Sauvignon), and Happy Canyon white (Sauvignon Blanc).
Customers won't necessarily know what grapes are used to make the Goodland wines, but the Goodland team believes that will spark conversation and debate.
The 34-year-old Dees concedes, "We can all learn countless lessons from the ongoing struggles of the German producers. They've managed to confuse the shit out of me for years, though I still purchase and drink their wines with somewhat reckless abandon."
So why keep the varieties off the label? If Dees were making wine in Germany or France or Italy, he would likely have a different approach. After all, those countries are quicker to celebrate where a wine is from, putting an emphasis on that nebulous (but vital) sense of place. In the United States, the emphasis is more often on the winery (with ego occassionally to thank for this), and is almost always on the grape variety. Dees senses a lack of interest in sense of place in his home country.
He's trying to help change that, 100 cases at a time.
"We are trying to begin the conversation about regional typicity, recognition, and the future of AVAs in this young country of ours," Dees explains. Yes, the Goodland wines are a kind of statement on what each appellation does best, but Dees is open to changing his mind. "We're not shooting to make enemies," he says. "We'll be the first to admit that it will likely be a moving target — and it should be, as we continue to learn about these young regions and vineyards."
In a recent edition of his "Drinking Out Loud" column for Wine Spectator online, Matt Kramer hammered producers for this very practice. Of course, Kramer was putting the blame on European producers who refuse to change, not an American producer seeking to drive the conversation.
Nonetheless, Kramer writes: "Communication is paramount, and you've got the equivalent of an aboriginal wine tribe still sending smoke signals… You want someone to buy your product? Of course you do. So why, then, would you label the item in a manner that is utterly incomprehensible?"
Dees, one of the most good-natured winemakers you'll meet, laughs. "I understand his argument and I'm all for eliminating any and all confusion for the consumer," he says, granting Kramer the point. But Dees believes his small-production effort at Goodland will lead to more understanding, not less, once those conversations about the land take place.
I checked in with some of the savviest people in the business: the owners and staff at Chambers Street Wines in New York City. Co-owner Jamie Wolff says seeing the varieties matters to him, and he finds that it matters to customers. "The younger, newer operations we've been excited to discover provide a lot of information," Woff says, pointing to Arnot-Roberts as an example.
It's not just wine producers offering more information to consumers. Chambers Street's website is now offering a wide range of technical information. "We're trying to make everything as transparent as possible," Wolff explains.
But manager Sophie Barrett is, at least, intrigued by Goodland's approach. "I'd be very curious to try the wines," she says. "In general I'm not all that interested in wines coming from California, with a few exceptions. But it's interesting that these guys are trying something new, and it's not just another Cabernet."
So how are the wines? I haven't tried them all — there's only 50 cases here, another 100 cases there — but the Sta. Rita Hills red (Pinot Noir) is a gorgeous wine, lithe and aromatic. For $35 to $40, the Goodland wines are accessible. Dees is showing just how talented he is, offering a portfolio of wines that speak of place while also making the massive, dark wines at Jonata. It certainly helps that Dees is partnering with Ruben Solorzano on the Goodland project; Solorzano is a viticulturalist with a tremendous track record.
If we're choosing who's right and who's wrong in this debate, I'll split the difference: Kramer is right when it comes to old-world wines, and Dees is right when it comes to American wines. Spend time in any restaurant in the United States, and you'll hear the majority of customers ask for "a Shiraz" or "a Chardonnay" or "a Cabernet." Almost no one is asking for a Russian River Valley wine, or a Willamette Valley, or a Sta. Rita Hills.
Goodland is not going to change that, but they're going to make more people think about where wine comes from. That's an effort worth applauding.
[author] [author_image timthumb='on']http://palatepress.com/wp-content/uploads/2009/11/evan.jpg[/author_image] [author_info]Evan Dawson is the author of Summer in a Glass, a book about Finger Lakes winemakers. Evan is also the Finger Lakes Editor for the New York Cork Report. His paid job includes offering his best Ron Burgundy impersonation as a morning news anchor and political reporter for WHAM-TV in Rochester, NY. [/author_info] [/author]