"My father didn't really want to sell the business," Vitalie Taittinger recalls.  "I think he felt a little shame, a lot of pain, that it wasn't the courageous thing to do to sell the family heritage.  I was very sad for my father."
It was the summer of 2005, and the various branches of the Taittinger family had voted, almost unanimously, to sell the family's eponymous, top-rated Champagne house and other properties to American-owned Starwood Capital Group.
For Vitalie's father, Pierre-Emmanuel, a door had closed.  He had grown up in the Champagne house, founded in 1932 by his grandfather, Pierre-Charles Taittinger, and began his own career at Taittinger in 1976.  Now, although he was one of the financial beneficiaries of the proceeds of the sale, Pierre-Emmanuel felt he had lost his legacy in the process.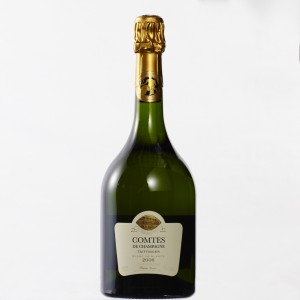 His feeling was not a rare one, as the Taittingers were just following a path which other high-profile family wine businesses had walked in recent times.  In 1988, for example, Marquis Piero Antinori famously sold a majority stake in his family wine business to Whitbread – after more than 600 years and an incredible 25 generations of family ownership – because he had no male heirs, only to buy it back in 1991 after discovering his three daughters, the 26th generation, passionately wanted to carry on the tradition.
Robert Mondavi, America's most-revered winemaker, took his eponymous winery public at the height of its popularity, only to lose control of both the business and his name when the property was sold in 2004 to the Constellation Group, leaving his grown children to even now have a bad taste on their palates whenever they say the word "bankers."
To outsiders, these are fascinating, headline-catching sagas:  Family wine businesses worth millions of dollars disinheriting themselves with bankers cast in leading roles.  We watch these dramas acted out and reviewed non-stop in the media on the large stage that is the international wine trade.  But for those involved at a personal level, losing a heritage, whatever the circumstances and regardless of the family's wealth and stature, can be emotionally devastating.
The Taittinger story, fortunately, has a happy ending.  Or, as Vitalie likes to tell it, "a happy beginning."
This fall, Vitalie was in New York to unveil the 2006 Comtes de Champagnes brut and rosé wines at an event called "Uncage My Heart," a clever word play on opening a bottle of Champagne that heralded a promotional "get-ready-for" Valentine's Day 2016.  But it could just as easily have been a celebration for what Pierre-Emmanuel Taittinger must have felt in his own heart during the harvest of 2006 and the holidays which followed.  Because in May 2006 – 10 agonizing months after the business had been sold – Pierre-Emmanual had lined up financial backing to repurchase Taittinger and again make it a family-run business.
"The 2006 is the first vintage of Taittinger 'Comtes de Champagne' released since the family bought the house back," Vitalie says.
In many ways, this near-death experience a decade ago of Taittinger, one of the few remaining family-owned grand Champagne houses, has served to pump new life into its heart in addition to un-caging it.  "My father kept a very good relationship [with Starwood]," Vitalie says, and both he and Starwood quickly realized the conglomerate was more interested in the Taittingers' former hotel properties than they were in trying to make grande marque Champagnes.  "He decided he would be ready if they ever wanted to sell it back," Natalie says.
His uncle Claude, 89, who had led the sales process, retired as head of the business, and Pierre-Emmanuel became the third generation of Taittinger to head the family business.  "Everyone realized that the business was something we wanted," Vitalie says.  "It was a part of our lives."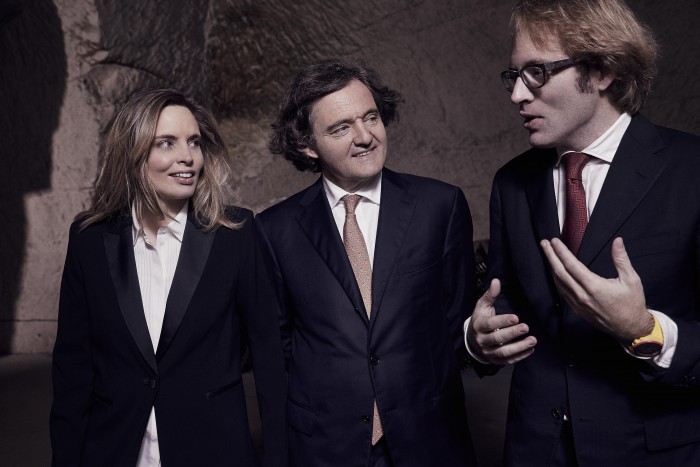 The following year, Vitalie, then 28, decided it was time to join her father and brother Clovis in the business.  An art and design at university, she had started her own creative agency five years earlier – the perfect background to become Taittinger's global brand ambassador.  Vitalue also had the glamorous looks to become part of the company's new advertising campaign, reprising the Grace Kelly role in the old "L'Instant Taittinger" advertisements.
"When Claude was leading the company, we were on solid ground," Vitalie says. "And we hadn't been doing a lot of innovative things. Today, we are doing a lot of things to push the Taittinger image, the Taittinger identity – labels, a new advertising campaign, new PR.  While we keep tabs on our competitors, we only do what we think is right for us. We are a company with an old history, yet one that also has new roots, and our big challenge is to give a new dynamism to Taittinger."
Meanwhile, the un-caged first vintage of Comtes de Champagne after the Taittinger restoration is tasting beautifully – elegant flavors of dried and candied fruits, brioche, lemon and other citrus accents and baking spices floating on a stream of fine, straw-yellow bubbles.  It provides the perfect Christmas toast for the Taittinger family on their first new vintage:
"Welcome back!"
Photos courtesy Taittinger.