"These are my girls," smiles Susanna, stroking the belly of one of them with great kindness and affection.
"She" replies with a quick, happy gurgle.

Susanna's Girls live all together, in a not-very-large room; on tiptoe, a feeble beam of light slips inside, careful not to disturb them.
In silence, the girls work tirelessly, night and day: they develop and protect something precious that needs time and quiet to reach maturity.
"Sometimes I come here to visit them with a few people, Italian or foreign visitors for example, but if there's too much confusion, they complain loudly. And my father always told me that when this happens it's a bad sign: there's trouble if they get angry."
Hard to imagine that anyone would get angry with someone as gentle as Susanna.
Yet her girls are touchy and demanding: they have an important and difficult task to accomplish; they can not admit distractions, noise, disorder.
But sometimes it happens that Susan goes to visit them alone to talk with them.
And then she discusses and confides in them. She talks with them about her problems as a wine producer, her daily battles against a suffocating and stupid bureaucracy … Her girls listen to her in silence, with their utmost care. And sighs of consolation—responses from them—always appear.
The girls of Susanna are all the same: round, reassuring. Not too big or too small, but well-proportioned. However, they are all individuals and each has a name, one that ends with the letters "ina." (In Italian, these letters are the diminutive of a name or a noun–like a term of endearment.) Such as Nerina, the doyenne of this group. Years ago she had to give up her room to a newcomer, and found it hard to say goodbye to Susanna and her family, after all the time they had spent working and living happily together.  So she remains here, in peaceful retirement.
The little, picturesque cellar of the Crociani family is located in a fourteenth-century building in the heart of Montepulciano, the renowned small Medieval wine town in Tuscany.  Here, Susanna' girls have, for years, aided her in creating her best wines: the Nobile di Montepulciano DOCG, the Rosso di Montepulciano DOC, the sweet and golden Vin Santo di Montepulciano, the red wine Chianti Colli Senesi …
"We must leave them quiet, they get angry with me if I make bad wine, but sometimes we quarrel and I threaten to break them into a thousand pieces if they aren't doing their jobs," Susanna explains to me, only half joking.
Because the Susanna Crociani's girls, you know, are the big oak barrels in her cellar.
This is why her wines—including Vin Santo, kept in a cellar apart—are so unique and special.
They have within them the genius of a drop of history. Tasting the wines of Crociani winery you savor a sip of a time in Tuscany that has disappeared, and yet is still alive: the Tuscany of its ancient inhabitants, the Etruscan people. In fact, the visit to the cellar Cocaine, one of the most ancient in Montepulciano, offers surprises such as a recently discovered, long underground passage. Evidence collected there indicates it may have been part of an Etruscan tomb, or one of the many underground tunnels that linked the city to the outside to allow secret access during sieges.
In this historic (and romantic) room, Susanna creates her famous Vin Santo di Montepulciano; I tasted the 2001 vintage for you.
2001 Crociani Vin Santo di Montepulciano DOC.  Made with typical Tuscan grapes such as Malvasia del Chianti (90%) and Pulcinculo (also known as Grechetto bianco), carefully selected at harvest-time and laid out to dry until the end of January, then stored in small oak barrels no larger than 100 liters and aged in special small casks called caratelli for eight years. Susanna Crociani makes a very small amount (1,550-2,000 half-bottles per year) of an amazing sweet wine.  The color is amber, the aroma is intense with notes of ripe fruit (nuts, hazelnuts, dried figs, dates) and a nuance of honey. In the mouth it is full, velvety, smooth. The ideal wine with sweet biscuits and strongly flavored cheeses. But real wine lovers consider it overall a wine for conversations…Romantic conversations, of course.
---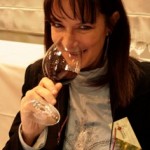 Elisabetta Tosi is a freelance wine journalist and wine blogger. She lives in Valpolicella, where the famous red wines Amarone, Ripasso, and Recioto are produced. Professionally, she serves as a web-consultant for wineries, and in her free time writes books about Italian wines. She is also a contributor to Vino Pigro.