Rex Pickett doesn't like the word "alcoholic."
But the author of Sideways and the new sequel Vertical has given up drinking for the last four and a half months because he says he doesn't have the ability to stop drinking wine after two glasses.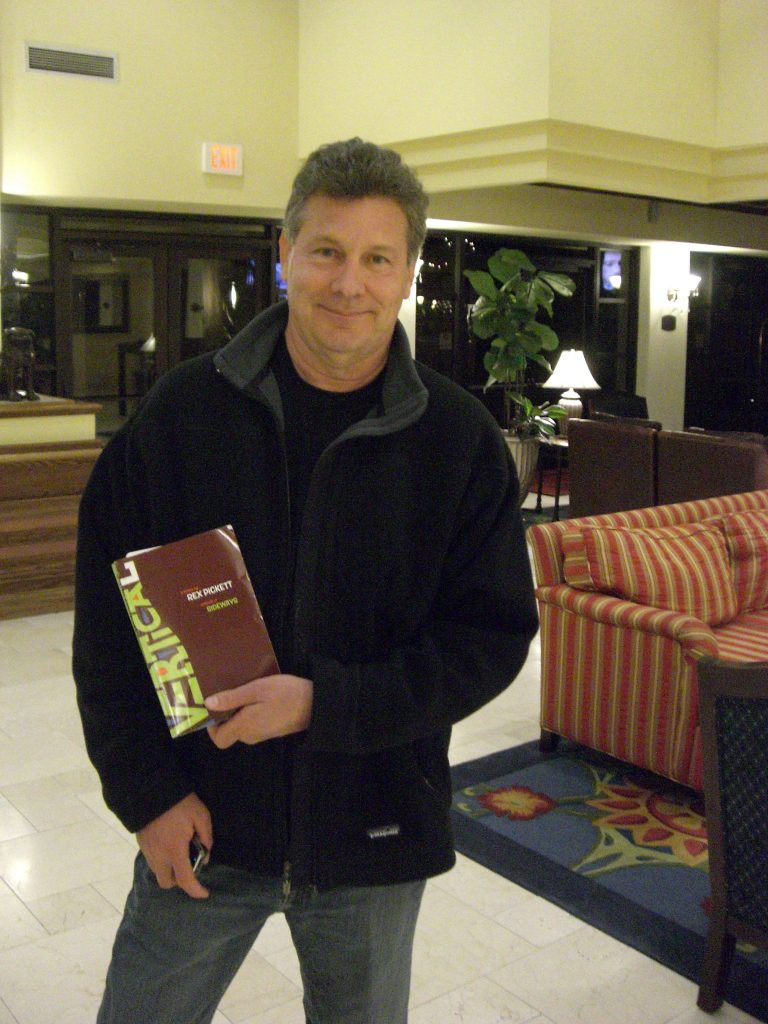 "After Sideways, I did have excess drinking," Pickett says. "I went through a tough 10 years. I couldn't afford to be a drunk. If I had a bottle, I had to save a couple glasses for the next day. Success, I just couldn't handle it."
Pickett is the only major contributor to the film Sideways not to capitalize in his career, and he's well aware of it. At long last he has published a second book (Sideways was his first). But he was dumped by his publisher over the ending of Vertical and had to form his own company to self-publish it.
"Vertical is way more personal than Sideways," Pickett said. "Miles (the lead character in both novels) is searching for love. And as long as he's drinking, he's not going to find it. That was really the theme. I've been single a long time. Finding love. When you're drinking and you're a success and you're a celebrity, the interactions aren't honest. A lot of people say, well, great, I'd love to be screwing around and drinking these insane Pinots. But if I started there and ended there, I wouldn't have a novel.
•••
"I want to be honest as an artist, even if I do fictionalization. Here's a key word for me: verisimilitude. That's what I'm about as a writer."
The verisimilitude starts with Miles' relationship to wine. In the movie, he drinks too much, but comes across as an aficionado having a stressful week. In both books, he's obviously an alcoholic, starting his morning drinking full glasses of wine, or drinking an entire bottle of wine while driving between two tasting rooms.
Pickett says both his parents and both his brothers were alcoholics.
"My parents were five o'clock alcoholics," Pickett said. "They drank at five and they drank hard. I never visited my parents before five. I'd go over at 5:15. After 5:45 they didn't want to see me. But at 5:15, they loved me."
But he doesn't blame genetics for his drinking; instead, he blames his mother's lack of affection.
"Writing for me became a way to understand why I had an upbringing where my mother never hugged me," Pickett says. "When my dad died, I hugged my mother. It was like hugging a plant. I had never hugged my mother and she had never hugged me. My mother never wanted to have children. I was never breast-fed. And both my brothers were huge alcoholics."
For many, the most shocking scene in Sideways is when Miles steals money from his mother's wallet. Vertical ratchets up Miles' shocking behavior towards his mother with a plot point that cost him his publisher, and which I won't ruin with a spoiler. But if you have read it, he says it's fictionalization.
In fact, Vertical is a difficult book for the Sideways fan looking for another fun romp with Miles and Jack.
"I've had agents say, 'Why don't you do the Hope and Crosby routine? Jack and Miles go to Rioja'," Pickett said. "But this is about quality. All the awards that we won, that matters to me. When I have to see myself on the screen staggering out of the Hitching Post, that's me. If people were criticizing the movie, if they were criticizing that, it would be hard to take.
"I went somewhere honest. I went somewhere brave. I went somewhere scary to go. I sent my ex-wife a copy of the manuscript [to Sideways]. She told me to burn it."
•••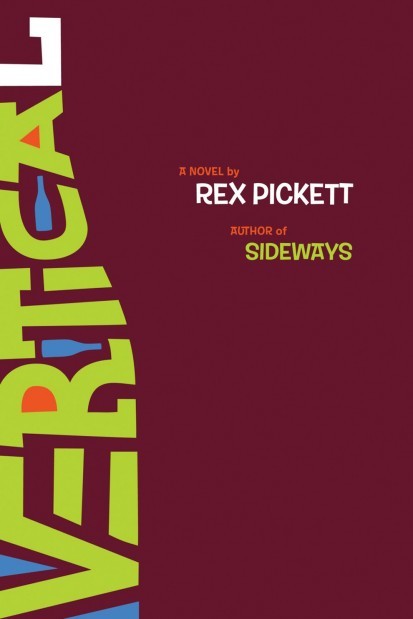 The first half of Vertical has a successful Miles overwhelmed with wine and hot female sommeliers, while paying Jack to be his sidekick. In the second half, Miles leaves Jack behind and takes his cantankerous, disabled mother to her birthplace in Wisconsin to die.
If it reads like two different stories welded together, that's because it is. Pickett says he signed a contract with Knopf based on a one-page description of "The Road Back," a story he had written as a screenplay and planned to adapt as a novel. Knopf, according to Pickett, did not want a Sideways sequel.
As in Vertical, Pickett's mother had a stroke, but in real life, he blames her alcoholism.
"My mother had swelling of the ankles. She had 240 over 120 blood pressure," Pickett said. "She refused to be hospitalized. They let her go home. Eighteen hours later, she had the massive stroke. Why did she want to go home? She was an alcoholic. She knew she couldn't drink in the hospital.
"There's my mother pre-stroke and my mother post-stroke. They're two entirely different people. She became very childlike and needy. Prior to that, she was very stoic."
It's somewhat painful to discuss Vertical with Pickett because most of the parts where Miles has fun—where he goes to wine events including the International Pinot Noir Celebration in Oregon and beautiful women throw themselves on him—are made up.
In particular, in Vertical Miles has sex with a New York Times wine writer in a dorm room. Knowing that Eric Asimov is not an attractive female, and that Pickett bases everything on reality, I had to ask who the horny wine writer is.
It turns out the character is based on Katherine Cole, who writes about wine for the Portland Oregonian. But Miles had more fun than Pickett, who didn't actually go to IPNC.
"[Cole] talked me through the IPNC," Pickett says. "She told me about everything that happened. I said, 'Can I have an affair with your character in the book?' She said, 'I'm going to ask my husband.' I did not have an affair with Katherine Cole. But she is a hottie."
•••
Maya and Terra, the women from Sideways who date Miles and Jack, were based on real women in Santa Barbara County. But in Vertical, Maya appears only briefly, and Terra is out of the story completely, having moved to Reno to become a lap dancer.
Pickett didn't want to talk about the real Maya, but was happy to tell the story of his revenge against Terra.
"[Actress] Sandra Oh made a lot of changes to my script. She boasted about it on NPR['s Fresh Air (listen to the interview here)]," Pickett said. "She changed the name of the character to 'Stephanie.' She changed her vehicle to a motorcycle. She added the mixed-race kid. I hate that bowling alley scene in the movie. I leave every time I see it."
"[Director] Alexander [Payne] had just married Sandra Oh. He was in love with her. Alexander would never have taken those suggestions from anybody else. Then they had a bitter divorce, and she got half the money he made from Sideways, which was a lot of money because Alexander got points from the gross worldwide. But when she got the role on Grey's Anatomy, that was afterward and she didn't have to share that money."
By writing her character out of Vertical, Pickett ensured that Payne won't have to work with Oh again if he makes the sequel.
"Lap dancing, that's a little wave to Alexander," Pickett said. "I'm not happy that she changed the role. So it's 'screw you.'"
Jack is in diminished circumstances in Vertical, taking payment from Miles to come along on his driving odyssey. In real life, Pickett said Jack is based on his friend Roy Gittens, an electrician who has worked on ten films, according to the Internet Movie Database.
"He's the life of the party, catnip to women," said Pickett of his longtime drinking buddy. But there's a scene near the end of Vertical, where Jack runs an errand to bring something to Miles, that is based on more recent reality.
"Jack's drinking and Miles isn't," Pickett said. "Miles lost a friend. That's a real scene. My friend Roy came over with a bottle. I told him I didn't mind if he drank in front of me. But it wasn't the same, and he left right away.
"The way Jack and Miles are, alcohol's a low common denominator. Golf is a low common denominator. I've played [golf] with racists. I've played with Republicans. But if one guy is abstaining, where's the low common denominator? I'm not sure Jack will be in part three if I write a part three. He's not in my life anymore."
Golf, not wine, is the reason Pickett discovered Santa Barbara County in the first place. During difficult times nursing his mother, he began driving up on weekdays to play an empty local course.
•••
Pickett has always admitted he doesn't know as much about wine as Miles pretends to. One thing that struck me from both books is that, while Miles and Pickett both talk about appreciating Pinot Noir for its nuances ("The nuances and complexities of Pinot are so interesting," Pickett says), if you look carefully at the descriptions of the wines, Miles likes big, jammy Pinots that really could be any red wine. Just one of many examples from Vertical, about a 2007 Sokol Blosser Goosepen Pinot Noir: "This is awesome juice. Teeth-blackening. Huge mouthfeel. I'm getting excited."
It's ironic because in the wake of Sideways, American Pinot Noirs have gotten bigger and richer—just the way Miles likes them.
"I do like those bigger, lustier Pinots," Pickett said. "I know some people around here spike 'em with Syrah. Maybe I got seduced by them. I confess, I wasn't as into the description of the wines. I was more into the characters."
Pickett's disdain for Merlot is real, although the movie's most famous line is not in any published edition of the book. However, Pickett says it was in his original draft, which Payne read, before being edited out by St. Martin's Press. Pickett owns the hardback rights and plans to restore "I'm not drinking any fucking Merlot!" to the hardback edition if his new self-publishing house prints one.
•••
Pickett has nothing but enmity for both St. Martin's Press, which published Sideways, and Knopf, which declined to publish Vertical. In fact, his general anger and remorse about many things are palpable.
"I'm friends with all my ex-girlfriends," he said. "I'm not a guys' guy at all. My ex-wife, I owe her everything. I have nothing but remorse. Miles has nothing but remorse."
But at least both Miles and Pickett are no longer broke. Pickett says he made about $400,000 combined on the book and movie Sideways.
And he could make more from Vertical, especially if Payne decides to film it. Pickett says Payne is still deciding. (I'll bet that if he does, it won't be as close to the book as Sideways was, because Vertical is so much darker.)
"I'll get $2.50 to $3 a book on this," Pickett says. "From St. Martin's it was 70 cents a copy. But there are other revenue streams: e-books, Kindle, all of that. We'll get all of that."
But this is a man who suffers for his art.
"I don't know if I'll ever find happiness," Pickett said. "I was the one who broke up with my ex-wife. I felt like I needed to put myself in another place so I could write about it."
Pickett and his ex-wife, Barbara Schock, worked together on films in the '80s, but the one project they got released, From Hollywood to Deadwood, didn't do well critically or at the box office. Pickett says he left his wife for reasons he doesn't well understand now, and most of the next decade was one of poverty and angst.
"I went two and a half years in the '90s without having a single sexual encounter with a woman," Pickett said. "I wasn't going to risk going on a date and having my credit card turned down.
"Redemption. That's all I want for Miles. Redemption for the debauchery that has him imprisoned. The fulfillment for him is to be really truly present with someone."
The last thing I asked Pickett was, what if he finds redemption and happiness? Wouldn't that be the end of his writing career?
"I don't know if Miles were happy, if there could be a book," he said. "If I could've afforded a gun, I would've killed myself. I wrote instead."
---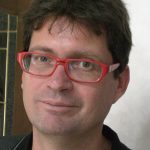 Wine writer W. Blake Gray is Chairman of the Electoral College of the Vintners Hall of Fame. Previously wine writer/editor for the San Francisco Chronicle, he has contributed articles on wine and sake to the Los Angeles Times, Food & Wine, Wine & Spirits, Wine Review Online, and a variety of other publications. He travels frequently to wine regions and enjoys coming home to San Francisco.