There is a wine movement happening in the Pacific Northwest and it's probably not what you're thinking. It's not pinot noir in Oregon. That happened years ago. And no, it's not merlot in Washington. It's sparkling wine.
Though there are no exact numbers to show how many producers are currently making sparkling, it is has become obvious by the sheer increase in visibility on the shelves that sparkling wine in the Pacific Northwest is on the rise. And it's here to stay.
For sparkling wine fanatics like myself this is an incredibly exciting thing.
Until recently there were only a handful of sparkling options to choose from that were made in Oregon or Washington. And it's not hard to understand why. Sparkling wine production is expensive, time consuming, and requires a specialized skill set. And in Oregon, for example, most wineries are small, producing roughly 5,000 cases per year on average. The additional costs needed for sparkling production can become an instant roadblock.
However, the experienced winemaking veterans who made sparkling wine, despite the odds, have paved the way for a bright sparkling future.
It's uncertain who was the very first to make sparkling in the region, but it's clear who have become the biggest names in both Oregon and Washington. Argyle Winery, located in the Willamette Valley, would represent the former, and Michelle (formerly Domaine Ste. Michelle) in Washington the latter.
Winemaker Rollin Soles helped to create Argyle Winery in 1987 with the goal of making méthode champenoise sparkling wines. Soles explains, "Prior to 1987 there were really only two guys [in Oregon] making sparkling wine that I knew of. I got a chance to try those wines and, kind of like tasting pinot noir back at that time, it showed the potential of the true quality nature of the valley." He continues, "So that planted the seeds for me to want to make sparkling." And Argyle produced exclusively sparkling wine and still chardonnay for the first five years before even getting into still red wine production.
Argyle quickly began receiving accolades for both its still and sparkling, and Soles currently holds the honor of being the only winemaker who has had wines make the Wine Spectator Top 100 list for white, red, and sparkling wines.
But it's the sparkling wines that really put Argyle on the map and demonstrated the potential for quality sparkling wines in Oregon, and Soles firmly believes the reason is clear.
"Oregon is, for my money, the best place outside of Champagne to grow grapes to make sparkling wine," he states with upmost confidence. "The reason is that we are a true cool climate." And balance is what you can achieve from a cool climate.
He continues, "In Oregon, for example, the grapes don't flower until, on average, the third week of June, which is late by western U.S. standards, but it's about average for Champagne." Oregon also focuses on two of the most important grape varieties that Champagne is known for – pinot noir and chardonnay. It is here, in Oregon, where skilled winemakers can make the style and quality of wine many expect from Champagne, yet reflect Oregon's unique terroir.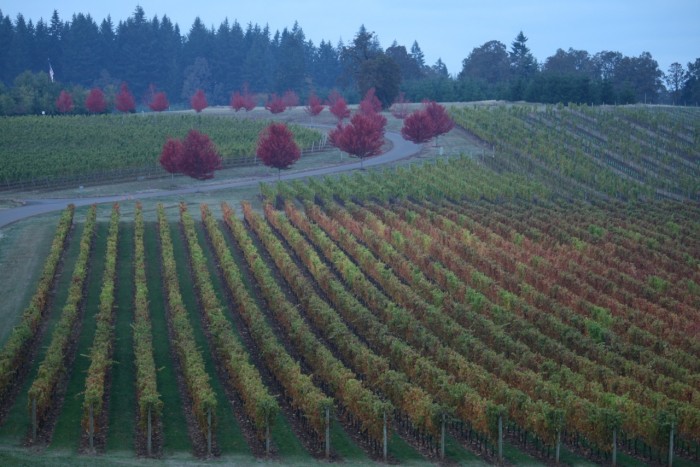 If the area is perfect for bubbly, why have so few produced it… until now?
The challenge is threefold, according to Soles:
"Economics, first of all. It's a financial burden to make sparkling wine (not to mention an additional $8 per case in federal taxes). You need the cash upfront, but you also need additional storage since the wines won't be released for two to four (often more) years from harvest."
"And the larger impediment," he continues, "is skill set. Sparkling wine is the pinnacle of winemaking. It's very difficult to make a really exciting sparkling wine. It's one of the holy grails of winemaking! It's a very tough thing to get right."
With the financial, spatial, and technical challenges of making sparkling wine one can understand why it's such a risky endeavor for small wineries and why so few have followed Argyle's example.
But now there's a newcomer on the block changing the game for sparkling wine production in the state, making it easier than ever before to overcome previous obstacles. His name is Andrew Davis.
Filling a gap
Andrew Davis is a former winemaker from Argyle, who worked alongside Soles for close to a decade. He left Argyle to start The Radiant Sparkling Wine Company, a mobile méthode champenoise production company, in 2013.
"I wanted to see more people making bubbles in the Willamette," Davis explains. "But most producers couldn't get past the stumbling blocks of equipment and skill. For a small winery wanting to make just a few hundred cases of sparkling, buying the equipment on their own would never pay itself off."
"I knew from years in the industry, that there was this latent desire for more sparkling and that [smaller producers] just couldn't overcome the hurdle of lack of equipment, and lack of assurance that their products would be of the highest caliber."
"There is a fruitfulness, accompanied by a brilliant crisp fresh acidity with low alcohol potential. And that, as it marks the still wines of this region, marks the sparkling wines of this region."
"I wanted to see more producers making the type of quality sparkling I knew could be produced here. And the only way that was going to happen was to help facilitate it."
So he created The Radiant Sparkling Wine Company.
"Something like this had never been done in Oregon before," referring to the type of custom mobile sparkling wine business model he has. Depending on the client, Davis works with producers on anything from consulting in the vineyard to select the best spots for sparkling grapes, to blending, bottling, storage, and everything in between. In less than two years, Davis already has fifteen clients ranging from established wineries to upstarts. A few of those names include Ponzi, Raptor Ridge, Stoller, Sokol Blosser, ROCO Winery (Rollin Soles' own winery), Willamette Valley Vineyards, and Trisaetum, just to name a few.
Another of Davis' clients is Anne Amie Vineyards. Winemaker Thomas Houseman has always wanted to make a sparkling for Anne Amie, but didn't have the resources. When the challenging 2011 vintage hit, they finally decided to go forward with a sparkling. Houseman made the base wine and blend in house, but was prepared to ship the finished wine to a custom facility in California for riddling, disgorgement, and bottling. It was around that time he found out about Davis's sparkling wine endeavour and partnered with him immediately. Annie Amie has a brut rosé, their first sparkling wine, coming out this spring, with brut cuvée still two years in the making.
Though Davis now has fifteen clients under his belt, there are still several small wineries going about it on their own.
Further east, into the Gorge
When Steven Thompson and partner Kris Fade purchased their 12-acre 50-year-old property in the Columbia Gorge Wine Region, about an hour east of Portland, they weren't planning on making a sparkling. But Mother Nature had other plans for them during the cold 2010 vintage. "It was too cold to ripen the fruit to where I wanted it for a still red wine," he shared with me. "So we decided to make sparkling."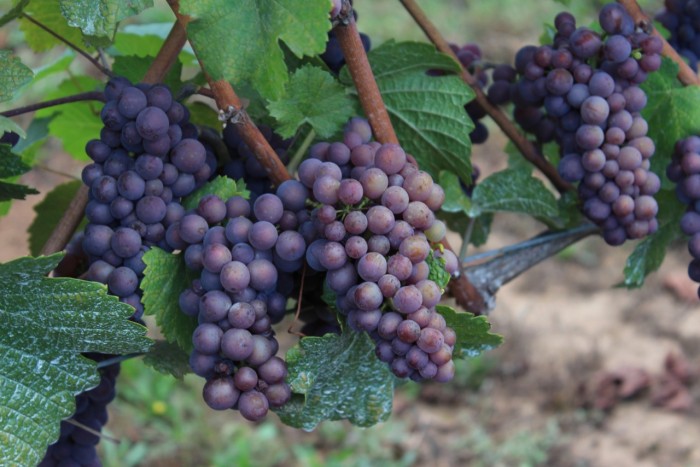 Prior to this, Thompson had never made a sparkling before, "but I was an avid reader," and taught himself. Their added investment came mostly in the form of space (storage) and time (the wine was held back four years before release). Thompson got creative and was able to make the 250 cases of his inaugural release mostly by hand and homemade equipment. Little was spent on specialized tools or equipment. His first sparkling, 2010 Analemma Atavus Vineyard Blanc de Noirs, was released last fall and has already won the hearts of several top wine writers, including Jon Bonné of the San Francisco Chronicle, who included it in his top 100 wines of 2014. Bonné called it, "A stunning expression of Pinot Noir that… marks a major step up for small-scale artisanship in American sparkling wine."
Was it beginner's luck? I believe it's a testament to what is possible in the Pacific Northwest and a taste of what's to come.
Other wineries near Analemma, like Syncline and The Pines 1852, for example, are also producing their own sparkling wines from the Columbia Gorge. Lonnie Wright, owner of The Pines 1852 never set out to make a sparkling wine, but Sierra Wright, daughter and General Manager, always had a passion for bubbles. "It took years to convince my dad to agree to make sparkling," Sierra joked, because they lacked the space required for wine storage. Her years of coaxing worked, as they have now released two sparklings (from both the 2009 and 2010 vintages), with two more on the way in the next few years. Their 2010 Brut Rosè (current release) is fruity with noted cranberry aromas, and crisp with great acidity, reflective of the higher elevation fruit from the area.
Wrights' passion for making sparkling echoes producers throughout the Pacific Northwest, and is one of the major forces behind the growth of sparkling in the region.
As an Oregon resident I may be partial to what's happening in own my backyard, but there are also some exciting things happening up north.
Neighbors up north: Washington
Further into eastern Washington, sparkling has been made for over 25 years. Though the grapes and climate are different than in Oregon, it has proven to be a successful region for making bubbles.
Winemaker Rick Casqueiro, of Michelle, believes Washington's unique features make them good candidates for sparkling.
He explains, "The diversity of our microclimates [sic] makes it possible to grow grapes that deliver delicate yet intricate aromas and flavors, and the natural acidity of our grapes frame sparkling wines beautifully. Like the Champagne region of France, the Columbia Valley benefits from a northerly latitude, resulting in extra daylight hours during the growing season."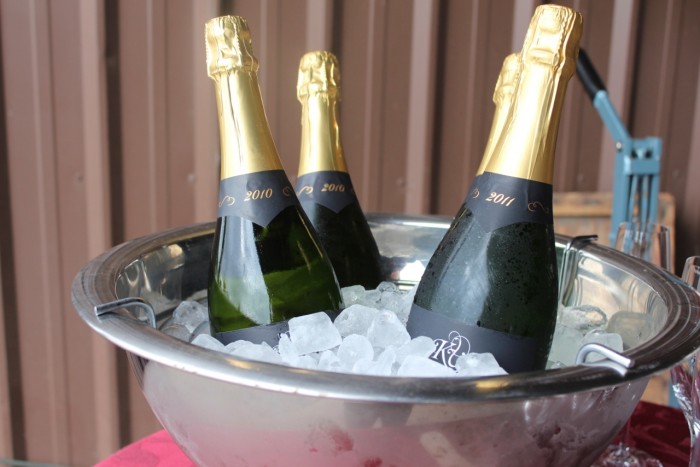 More proof
Treveri Cellars has only been around since 2010, but represents a 30-year passion for bubbly. Juergen Grieb, Founder and Head Winemaker, has a lifetime of experience as a winemaker, both in Washington and Germany (where he is originally from). At the encouragement of his family he founded Treveri, an exclusively all sparkling wine house located in the Columbia Valley, to make sparkling indicative of Washington's terroir.
What is so unique about it?
Juergen's son and winemaker, Christian, explained to me, "There is very little disease pressure, a near perfect climate, and wonderful diurnal cycle in the summer that keep the acidity in the fruit (warm days and cool nights). Acidity is a key factor in sparkling wines, and we knew the fruit here had a lot of potential to express itself."
One of the many challenges, Grieb explained, is that "There is no real set standard yet for Washington bubbles… we're on a journey of discovery on its own… But it is certain that Washington has its own expression."
Instead of focusing on traditional Champagnes grapes, they focus on what works best for their vineyards and climates: grapes like riesling, mueller-thurgau, gewürztraminer, and even syrah.
"I think trying to define Washington bubbly is the greatest challenge and getting consumers, press, and distribution on the same page that Washington is different than other regions. But what Washington has going for it is value. We are producing some of the best sparkling around, and at a very competitive price.
I think value will define Washington's sparkling wines, at least in the short term. Oregon, on the other hand, tends to stick towards traditional grapes and longer production cycle, reminding me more of the grower Champagne producers that have become a favorite of sommeliers and wine buyers. Both have a place on the shelves.
From this standpoint, you can experience a wide variety of styles at every price point to understand what's happening in the region.
The movement has begun
And Andrew Davis will be the first to tell you. "There has always been a latent desire and passion for many to make sparkling in this region. The sheer fact that when I opened the doors I had so many who wanted to be a part of it." The movement, he continues, "It's very much in its infancy. But it has begun."
Thomas Houseman believes you will very soon see much more sparkling from the region. "Now that we have an option for finishing our wines, all of us smaller scale bubbles producers can thrive. You'll see more sparkling in the next few years. I guarantee it."