Over the weekend of April 16th to 18th winemakers, sommeliers, restaurateurs, consumers, and many others gathered in New Orleans for one of the biggest showings of champagne and sparkling wine under one roof in the U.S.: the first Independent Champagne and Sparkling Wine Invitational (ICSWI).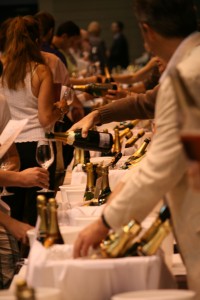 The event's mission was to be the "first and only conference 'produced in the independent spirit' of champagnes and sparkling wine from all over the world and… entirely dedicated to the focus on sparkling wines." An idea so brilliant it is surprising it hadn't been done before.
I was among the lucky few to experience this event from beginning to end, participating in seminars, grand tastings, winemaker dinners, and evening festivities. By sharing this information, I hope to help raise awareness of this event should it happen again in 2011—and I sincerely hope it does!
Although I was not sure what to expect from the weekend aside from being exposed to many new sparkling wines, I was overwhelmed with the number of producers and experts on hand to share their knowledge of all things bubbles.
The first day began with a wine seminar called "Making Sense of Champagne." Charles Curtis, MW and Head of North American Wine Sales for Christie's auction house, began with a brief history and facts about Champagne as a region. His engaging introduction included information on the 17 villages classified as Grand cru and the 41 villages classified as Premier cru, as well as noting the many with no classification. He continued with a comparison of the major production houses to small grower champagnes.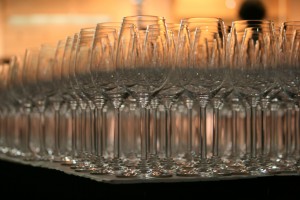 On a label, the initials NM, for Négociant-Manipulant, identify a larger production house, meaning a producer who buys grapes in volume from growers to make their house champagnes. These include familiar names like Moët & Chandon, Mumm, Perrier-Jouët, Veuve Clicquot, and Nicolas Feuillatte among many others. A "grower" champagne will be identified on the label with the initials RM, for Récoltant-Manipulant. These growers can sell grapes to many houses as well as producing champagne from their own grapes.
Growers have been described as more "artisanal" in their winemaking style, aiming to produce wines to reflect their terroir rather than to produce a consistent "house style" year after year, which is typical of the larger houses. The "little guys," if you will, wear many hats. They are the farmers, winemakers, and managers of their family businesses. Although these growers manage a majority of the vineyards and grapes grown in Champagne, their own wines account for less then 3% of the market imported into the U.S. And they are definitely wines worth seeking out.
Curtis then turned the stage over to the seven champagne growers who were in attendance to represent their wines and discuss different styles of champagnes. To help with the discussion, five flights were provided.
Flight 1: Three Blanc de Blancs, wines made from all chardonnay (white or blanc) grapes. The standout wine of this flight was the Pierre Peters Cuvée de Réserve Brut NV.
Flight 2: Four brut wines meant to show the art behind assemblage, or blending different varietals to produce one wine. A favorite of the four was the Camille Savès Brut Carte Blanche Premier Cru NV.
Flight 3: Two different Blanc de Noirs, wines made from all pinot noir grapes with the Godmé Brut Blanc De Noirs Grand Cru NV as my favorite.
Flight 4: Four vintage champagnes, covering the 2000, 2003, and 2004 vintages. My two favorites were the Henri Goutorbe Special Club Brut 2002 and the Pierre Peters Cuvée Spéciale Les Chétillons Brut 2000.
Flight 5: Four rosé wines showing the difference in Rosé de Saignée (made with must bled off from red grapes) versus Rosé d'Assemblage (made with red wine added to the blend); my favorite of the four was the René Geoffroy Rosé de Saignée Brut NV.
It was a treat to hear the growers themselves discuss their wines, styles, and techniques. As when visiting a winery and meeting those involved in making the product, I left this seminar feeling somewhat closer to the growers and their products.
Next up was a grand tasting, held each afternoon with 250 different wines presented from 75 sparkling wine production houses, most of them growers, all in one room. Although the public turnout was low for this event, those present were able to discuss details of the wines at length with the growers without ever feeling rushed or crowded. Some of the highlights included champagnes from Didier Ducos et Fils, Godmé Père et Fils, Le Brun Servenay, Thierry Massin, Henri Goutorbe, Vazart-Coquart et Fils, A. Margaine, and Pierre Peters. In addition to the grand tasting, additional seminars continued throughout the afternoon for both industry and public participants, including glassware, mixology, and meet-the-press seminars.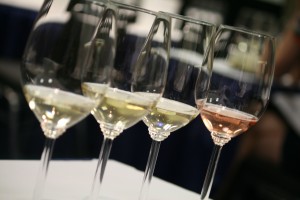 That evening many participants attended one of six winemaker dinners held throughout the city. I attended a dinner at Galatoire's Restaurant where the chef prepared five courses, each paired with rosé champagnes. The pairings proved an important lesson: champagne is arguably one of the most diverse food wines of all! It can hold up to many styles of food, including hors d'oeuvres, main courses, and even desserts.
The second day began with the seminar "Tour du Monde: Sparkling wines of the world" led by Alice Feiring and Lisa Granik, MW. They presented new and old world examples of different production methods, varieties, and terroirs of sparkling wines from around the globe. These included examples from France, Spain, Argentina, Italy, Austria, and the United States. After tasting almost exclusively champagnes the day before, the differences in these sparkling wine examples were incredibly distinct. It was an interesting demonstration of the nuances in styles that bubbles present from all over the globe.
Overall, the event was an incredible and unique opportunity not only to taste hundreds of different—and in many cases, rare—champagnes, but also to meet with the growers themselves as they worked behind the tables, pouring their own wines, and talking in detail about their methods and styles. As Brad Baker from The Champagne Warrior stated, "I've never seen more champagne and sparkling wine growers gathered in one place in the Americas before, and they weren't just there to be seen—they were personally pouring their wines and taking the time to talk with everybody."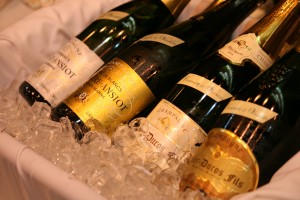 One would expect an event like this to draw thousands of industry and consumers together for a common cause. Sadly, the event suffered poor attendance, but it left those who did attend with the experience of a lifetime. I feel spoiled by the amount of quality time I was able to spend talking with the producers. Now, when I show the program to others, I continue to hear a similar response: "Oh, why didn't I go?!" or "I'm still kicking myself for not going!"
Don't let that happen to you next year. If you love champagne, or sparkling wine in general, this is one event not to miss if, as the organizers plan, it happens in 2011. It would cost a fortune in money and time to travel to France for the experience you could get in a single weekend. I hope to see you in 2011.
---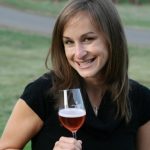 Mary Cressler, a Certified Sommelier through the Court of Master Sommeliers, is the founder of Vindulge: Wine Education & Consulting. She conducts wine classes and events throughout the northwest and offers consulting for individuals or event planners seeking a dynamic wine education event. She writes about wine, food, and travel on her blog Vindulge. For more you can send Mary an e-mail at mary@vindulge.com.