Diversity is the ingredient that illuminates South Africa. Referred to as the "rainbow nation," a title which reflects the country's multicultural spirit, South Africa is truly famous for its mixture of heritages and traditions. It is a place with 11 official languages and one of the world's most diverse populations, and biologically speaking, it is ranked as the third most complex country in the world. Fulfilling its nature, the wines of the region also exemplify the immense diversity of South Africa in style and character.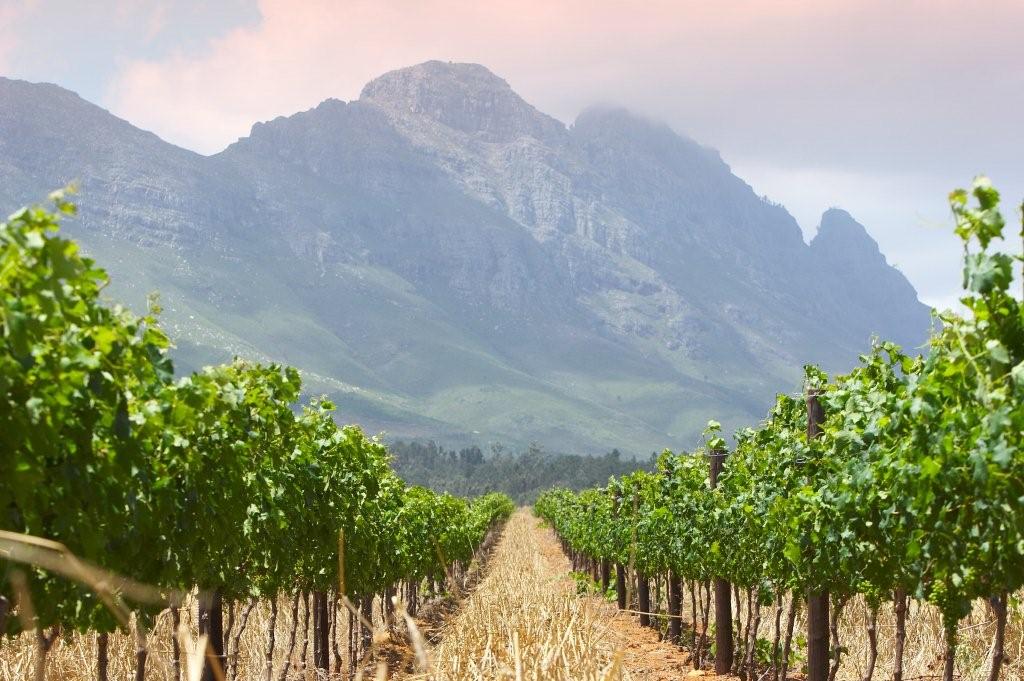 History
Although South Africa is labeled as a "New World" wine producing country, winemaking is anything but "new" for the region. Vineyards were originally planted in the Cape of Good Hope in 1655 after the first vines were imported by the French Huguenots and Dutch settlers to provide wine to the Dutch East India Company. 1659 marked the Cape's first recorded vintage. After enduring years of control by the KWV cooperative, then struggling beneath global trade sanctions, South Africa began a new era of winemaking following the fall of apartheid in the early 1990s. It only was after Nelson Mandela's release from politic imprisonment and his later rise to President in 1994, coupled with his support for Cape wine, that international focus fell on South Africa as a serious wine producing nation. The quality revolution that has swept the Cape wine industry in the past decade and a half has been nothing short of astounding. Critics and consumers around the globe have enthusiastically embraced the wines of this nation, and demand continues to grow at record-setting pace.
Terroir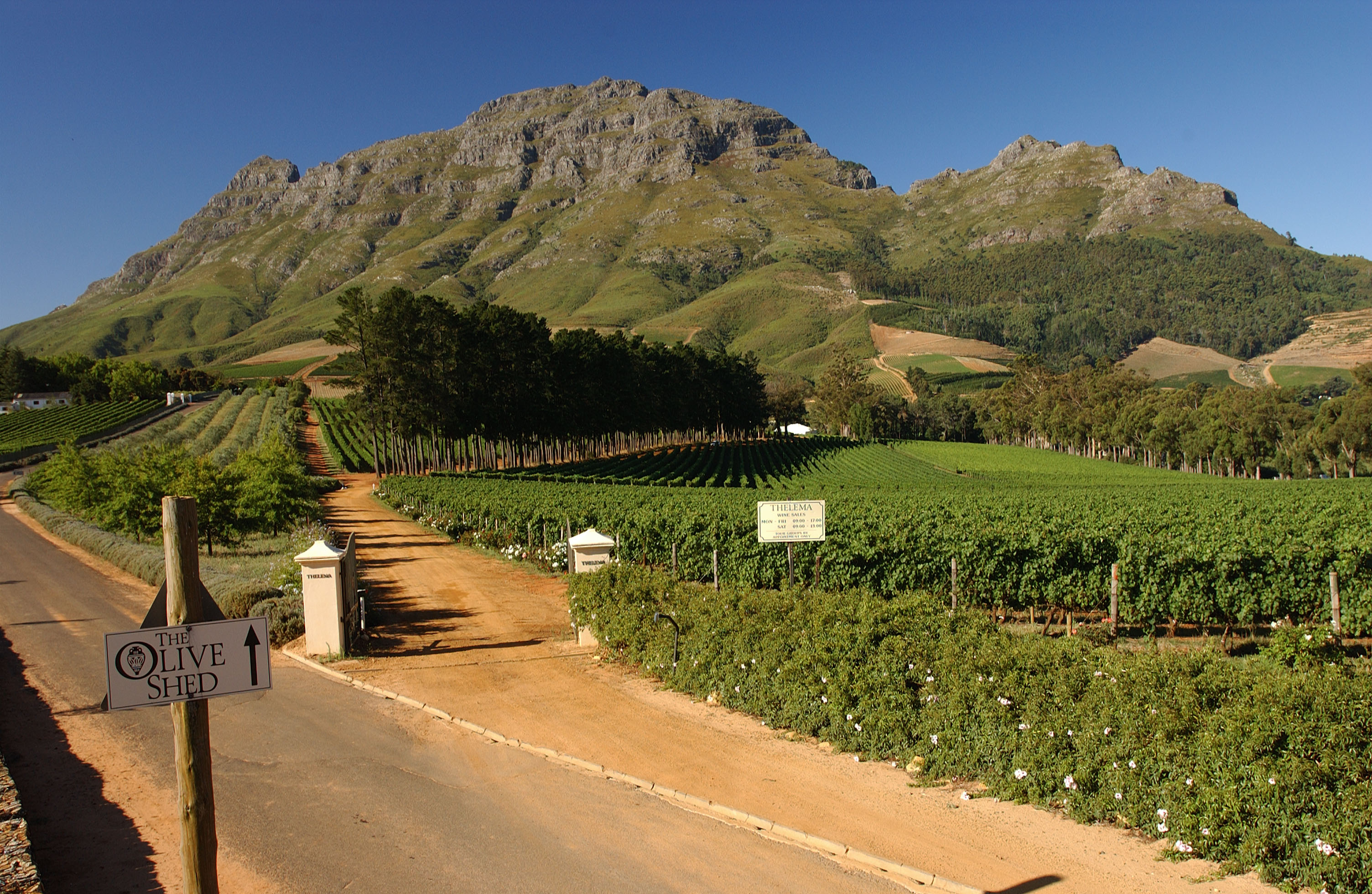 From bold Pinotages to elegant Cabernets and charming Chenins to expressive Sauvignon Blancs, the best of South Africa's wines draw their flavors from the country's various terroirs. Combine maritime influences such as regular coastal fog and cooling sea breezes with a moderate Mediterranean climate, distinctive and varied topography, and the oldest, most complex soils of any winegrowing region, and you have the conditions in which to create wines of unique character and complexity. Often marked by a an earthy, minerally character, South African wines bridge the gap between the elegance and restraint of the Old World and fruit-driven character of the New World. These factors make South Africa one of the most interesting emerging wine regions in the world today.
Wines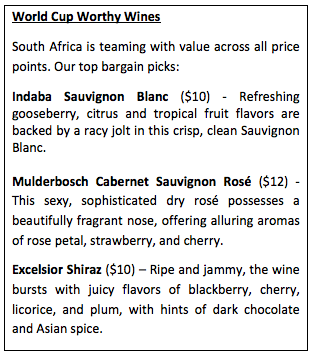 Pinotage, a cross between Cinsault and Pinot Noir developed in Stellenbosch in the 1920s, is a unique South African varietal. Kanonkop Estate boasts some of the region's first commercially planted Pinotage vines, some as old as 50 years, and their bottlings serve as a benchmark for this unique and exotic grape. With a reputation for producing some of the Cape's finest red wines, Kanonkop is often referred to as a South African "First Growth." This 4th generation family estate seamlessly blends traditional winemaking techniques – including fermentation in open concrete vats with round-the-clock manual punchdowns – with modern-day cellar technology. As a testament to the quality of the wine, Kanonkop winemaker Abrie Beeslaar was named the 2008 IWSC International Winemaker of the Year at London's International Wine and Spirits Competition awards. In 2009 Kanonkop was named "Winery of the Year" by Platter's Wine Guide, the most authoritative guide to the world on South African wine.
Chenin Blanc is South Africa's most widely planted varietal. Native to France's Loire Valley, Chenin Blanc can be produced in a wide range of styles, from crisp and un-oaked to rich and barrel fermented. Crafted in dry and sweet, sparking and still versions, it has an incredible versatility which gives winemakers a lot of room to experiment stylistically. Chenin Guru Bruwer Raats produces two of the region's finest examples, both sourced from vines characterized by complex soils of sandstone and decomposed granite. Raats "Original" Chenin Blanc is crafted without the use of any oak in order to preserve the wine's "original," vibrant fresh fruit character. The result is a crisp white, packed with aromas and flavors of golden delicious apple, peach, orange blossom and ginger. For the flagship Raats Family Chenin Blanc, a portion of the wine is fermented and aged in barrel, resulting in profound flavors of honeyed pear, butterscotch, citrus, and delicate hints of mineral and spice. These two distinctive wines are consistently praised by international wine experts for their "terroir-expressive" quality.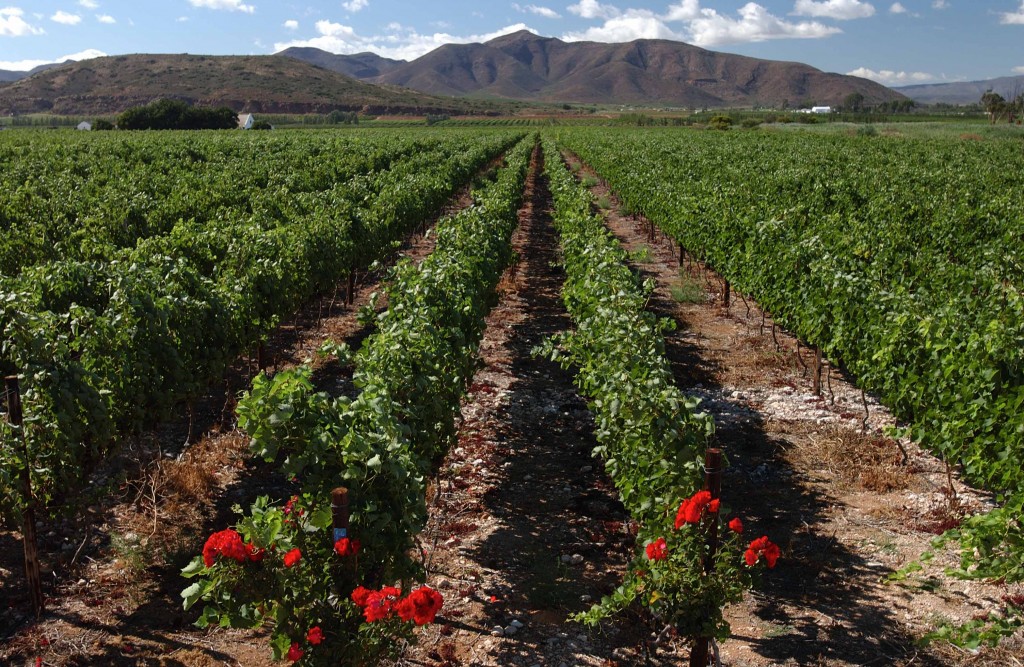 South Africa's premier Cabernet Sauvignon region, Stellenbosch, is home to Thelema Mountain Vineyards. The estate's benchmark Cabernet is one of the Cape's most consistently exceptional bottlings, with 11 consecutive 90+ Wine Spectator raves. Sleek and stylish, the wine flaunts flavors of blackberry and dark currant intertwined with notes of coffee, cedar, and eucalyptus. The wine is defined by a distinctive minty character which is believed to come from the eucalyptus oil that blows onto the vines from a row of bordering trees. Founded by Cape wine trailblazer Gyles Webb in 1988, Thelema is considered a pioneer in the modern South African wine industry, and their wines demonstrate one of the country's longest track records for both quality and ageability.
Stellenbosch is also recognized for world class Bordeaux blends, and Rustenberg's flagship John X Merriman is an iconic example. Delivering intense, smoky flavors of tobacco, cherry, licorice, and plum, it is named for the Prime Minister of the Cape who purchased and revitalized part of the estate in the late 1800s. With a viticultural history dating back to 1682, Rustenberg is one of the Cape's oldest and most distinguished wine farms. Under the leadership of Simon Barlow, whose family has owned the estate since the 1940s, Rustenberg has seen a renewed focus on quality over the past decade, earning widespread critical acclaim for their stable of wines.
Across price points, style and character, South Africa offers wine drinkers a spirit and sense of place.
---
Courtney Luick is the "eMarketing Maven" for Cape Classics, premier importer of South African wine to the USA. Based in New York City, she will travel for wine, good barbecue and rock & roll.