Using a patchwork system of thousands of growers, Rias Baixas makes certain you are never without a glass of Albariño.
It is the third evening of my recent tour of Rías Baixas, and there is again a gentle drizzle as we walk the narrow, ancient streets of Pontevedra en route to an early (9 p.m.) dinner, hungry for more Galician seafood and thirsty for more Galician white wine.  As we maneuver our umbrellas through the young café crowd, I think the rain in Spain definitely falls on the Atlantic seacoast, not often making it to the parched plains of the interior.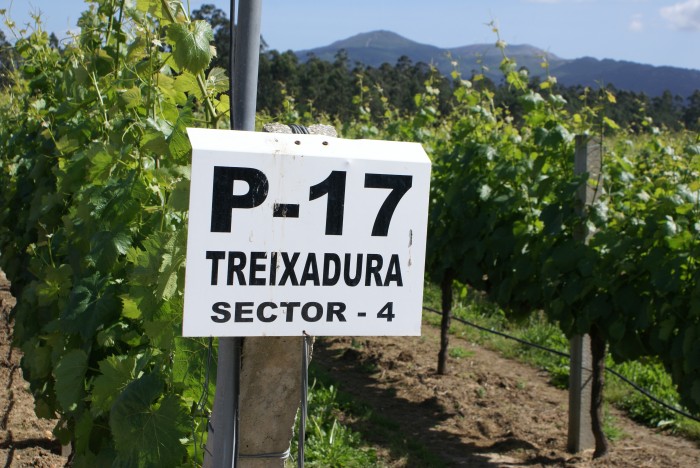 This is the "Green Spain" that has nothing to do with energy efficiency or sustainability – although wineries here certainly strive for both objectives. Rather, Galicia is all about wet weather, moderate temperatures, lush vegetation, and warm days and cool nights.  Even locals compare its greenness to Ireland, and its winegrowers think the weather is perfect for their signature grape – albariño.
Once ignored even in its Spanish homeland, albariño now produces one of the biggest-selling white wines in American wine bars. Its marketers leverage the appeal of the miniscule, family-owned vineyards, Disney-quaint with their grapevines growing on pergolas overhead, supported by huge, icon-like posts of granite.
Rías Baixas' nearly 10,000 acres of vineyards are farmed by about 6,600 winegrowers, each with an average plot of less than a half-acre.  Annual wine production is about 10.5 million gallons, with 1.3 million going to export, and half of that to the United States.  However, an amazing 63 of its 181 wineries sell wine in the U.S.  And a majority of the winemakers are women.
Albariño does have a small supporting cast of white grapes – treixadura, caiño blanco and loureiro – used in blends, but a wine labeled "Albariño" must be 100 per cent albariño.  In fact, the region once called itself "Albariño," but the European Union prohibits naming a region after a variety.  A small amount of Rías Baixas red wine is made from grapes such as mencia and sousão.
Rias Baixas now consists of five sub-regions, although only three of them sell much wine in the United States.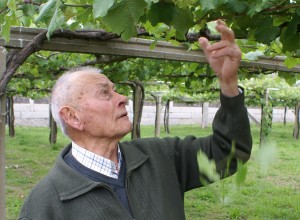 Val do Salnés. Wrapped around the small coastal town of Cambados, Val do Salnés, with its concentration of vineyards and wineries, sees itself as the heart and soul of Rías Baixas.  Salnés is also home of the powerful and progressive cooperative, Martín Códax, with a modern winery overlooking one of the inlets – rías – of the Atlantic which gives the region its name.
There I meet Benito Castelo, who helped give birth to both Martín Códax in 1986 and the Rias Baixas DO (Denomination of Origin) in 1988.  At 89, Castelo still knows his way around the vineyard, plucking off excess greenery with a lightning-quick left hand.  "I knew we had a treasure in albariño, and I had been searching for years for a way to commercialize it," he tells me through an interpreter.
A visit to a wine co-op in Portugal sold him and others on following that route, and he served on the Martín Códax board for several years.  Its first year production, he says, was 120,000 liters (about 32,000 gallons), one-quarter of it produced by him.  Today, Martín Códax, which also produces the Burgans brand, oversees 420 hectares (about 1,040 acres) of vines owned by the cooperative and its 600 combined shareholders and contract growers.
O Rosal.  Bordering the Atlantic on its west and Portugal across the Miño River to the south, O Rosal and its inland neighbor, Condado do Tea, are somewhat warmer and more flexible than Salnés.  For example, the winery Santiago Ruiz, immediately recognizable by the rustic map on its label, uses the double-trellis and curtain systems – not pergolas – to make its one wine, a blend of albariño (70%), loureiro, treixadura, caiño blanco and godello.
"Most people here grow all five varieties," says Rosa Ruiz, who father began the winery in 1982 with a 500-bottle production.  Although there are hillside vineyards in Rosal, the Ruiz property and those around it are mainly rolling flatland, making for easier production.
Condado do Tea.  By contrast, Condado has many terraced vineyards rising up from the southern banks of the narrow Miño River.  One of the best-known winemakers here is Pazo San Mauro's Cristina Mantilla, who worries both about competition from Rueda's Verdejo where it is easier and cheaper to farm, and about Spain's economic crisis.  "You don't need white wine to live," she says.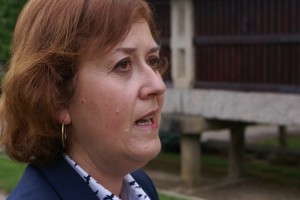 Her wines are crisp and delicious, and she sometimes uses cold maceration to preserve skin flavors. She has also recently planted some godello, a grape she thinks we'll be hearing more about in the near future.  "Our grapes ripen early here, yet we have good acidity, especially malic acid," Mantilla notes: she is also a consultant in other wine regions as well.
The final two sub-regions are very small. Ribeira do Ulla, with its more alluvial soils is farther north, on the doorstep of Santiago de Compostela; it became a sub-region only in 2000. And tiny Soutomaior — a sub-region since 1996 — is inland, at the head of the Ria de Vigo.
Although wine has been made in the Rías Baixas for centuries, as a recognized region it is barely 25 years old, and its subzones are still sorting out their personalities.  For the moment, though, their commonality is their reliance on Albariño – and their constant greenness.