Oregon's relative lack of Chardonnay is downright weird. And in Portland, rare and weird is good. So you know where this is going.
Some of the most exciting wines being made in Oregon today are Chardonnays. These are not your grandma's butter bombs; they're taut, lean wines with terrific mouthfeel.
"You have to love making Chardonnay to make good Chardonnay," says Marcus Goodfellow of Matello Wines. "There's a lot more work than with red wine."
Oregonians are not shy about hand work, as long as the end product is cool. And Chardonnay is ripe — or should I say slightly underripe? — for the same sort of hip revival as fixed-gear bikes.
Chardonnay may be common in California, but in Oregon, where the climate is more like Burgundy, only 4.7% of the vines are Chardonnay, compared to 61.6% Pinot Noir. Hipness has something to do with that. When most of that planting was done, Pinot Noir outside Burgundy was an obscure wine geek's obsession, while Chardonnay had established itself as the innocuous white wine of political fund-raisers.
Yet anywhere that can grow great Pinot should be able to make great Chard.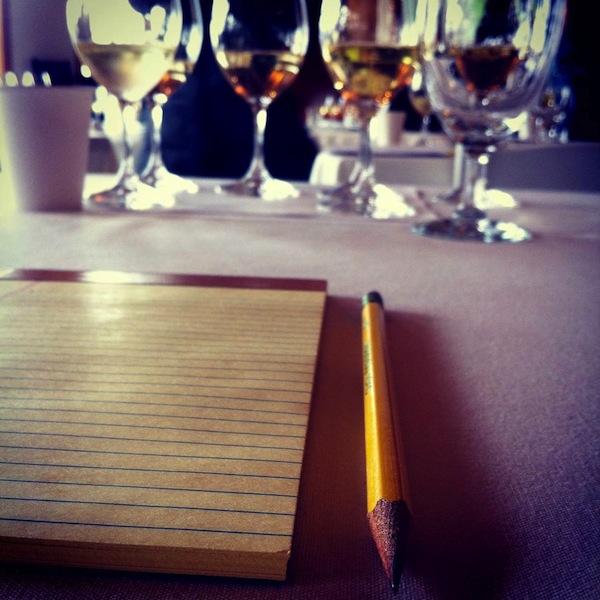 Who makes the good Chard?
It's a typical Oregon thing to do something whimsical, stubborn and artisanal, regardless of whether or not it makes business sense. In Oregon, the cash cow for wine is Pinot Gris, which produces big crops and can easily be machine-harvested. People who make Chardonnay in Oregon are often full-on wine geeks, obsessing over clones, oxidation regimes, etc.
In fact, I sat on a panel earlier this month at the Oregon Chardonnay Symposium and I told the eight winemakers, and the audience, that my eyes were glazing over listening to them talk (that's why I'm so popular at parties). Who cares what your crop level was on each vineyard? Who cares how often you stirred and topped?
But the wines we tasted — now those were eye-opening.
The winemakers spoke at exhaustive length about how different they all were. And that was true to a point. But they were more similar than not: Seven of the eight wines had alcohol percentages between 11.9% and 12.9%; the hugely ripe outlier was at 13.6%. All had great freshness, with citrus fruit character rather than the tropical fruits you taste when Chardonnay gets super-ripe.
All spent some time in oak, but not one wine could be called "oaky;" the wood was there to allow some oxygen, not to make the wine taste like vanilla. Similarly, all but one wine had undergone malolactic fermentation, but none were buttery.
The key to making great, long-lasting Chardonnay isn't an easily marketed shortcut like no-oak, no malo: you won't find many people in Burgundy doing that. It's finding the right cool site, not waiting too long to pick, and sweating the details so your drinkers don't have to.
Goodfellow said, "There are three things we all have the same. Unencumbered decisions. Limited selection. And detailed care. We don't have a company executive looking over our shoulder asking us when the wine is going to be ready."
The economics of small lots
Alas consumers, all eight wines were made in lots of 150 cases or less. But they're worth the search: seven were priced between $22 and $45. And it's not like the owners are making a huge profit at that. Jay McDonald of EiEiO, who made the most Chablis-like of all the wines, light and taut yet with depth, says of his $45 wine, "I thought I could make some money. I was wrong." Which also makes it very Portland.
In fact, my best group description was "like Chablis without the chalkiness." But that doesn't mean these are all fruit-driven wines.
Thomas Monroe of Division Winemaking Company makes a Chardonnay with so much saline character that it could pass for a seaside-grown grape like Assyrtiko or Albariño. And he does it in a very Portland way: in a collective winery he created on the city's once-industrial east side, now the home to tiny food businesses everywhere you look.
"I love the (San Francisco) Bay Area, but the economics of starting a wine business wasn't right," says Monroe, who had Domaine Drouhin ship Oregon Pinot Noir to his wedding — in a Sonoma County, California vineyard.
Monroe's space now holds four commercial wineries with a combined capacity of 5000 cases, plus a tasting room. Including winemaking equipment, building and licensing costs, "We did the whole thing for $325,000," he says. You can't buy a studio apartment in San Francisco for that.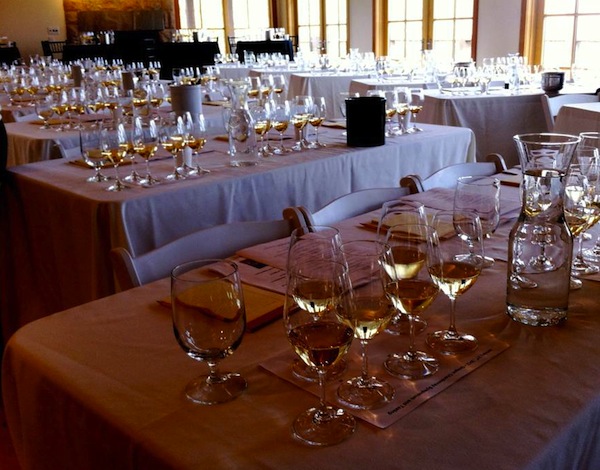 Finding the vines
The downside for Oregon's passionate young winemakers like Monroe, 34, is that they can't afford vineyards. That makes the search for interesting vines much more important.
Monroe credits his Chardonnay's minerally flavor to the relatively old vines — more than 40 years old — he discovered in Eola Springs Vineyard. "That's my reason for working with older vines," he says. "They're in different strata of the earth. They figure out where to get water."
Jim Maresh was lucky enough to grow up on a farm where his grandparents planted grapes. But he says that comes with limitations: his family planted the only Chardonnay clone available at the time. Now, 30 years later, Maresh says there are still only three Chardonnay clones in Oregon.
"Somebody has to go to Burgundy with a suitcase," Maresh says, though Monroe warns that bringing in a virus could devastate the little bit of Chardonnay the state has. "Winemaking is risk versus reward," Maresh replied, which seemed to sum up the operating philosophy on Oregon Chardonnay winemaking in general.
Example: Goodfellow has a 2011 Chardonnay in a barrel that, as of this writing, hasn't gone through malolactic fermentation yet. He's waiting for it to finish at a time when top California Chardonnays are already in your local wine store.
"At a big producer, they have to rush through fermentation and manipulate the flavor later," Goodfellow says. "The process of fermentation is our magical process."
Tyson Crowley of Crowley wines let his Four Winds Vineyard Chardonnay 2011 ($40, 12.5% alcohol) sit on the lees for 14 months and — here's something you don't hear often — he took it out of oak barrels and let it finish fermentation in stainless steel. The wine has terrific mouthfeel, a chewiness that's almost like tannin. When was the last time you had a Chardonnay you wanted to sink your teeth into?
My favorite of these exciting wines was made by Ken Pahlow of Walter Scott Wines. Unlike most Chardonnay makers around the world these days, Pahlow didn't cool the grapes at fermentation: he let them ferment warm, with wild yeast, much like they might have decades ago. The result, the 2011 Cuvée Anne ($38), has great complexity, with wheat toast and lemon notes, some stone fruit, and a very long finish. It's just 12.8% alcohol. "Freshness and purity define what Chardonnay is," Pahlow says. Maybe in Oregon they do. That's why the wines are so exciting there.
[author] [author_image timthumb='on']http://palatepress.com/wp-content/uploads/2010/03/blake2.jpg[/author_image] [author_info]Wine writer W. Blake Gray is Chairman of the Electoral College of the Vintners Hall of Fame. Previously wine writer/editor for the San Francisco Chronicle, he has contributed articles on wine and sake to the Los Angeles Times, Food & Wine, Wine & Spirits, Wine Review Online, and a variety of other publications. He travels frequently to wine regions and enjoys coming home to San Francisco.[/author_info] [/author]