Tonight marks the thirteenth annual Open That Bottle Night, the truly original wine holiday created by Dottie Gaiter and John Brecher. What will you be drinking tonight and why? Perhaps even more important, with whom will you be sharing it? Tell us about your own Open That Bottle Night, and come back this afternoon – we might just have a very special cameo by somebody very special to OTBN and the entire wine world.
OTBN was created by Dottie and John in response to the question often posed to them, "when should we open that special bottle of wine?" Sometimes it was something valuable, perhaps a great older vintage. Sometimes it was something invaluable, a gift from a departed loved one, a vintage from a special anniversary. The answer was always "now, with the people who make it special." They created OTBN as an international celebration, a day for everybody to trek to the cellar, the box in the back of the closet, or the dusty cabinet, right there behind the Tupperware, to pluck that special bottle from its dusty resting place. Last year Dottie and John shared OTBN with Palate Press. We heard from wine lovers from Antarctica to Australia, from intimate sharing of spouses, to grand charitable events. They all had two things in common- love of wine and love of each other. So please join us again this year for the thirteenth annual Open That Bottle Night. We want to hear your stories.
Here at the Publisher's house we're going to try a whole new approach to OTBN. There is a corner of the wine rack where I rarely stray, knowing those are the "special" bottles, yet they never actually get opened. Tonight we're inviting over some friends, and letting them pick randomly from that rack. It should be interesting.
OTBN TIPS
1) Three days before the big night, if the bottle you have selected is an old one that has been lying on its side, stand it up so that any sediment will float to the bottom.
2) Because corks of older bottles are sometimes fragile, plan to use a two-prong bottle opener. This requires practice to get the hang of it so try it on a less precious bottle before OTBN. If your cork falls apart, put a coffee filter over a carafe and pour enough wine into it to catch the pieces of cork.
3) Don't decant, at least not immediately. You'll risk losing what precious fruit still resides in an older wine. If it's a young, tight wine and you don't have hours to savor it, you might want to decant it.
4) In case your wine is undrinkable—and give it some time before you make that call—have a back-up wine ready.
5) Enjoy the wine for what it is. Share the reasons it is special to you.
[end_columns]
Open That Bottle Night with Dottie and John
by Dottie Gaiter and John Brecher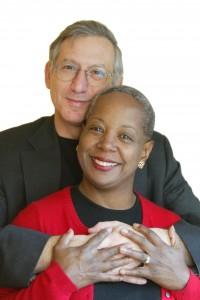 Open That Bottle Night is always about memories and the story behind this year's bottle is even more amazing than usual: It takes us to the Vietnam War, all the way to Miami and to the Vintners Hall of Fame.
We're opening a Sanford & Benedict Winery Parral that we purchased maybe 35 years ago in Miami, for $1.99. The price sticker is still on the non-vintage bottle. We don't know why we never opened the wine, but at some point it became one of those bottles that OTBN is all about: the ones that move from city to city with you, grow older with you and are just too special — $1.99 or not — to open.
We are so glad we finally decided to open the Parral because it gave us an opportunity to speak yesterday with legendary grape grower Richard Sanford, who made it, he guessed, either in 1978 or 1979, before his partnership with Michael Benedict ended in 1980. Utterly by coincidence, just last Monday, Feb. 20, the Culinary Institute of America at Greystone in Napa inducted Sanford into its Vintners Hall of Fame.
As with all good yarns, this story is a winding one. After graduating from UC-Berkeley in 1965 with a degree in geography and geology, Sanford was drafted and served in the Navy in Vietnam. One propitious event changed his life:   a fellow Navy officer introduced him to Volnay, a silky Burgundy. In 1968, he returned to the U.S. —  and ostracism. It changed him. "I rejected the culture that rejected the soldiers from that war," he told us. He sought a connection to the earth, something authentic, basic and natural, and he remembered that Volnay.
He never had a California Pinot Noir that tasted like that. In his search to find out why, he pored over a hundred years of maps and temperature data on Burgundy and California and determined that Pinot Noir in California was being planted in climates much too warm.  Driving around the unique mountain ranges north of Santa Barbara with a thermometer, he settled on a location, which he and botanist Michael Benedict purchased and named Sanford & Benedict Vineyard. In 1971, he said, they planted  the first Pinot Noir vines in what is now the AVA he helped establish, Sta. Rita Hills. "It was an opportunity, a way for me to heal, to start over again, a spiritual quest for me," he said in a telephone interview from his new winery, Alma Rosa Winery & Vineyard in Buellton.
Sanford, 70, recalled pouring Sanford & Benedict Winery's now legendary 1976 Pinot Noir for members of the exclusive California Club in Los Angeles around 1977. "'I poured it and there was just silence. Then I heard this guy say, 'Son of a bitch,' and I was horrified. I thought they hated my wine. Then I learned it was a term of endearment. He had said, 'Son of a bitch, here's proof that they can make Burgundy in California.'"
The original Sanford & Benedict Vineyard was planted not only to Pinot Noir, but also to Chardonnay, Merlot, Cabernet Sauvignon and Riesling. "In the early days, people were creating proprietary blends. Of course, we would never blend Pinot Noir, but we did blend Merlot and Cabernet. That was our Parral."
Truthfully, he wasn't that keen on talking about it. Pinot is where his heart has always been. Christian Roguenant, a Frenchman who serves as winemaker at the organic and sustainable Alma Rosa Winery, said he believes that Benedict had some sort of connection with the Paarl Mountains of South Africa, and also possibly the town of Parral in Mexico. Winemaker Kris Curran, whose Grenache Gris we've raved about, adds that Parral is a vine-training term and she wonders if Benedict had thought of that or the Mexican town. She's married to winemaker Bruno D'Alfonso, whose Merlot we loved, and who was winemaker at Sanford Winery from 1988 until 2005, the year Sanford and his wife, Thekla, left their namesake winery they'd founded in 1981.
Terlato bought Sanford Winery, along with the famous vineyard. We could not reach Benedict. Richard Sanford said he believes his former partner made the Parral twice before selling Sanford & Benedict Winery, which Sanford said he left because "it was hard to make wine by committee."
Sanford eventually grafted the Merlot and Cabernet Sauvignon vines that made the Parral to Pinot Noir.
OTBN was created for such bottles.  
Here's to you, Richard Sanford.