Walla Walla, Washington, was known as a college town long before it was ever known for its wine.
In the mid-1800s, the Washington Territorial Legislature granted a charter to Whitman Seminary, established by Christian missionaries Marcus and Narcissa Whitman. Twenty-four years later, the legislature issued a new charter renaming it Whitman College, a private four-year institution that would eventually offer a liberal arts curriculum.
In 1892, Seventh-day Adventists founded Walla Walla College, later Walla Walla University, to provide a Christian foundation for their college-aged youth.
College Cellars
And Walla Walla Community College was established in 1967, and in 2000, the Institute for Enology and Viticulture was launched as part of the College. Given the conservative and religious backgrounds of the other established colleges in the area, the new institute was a novelty: a program that encouraged students to drink wine in class—with no threat of detention.
Dr. Myles Anderson—counselor, instructor, administrator, and owner of his own winery—was charged with developing and launching the new enology and viticulture program. He understood the need for a center not only to train students in the wine world, but also to assist in advancing the area's economic situation.
Indeed, once word spread about this exciting project, private and public support began flowing in, with the Washington State legislature and the US Department of Agriculture providing funds toward a new $5 million facility. Construction began within a year on a new building that also offers a kitchen and classrooms for the Culinary Arts program, combining the domains of food and wine.
The college became Walla Walla's own grape-centric Field of Dreams: "If you build it, they will come." And they did. Lawyers, pharmacists, nurses, farmers, rock musicians, and housewives signed up for the program. They came not only from the Northwest, but from as far away as Maine and Florida (and in 2011, five students from Georgia—the country, not the state—will matriculate, cinching the record for farthest travel).
The school currently enrolls a maximum of 35 new students each year, and can accommodate from 58 to 70 students at any given time. The average enrollment is around 75% men and 25% women, and the average age is about 35 years old.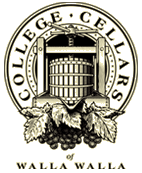 The real beauty of the program lies in hands-on learning, from planting a vineyard to the finished bottle. Students are responsible for making the wine and for conducting their own wine-related chemical analyses. In fact, the cellars have started an expansion of their lab to accommodate twenty students. The wine is sold at the school's non-profit winery, College Cellars.
Many courses are tailored to meet the specific needs of the wine industry in the Pacific Northwest, with special emphasis given to Southeastern Washington wine grape varieties and wines. Students may choose to earn an Associate in Applied Arts and Sciences Degree in Enology and Viticulture or an Associate in Applied Arts and Sciences Degree in Wine Marketing and Management, both two-year programs. Students may also opt for Viticulture or Enology Certificates after completion of the first year. The AA degree programs contain many of the prerequisite courses for transfer to Washington Sate University for those wanting to pursue a BS in viticulture or enology.
Valerie Fayette, director of the Center for Enology and Viticulture, says students aren't allowed to take just a couple of classes. The programs are beyond "hobbyist," and students must commit to at least a full year. The curriculum includes irrigation, pest control, pruning, maximizing vines output, vineyard and winery Spanish, sensory evaluation, food and wine pairing, fork-lift driving, wine marketing, wine and vineyard finances, and working the seasonal crush. It is a complete vine-to-wine education, and at least 90% of the students have stayed in the wine industry upon completion.
"We've really ramped up the program in the last two years to better prepare our graduates for life in either the Washington wine industry or other emerging wine regions," says Fayette. "I think when you combine all of this [training] with the fact that our students get hands-on practical experience during the entire two years they are with us—we offer the best two-year EV education available."
And speaking as one of the graduates, I have to agree. The program was one of the best experiences of my life.